13 December 2017
Forza Motorsport 7: The Oversteer review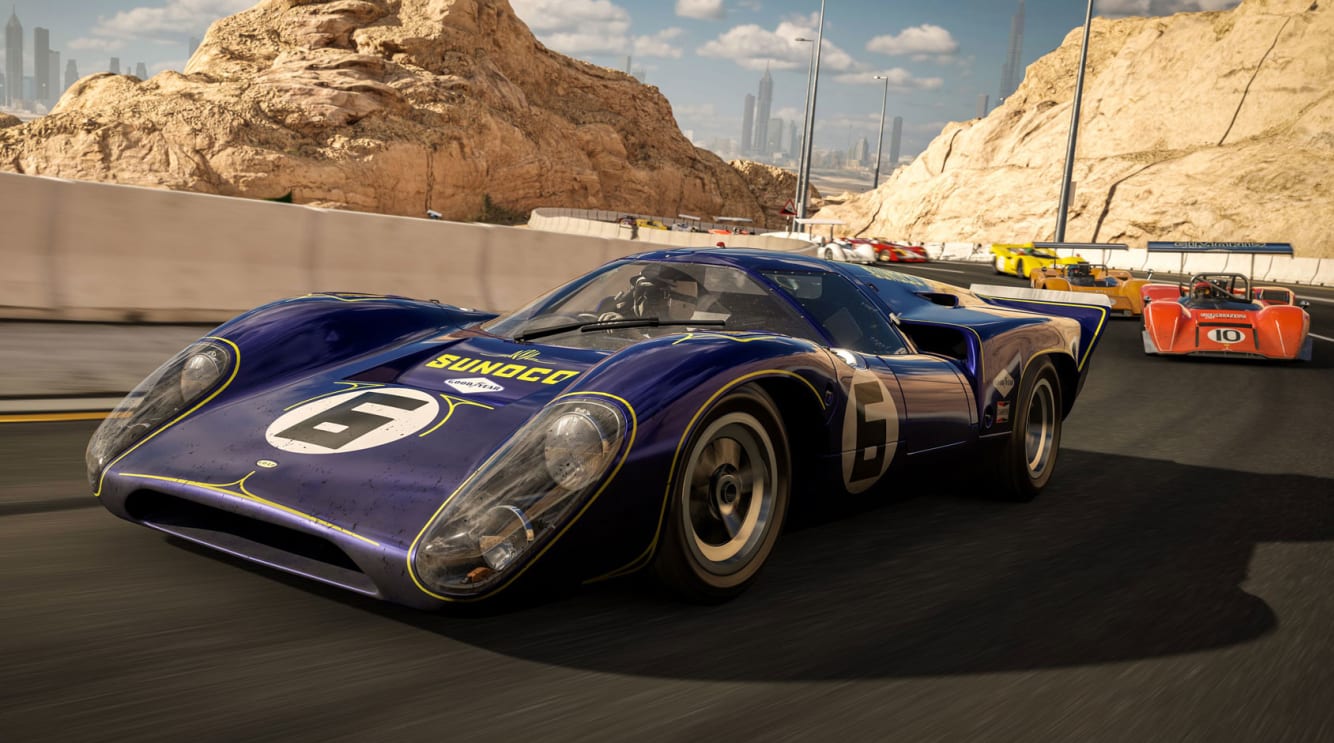 ​It's been a bonza year for racing games across the spectrum, so where does Forza 7 find itself amongst this year's many contenders in the eyes of a PC racer?
Game: Forza Motorsport 7
Creator: Turn 10 Studios
Experienced on: Xbox One X
Experienced with: Xbox wireless controller
It has been a long time between console racing game drinks for your humble correspondent. If memory serves, and often it does not serve me well, the last racing game I owned on a console was the Nintendo64's F1 World Grand Prix. Long live the 1997 F1 season.
Since then it has mostly been about the computer. That's where the true racing games were. rFactor, NASCAR Racing 2003, (I will fight you if you don't think that game remains the most accurate representation of restricter plate stock car racing) Richard Burns Rally, (eat it, Colin McRae) Project CARS, Project CARS 2, Assetto Corsa, iRacing, I could go on.
It was a weird feeling when the desire washed over my to buy not only Forza 7, but also a brand new Xbox One X on which to play it.
Not even the latest iteration of the famed Gran Turismo series had tempted me to part with my hard-earned.
Could a modern console racer hold it against the PC? Or was I setting myself up for a Fast and Furious, Need for Speed, Ken Block wannabe, Pimp My Ride festival of disappointment?
Having now spent more time than my partner would have liked exploring Forza 7, I have some thoughts.
The Preamble

Setting up a modern gaming console from scratch isn't as easy as just hopping behind the wheel...
Before I launch into the game itself, can I take a moment to point out how utterly infuriating setting up a modern gaming console is?
I want to plug it in, turn it on, and play.
Ohhhhh no, son. That's not how it is now.
First you have to sign in to the internet connected join your friends instant messaging multiplayer thing, though if you want multiplayer we'll have some cash-money, thanks.
Then the console needs to update.
Once that's done, the game needs to install off the disk into the hard drive in the console (42GB).
Think you're ready to play? NO SUCKER.
Now the game needs to download an update. A SIXTY-FRICKEN-TWO GIGABYTE UPDATE. SIXTY-TWO! The update is bigger than the game itself!

Yeah, you'll need to chew through this much disk space just to launch the game...
The words that came out of my mouth at this point cannot be published. Use your imagination.
Anyway, after using up a not-insignificant chunk of the storage available on my new console, and making me wait three days, I finally got to play Forza 7.
The Graphics

Thankfully those 100GB go into making the game look very pretty.
In short, this game is ~pretty~, like, really pretty.
I, obviously, haven't explored the entirety of the 700+ vehicles available in close detail, but those I have are just gorgeous.
The series I'm currently racing has me in an Abarth 695 Biposto and everything, right down to the badging, is bang on.
Even the tracks are pretty. Though no amount of high-resolution textures and geographically accurate lighting effects are going to make me like the Circuit de Barcelona-Catalunya. It's a terrible place.
One thing that has stuck out, is that even in what is supposed to be bright daylight, the game can be pretty dark. It's all a bit moody. Sure, that early morning soft light makes everything look brilliant, but it's a racing game and I would like to see where I'm going on occasion.
It could be my TV or a weird out-of-the-box setting, but if you missed it earlier, I don't really want to have to dig around endlessly to get a game looking the way it is supposed to. This is the future, it should just work...

The game tends to be a bit dark and moody all the time...
Forza 7 strives for a realistic feel in the looks department, and for mine it largely achieves it, even if the trackside advertising leans a little too far towards "Xbox One". Guys. I've bought one. You don't have to sell me on the console anymore.
Apparently on the Xbox One X, Forza will run in 4K resolution at 60 frames per second. I can't tell if that is as amazing as it sounds, because I live in the past and only have a HD television  ("So why did you buy a One X if you can't use it properly?" - shut up. That's why).
Gameplay

I'd prefer playing with a wheel, but most people will end up playing with a controller anyway, so here's what we thought.
It could be that I've spent the last... *counts fingers* ...a lot of years playing my racing games with a steering wheel locked to my desk, (Logitech G25 for those playing at home) but driving with a controller is an unintuitive experience.
Even though the steering, accelerating and braking are analog (IE it measures the amount of pressure or angle applied to the buttons/control sticks), I found myself using either zero or all of them. There's not a lot of nuance, and it's its basically impossible to feel the weight transfer or just general behaviour of your car. This makes any car behave weird. Couple that with a lack of force feedback (other than a gentle rumble if you run over a kerb or otherwise depart the track) and you don't get a very good feel for what your car is doing.
So what you end up with is your car jerking itself around the lap, running into anything that happens to be nearby. Or even not so nearby.
The feeling is much more arcade-y than I'd like, but when you do hit that one corner perfectly, oh boy, that's a good feeling. One that's quickly ruined by an immediate trip into the scenery, but a good feeling nonetheless.

The feeling is a bit more arcade-y than sim fans will like.
Another thing that detracts from the experience for me is a lack of "other drivers". Not in terms of numbers — my career races so far have featured between 18 and 24 other cars — but in terms of who these people are.
Usually, a racing game like this will invent names. So you'll be racing along side Derek Greameson or something else that sounds familiar. In Forza 7 they've opted for "Drivertars" (they're avatars...but you're a driver. Yeah, go wordplay.)
It takes you out of the "striving to be the best driver in the fictional world of Forza" moment when lining up alongside you on the grid is "CoDWARRIORxxx6969" and "MungoChudd420".
It's a departure from the usual spiel of making you become "the best racing driver ever" to instead be "the best Forza 7 driver ever", but the removal of a genuine fictional world for me to drive in, and instead reminding me forever that I'm playing a video game, isn't something that gels with me.
Singleplayer

The singleplayer is great, but marred by a bit of unnecessary grind.
Forza 7's single player is, more or less, what I had expected. You start out at the bottom of a small mountain, and must work your way through to the SuperDuper World Awesome Driver Championship Noble Prize Cup by competing in all manner of events to prove yourself the best.
Along the way you earn money and XP. You can use the former to buy cars and mods and stuff, and the latter to unlock new championships and level up and stuff.
Collecting (or buying, with in-game money, not actual money, thankfully) cars also boosts your collector tier, which unlocks bigger, badder cars as you go.
The collector tier thing shits me.
Ok, so, I've worked my way up to the second level of competitions in the campaign. Amongst the series now available to me is Formula E. So I need to buy a Formula E car. But I can't, because my collector tier isn't high enough.
So having already raced myself into a position to do something, I have to go grind away to buy my way into a car I want to race in a series that is already unlocked.
But muuuummmmmm I don't want to do a gymkhana challenge against Ken Block because this is a racing game not Outer Suburban Maccas Car Park at 2am on a Monday Simulator 2017.
I mean, I'll do it, because I want the car, but I don't want to.
Aside from the career, singleplayer also offers the traditional time trial and roll-your-own race modes.
Time trial is something anyone that has at least heard of racing games before will understand.

The seemingly endless arcade options are nice.
The roll-your-own race mode is both excellent and infuriating.
It's excellent because it has endless options for putting together a race with any type of car you want on any track you want.
It's infuriating because it has endless options for putting together a race with any type of car you want on any type of track you want.
For example, I pick the 2014 Ferrari 458 Italia GTE and want to race against other GTE cars because I like things realistic. I could not for the life of me figure out where the "give me cars in the same racing class as this one I have picked" option.
One attempt landed me in a Formula E car, racing against Porsche  962Cs, Ferrari 488s and IndyCars. Not what I wanted.
While I'm sure the option is there, it is hiding away behind a lot of menus.
Oh god the menus. There are too many and the writing on them is too small. That's all I have to say about those.
Multiplayer
I do not, in the least, care about multiplayer unless the person I'm multiplying with is sitting next to me on the couch.
So I haven't really touched this.
It's a thing though. There is stuff there. I'll assume it works.
There's probably an eSports mode. I watched eSports Formula 1 on the TV the other night. So I guess Forza 7 has something like that too.
If you play it a lot I might see you on the TV one day when there is literally nothing else to watch.
Verdict
First, congratulations for making it this far.
Second, I am actually enjoying my time playing Forza 7. It's different to what I tend to prefer, sure, but that slight step back from serious to seriously fun is what you'd be looking for in a console.
There's plenty of content, plenty to explore and plenty to enjoy.
If you're after a serious simulation this isn't for you. But if you want a racer that sits slightly back from that, but isn't Need for Speed, then Forza 7 is right up there.
Rating - 3.5/5
If you're playing on a PS4 check out our review of Gran Turismo Sport.
Have you been playing Forza 7? Let us know your thoughts in the comments.