28 November 2017
What to watch now the Supercars are over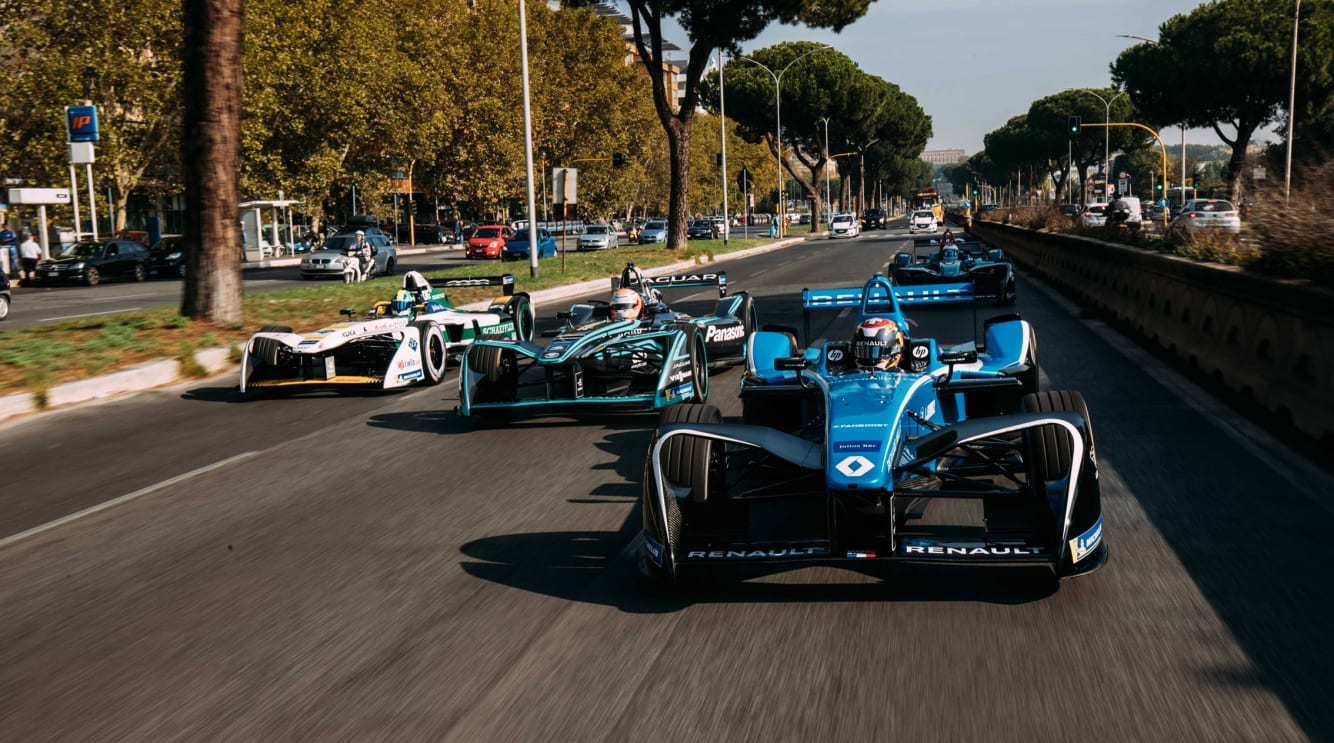 ​This weekend Jamie "2Girls" Whincup (don't ask) beat Scotty "Jandals" McLaughlin to win his 2923rd Supercars championship in Newcastle. And, thus, the local motor racing season drew to a close for another year.
If, like your humble correspondent, you quite like cars going around circuits at significant speed, you might be wondering how you can get your fix of this until the smell of burning fuel and the screech of tormented tyres returns to the streets of Adelaide at the start of March next year.
Well, help is at hand.
Behold! A list of things involving cars (of various shapes and sizes) going fast that you can watch instead of going to the beach, getting sand stuck in uncomfortable places, having to fend off Hitchcockian levels of seagulls and/or being eaten by a shark.
We start with Formula E.

We swear, formula E is getting better!
Yes, the FIA's new-ish all-electric open-wheel series isn't to everyone's taste. But if you think of it along similar lines to ye olde A1GP, then you'll have a good time.
The cars are getting better, the driving talent is actually pretty good, the tracks are still hilariously Mickey Mouse, and they do the weird, "let's change cars in the middle of the race" thing.
So, sit back and watch full-scale remote control cars go at it in the middle of major cities around the world.
This year's series kicks off with a double-header weekend on the streets of Hong Kong on December 2 and 3.
Also in January is the Dakar Rally.

Not enough people get behind Dakar.
The Dakar Rally is, in a word, spectacular - even if it doesn't go to Dakar anymore.
This year's event winds its way from Peru, through Bolivia, before finishing in Argentina with a field of motorbikes, quad-bikes, cars and trucks (yes, trucks, like, actual trucks.) taking on the best the South American desert has to offer.
Australian Toby Price won the motorbike class in the 2016 race, and will be back again this year to try and add a second title to his CV.
The Dakar Rally kicks off on January 6.
Back on this side of the planet, across January New Zealand hosts the Toyota Racing Series (TRS).

Quaint open-wheel racing that showcases upcoming talent.
The TRS features a lot of up-and-coming local open-wheel talent, along with a lot of up and coming international open-wheel talent, taking part in a 15 race season across five race weekends at different circuits around the land of the long white cloud. Yes, New Zealand has at least five different race tracks.
The 2018 Toyota Racing Series starts January 14 at Raupuna Park, near Christchurch. You'll know this circuit if you played Project CARS 1.
Keeping with circuit racing, but adding roofs, we have the Dubai 24 Hour.

It's GT galore.
The Dubai 24 Hour is a race featuring GT3 and GT4 cars among a sizeable list of miscellaneous other vehicles that race twice around the clock for the honour of riding a camel to the podium at the end.
The circuit length isn't that great and the entry list is quite long. So you get lots of cars trying to occupy limited space. It's brilliantly mad.
And did I mention the camels? The camels are ace.
The Dubai 24 Hour kicks off January 12.
Sticking with races that will literally take up an entire day, we've got the Rolex 24 at Daytona.

Turns out some racers in America can turn right after all.
This race is held at the Daytona International Speedway (you may have played a video game featuring this track at a Timezone circa 1995) on a layout of the circuit that contains both left- and right-hand corners.
The Rolex 24 starts off the US 'WeatherTech Sports car Championship' and is one of the highlights of the sports car calendar. It's got DPi prototype cars (sort of but not quite the prototypes you see at Le Mans), GT-E cars (the 'normal' looking cars you see at Le Mans), and GT3s (the cars at the pointy end of the Dubai 24 Hour field).
The entry list also regularly features a strong list of driving talent from around the world, including names you wouldn't ordinarily see on a sports car grid.
The Rolex 24 runs across January 28 and 29 in this part of the world (January 27 and 28 in Florida).
Then there's the Race of Champions.

Top drivers from different disciplines battle it out.
This involves a hand-picked selection of the 'best' drivers from all sorts of motorsport getting together and duking it out on a purpose-built, infinite-loop-style circuit inside what would ordinarily be a football stadium.
It's a fun, pretty casual event, and a great way to see drivers you wouldn't ordinarily expect to see competing together, battle head-to-head.
One caveat, though. The 2018 edition (because it is scheduled to be held 2 and 3 February) is due to take place in Saudi Arabia, which, if you follow world events, is...uhh...in a wee bit of political strife currently. So maybe just pencil, rather than pen, this one in.
Finally, racing eyes turn to BAFFURST and the ever-growing-in-popularity Bathurst 12 Hour.

Bathurst gets a workout on the off-season with the 12 Hour.
Here's your chance to see a chunk of Supercars star drivers try their hand against the best the international GT3 world has to offer. It's also a chance to enjoy top-line sports cars take on the best circuit in the country (sorry, Winton).
Massive grid, massive talent, massive circuit. Don't miss this.
The Bathurst 12 Hour will be held on Sunday 4 February.
And if all that isn't enough to tide you over, it turns out plenty of series post replays of their races on YouTube. Here's a selection you can peruse at your own leisure if there's a race you missed during the year that you fancy catching up on:
IMSA - All the WeatherTech Sports car Championship races from 2017, plus Pirelli World Challenge and assorted other stuff
GT World - Blancpain GT Series, including the Spa 24 Hour.
IndyCar - They've started posting old races from the 80s, plus all the action from this year's season.
European Le Mans Series - Full replays of this year's races
NismoTV - Live and replayed coverage of... a lot of things including Japan's SuperGT series (which this motor racing junkie really needs to watch more of).
World Endurance Championship - Full race replays and edited highlights of the full season (including the full 24 Hours of Le Mans)
That should keep you occupied, yeah?
If there's anything in your summer motor racing diary that hasn't been included here, that you think people would like to watch, drop a comment in the box below.