2018 Jaguar E-Pace
Pricing and Specs
Click here to see 2021 pricing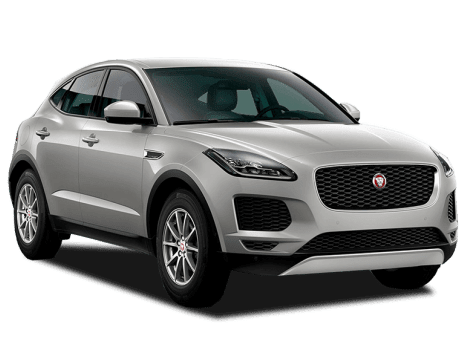 Pricing from
$35,400 to 82,500
Based on third party pricing data
SUV
Jaguar E-Pace Models
SPECS
PRICE
AWD (110KW)

2.0L

Diesel

Diesel

9 SP AUTO

9 speed automatic

$36,100 – 46,750

D150 AWD (110KW)

2.0L

Diesel

Diesel

9 SP AUTO

9 speed automatic

$36,100 – 46,750

D150 HSE AWD (110KW)

2.0L

Diesel

Diesel

9 SP AUTO

9 speed automatic

$50,700 – 64,130

D150 R-Dynamic AWD (110KW)

2.0L

Diesel

Diesel

9 SP AUTO

9 speed automatic

$39,600 – 50,600

D150 R-Dynamic HSE AWD (110KW)

2.0L

Diesel

Diesel

9 SP AUTO

9 speed automatic

$53,900 – 68,090

D150 R-Dynamic S AWD (110KW)

2.0L

Diesel

Diesel

9 SP AUTO

9 speed automatic

$45,200 – 57,090

D150 R-Dynamic SE AWD (110KW)

2.0L

Diesel

Diesel

9 SP AUTO

9 speed automatic

$48,900 – 61,820

D150 S AWD (110KW)

2.0L

Diesel

Diesel

9 SP AUTO

9 speed automatic

$41,500 – 53,130

D150 SE AWD (110KW)

2.0L

Diesel

Diesel

9 SP AUTO

9 speed automatic

$45,800 – 57,860

D180 AWD (132KW)

2.0L

Diesel

Diesel

9 SP AUTO

9 speed automatic

$37,900 – 49,060

D180 First Edition AWD (132KW)

2.0L

Diesel

Diesel

9 SP AUTO

9 speed automatic

$62,600 – 79,200

D180 HSE AWD (132KW)

2.0L

Diesel

Diesel

9 SP AUTO

9 speed automatic

$52,600 – 66,550

D180 R-Dynamic AWD (132KW)

2.0L

Diesel

Diesel

9 SP AUTO

9 speed automatic

$41,400 – 52,910

D180 R-Dynamic HSE AWD (132KW)

2.0L

Diesel

Diesel

9 SP AUTO

9 speed automatic

$55,700 – 70,400

D180 R-Dynamic S AWD (132KW)

2.0L

Diesel

Diesel

9 SP AUTO

9 speed automatic

$47,000 – 59,400

D180 R-Dynamic SE AWD (132KW)

2.0L

Diesel

Diesel

9 SP AUTO

9 speed automatic

$50,700 – 64,130

D180 S AWD (132KW)

2.0L

Diesel

Diesel

9 SP AUTO

9 speed automatic

$43,900 – 55,550

D180 SE AWD (132KW)

2.0L

Diesel

Diesel

9 SP AUTO

9 speed automatic

$47,700 – 60,280

D240 HSE AWD (177KW)

2.0L

Diesel

Diesel

9 SP AUTO

9 speed automatic

$57,600 – 72,820

D240 R-Dynamic HSE AWD (177KW)

2.0L

Diesel

Diesel

9 SP AUTO

9 speed automatic

$61,500 – 77,770

D240 R-Dynamic S AWD (177KW)

2.0L

Diesel

Diesel

9 SP AUTO

9 speed automatic

$51,900 – 65,670

D240 R-Dynamic SE AWD (177KW)

2.0L

Diesel

Diesel

9 SP AUTO

9 speed automatic

$55,700 – 70,400

D240 S AWD (177KW)

2.0L

Diesel

Diesel

9 SP AUTO

9 speed automatic

$48,900 – 61,820

D240 SE AWD (177KW)

2.0L

Diesel

Diesel

9 SP AUTO

9 speed automatic

$52,600 – 66,550

P200 AWD (147KW)

2.0L

PULP

Premium Unleaded Petrol

9 SP AUTO

9 speed automatic

$35,400 – 45,870

P200 HSE AWD (147KW)

2.0L

PULP

Premium Unleaded Petrol

9 SP AUTO

9 speed automatic

$50,100 – 63,360

P200 R-Dynamic AWD (147KW)

2.0L

PULP

Premium Unleaded Petrol

9 SP AUTO

9 speed automatic

$39,000 – 49,830

P200 R-Dynamic HSE AWD (147KW)

2.0L

PULP

Premium Unleaded Petrol

9 SP AUTO

9 speed automatic

$53,700 – 67,870

P200 R-Dynamic S AWD (147KW)

2.0L

PULP

Premium Unleaded Petrol

9 SP AUTO

9 speed automatic

$44,500 – 56,320

P200 R-Dynamic SE AWD (147KW)

2.0L

PULP

Premium Unleaded Petrol

9 SP AUTO

9 speed automatic

$48,300 – 61,050

P200 S AWD (147KW)

2.0L

PULP

Premium Unleaded Petrol

9 SP AUTO

9 speed automatic

$40,900 – 52,360

P200 SE AWD (147KW)

2.0L

PULP

Premium Unleaded Petrol

9 SP AUTO

9 speed automatic

$45,200 – 57,090

P250 AWD (183KW)

2.0L

PULP

Premium Unleaded Petrol

9 SP AUTO

9 speed automatic

$37,900 – 49,060

P250 First Edition AWD (183KW)

2.0L

PULP

Premium Unleaded Petrol

9 SP AUTO

9 speed automatic

$65,200 – 82,500

P250 HSE AWD (183KW)

2.0L

PULP

Premium Unleaded Petrol

9 SP AUTO

9 speed automatic

$52,700 – 66,660

P250 R-Dynamic AWD (183KW)

2.0L

PULP

Premium Unleaded Petrol

9 SP AUTO

9 speed automatic

$41,400 – 52,910

P250 R-Dynamic HSE AWD (183KW)

2.0L

PULP

Premium Unleaded Petrol

9 SP AUTO

9 speed automatic

$57,000 – 72,050

P250 R-Dynamic S AWD (183KW)

2.0L

PULP

Premium Unleaded Petrol

9 SP AUTO

9 speed automatic

$47,000 – 59,400

P250 R-Dynamic SE AWD (183KW)

2.0L

PULP

Premium Unleaded Petrol

9 SP AUTO

9 speed automatic

$51,100 – 64,570

P250 S AWD (183KW)

2.0L

PULP

Premium Unleaded Petrol

9 SP AUTO

9 speed automatic

$43,900 – 55,550

P250 SE AWD (183KW)

2.0L

PULP

Premium Unleaded Petrol

9 SP AUTO

9 speed automatic

$47,700 – 60,280

P300 HSE AWD (221KW)

2.0L

PULP

Premium Unleaded Petrol

9 SP AUTO

9 speed automatic

$59,200 – 74,910

P300 R-Dynamic HSE AWD (221KW)

2.0L

PULP

Premium Unleaded Petrol

9 SP AUTO

9 speed automatic

$63,400 – 80,190

P300 R-Dynamic S AWD (221KW)

2.0L

PULP

Premium Unleaded Petrol

9 SP AUTO

9 speed automatic

$52,300 – 66,110

P300 R-Dynamic SE AWD (221KW)

2.0L

PULP

Premium Unleaded Petrol

9 SP AUTO

9 speed automatic

$57,200 – 72,270

P300 S AWD (221KW)

2.0L

PULP

Premium Unleaded Petrol

9 SP AUTO

9 speed automatic

$48,900 – 61,820

P300 SE AWD (221KW)

2.0L

PULP

Premium Unleaded Petrol

9 SP AUTO

9 speed automatic

$53,000 – 66,990
* Manufacturer's Suggested Retail Price
Jaguar E-PACE 2018 FAQs
Check out real-world situations relating to the Jaguar E-Pace here, particularly what our experts have to say about them.
See All Jaguar E-Pace FAQs
Disclaimer: You acknowledge and agree that all answers are provided as a general guide only and should not be relied upon as bespoke advice. Carsguide is not liable for the accuracy of any information provided in the answers.