Suzuki Swift GLX vs VW Polo 77TSI Comfortline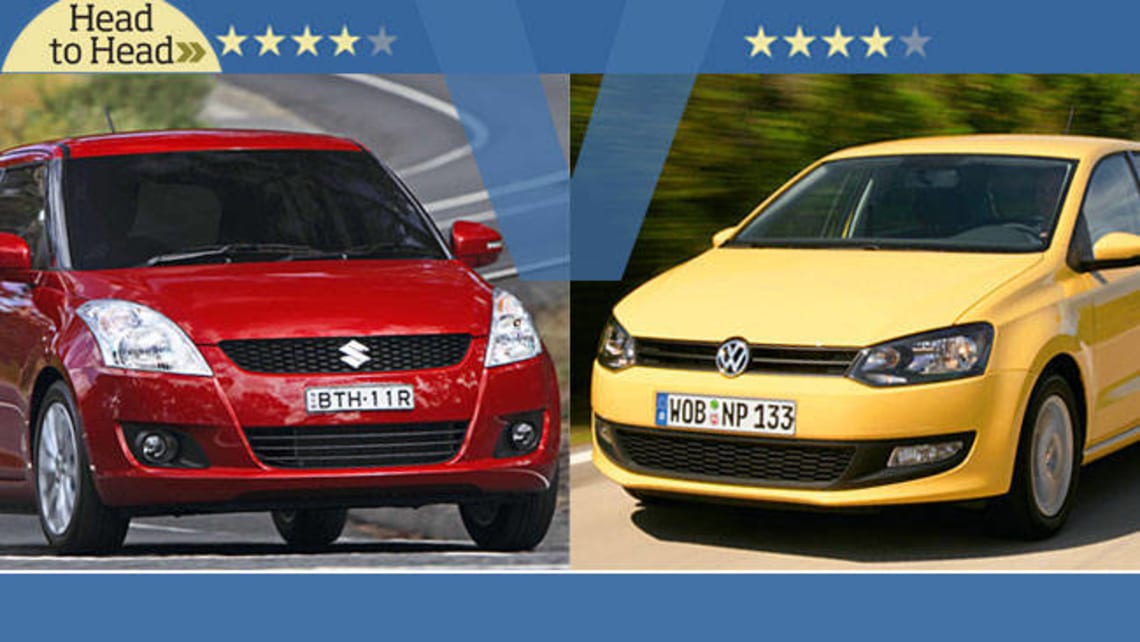 Suzuki Swift GLX and VW Polo 77TSI Comfortline go head-to-head in this comparative review.
Suzuki Swift GLX
from $18,990
At $18,990 it's not the cheapest Japanese light car on the market, but the GLX is packed with features that make it good value. Chief among these is the four-wheel disc brakes, which distinguishes this from the pack. The GLX also comes with keyless entry and start/stop button plus Bluetooth and a USB iPod connector. Swifts also have good resale value.
VW Polo 77TSI
from $19,850
Polos start at $16,990 for a three-door hatch but the more usable, more powerful Comfortline five-door from $19,850 is the best value of the bunch. This is Euro-chic at a great price. Features include air, stereo and power windows plus a raft of driver aids not often seen in this mini class.
The new model has had a facelift and a rear tuck. The facelift hasn't dented the cute "Pikachu" cartoon nose, but the rear tailgate has been shortened which makes the rear look stubby. It also means the luggage lip is higher which makes loading more difficult. The interior has had a major overhaul and looks much better integrated. The controls also have have smoother and more sturdy feel.
This is a handsome, rather than cute, machine, inside and out. The Polo looks and feels refined from all corners with an ordered approach to instruments and controls. But it is also a small car inside and the driver's footwell is pretty cramped, pedals a tad small for larger and taller drivers. This is one area where other compacts, such as the Swift, win out.
The little 1.4-litre four-cylinder tries hard for its 70kW and you have to keep stirring the five-speed box to get good locomotion. (The $1700 four-speed auto option is a slug.) The engine is actually a few kilowatts down on power from the previous model, but it's lighter and only Mark Webber could feel the difference. The up side is that it's thrifty with 13 per cent better fuel economy than the old engine. Suzuki claims a very realistic 6.3 litres/100km.
It's hard to ignore a 1.2 litre engine, turbocharged of course, pushing out a frisky 77kW while returning 5.5 litres per 100km on the combined cycle. There's the choice of manual or seven-speed auto and little missing here from brake assist and electronic diff lock, through to audio controls on the steering wheel and electrically heated mirrors.
Unlike most light cars, this one comes with brake discs all round and that is a big tick to safety. Add to that seven airbags, ABS and stability control and a five-star crash rating. In another small nod to safety, the new GLX model's steering wheel is telescopic, which means it can move forward and back so you can get just the right, comfortable driving position.
VW have crammed every last bit of safety gear into the Polo - from six airbags, to ABS, brake assist and brake force distribution system. There's traction control and stability program, all aiding a well-behaved chassis and excellent road dynamics with a well-deserved 5-star NCAP rating.
Drivers feel connected to the road thanks to a well-sorted steering and suspension set up with MacPherson strut front and torsion beam rear. Passengers - even five adults - won't feel too cramped on short journeys. And the cabin is relatively quiet at highway speeds.
The smallest of VWs is a spirited city runaround, able to mix it with the traffic with ease; a smart car for slotting into gaps in the traffic or the parking lot. Steering response and feel are fantastic, as is this engine and six-speed manual gearbox combination. (But the DSG auto can be an awkward option, a bit stop-start at parking speeds). And remember it is a small car, larger drivers are a bit squeezed.
The Polo is Carsguide's Car of the Year for its engineering, design and technology. It's also a brilliant driver's car. But when it comes to spending the hard-earned, the thrifty Suzuki is an irresistable package with more interior comfort and space. It is also a far cuter car that begs for personalisation.