Subaru Liberty vs VW Passat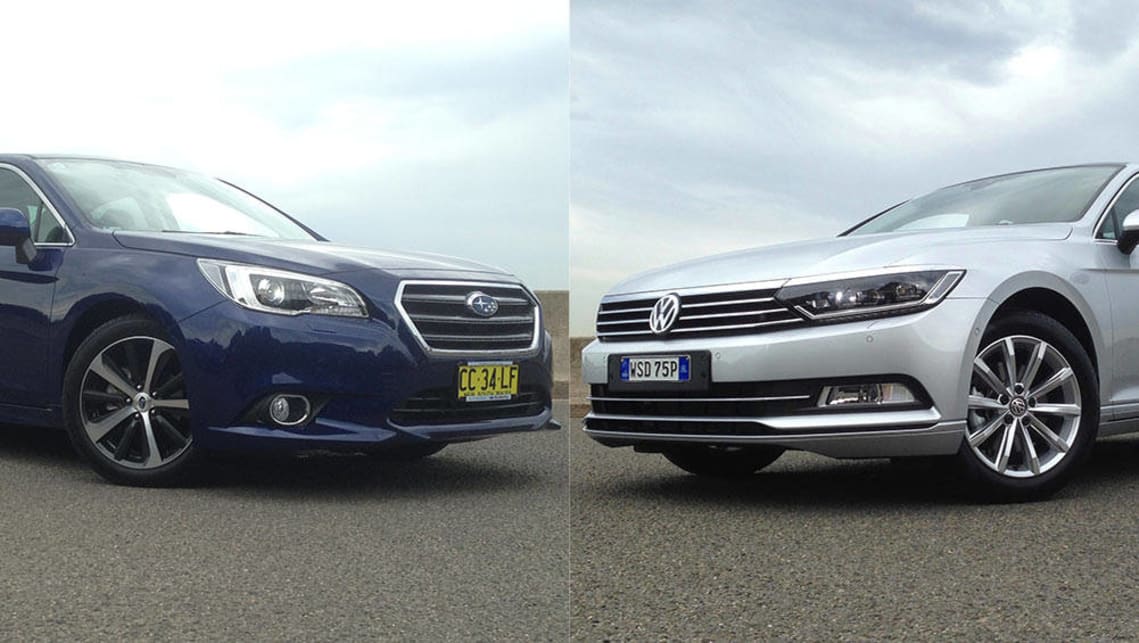 Japan takes on Europe in the battle of the mid-sizers. Richard Blackburn picks a winner.
Subaru Liberty 2.5i Premium
$35,490
Subaru lopped $4000 off the Liberty when it launched in December last year. The Premium model costs $6000 more than the standard 2.5i but gets leather, a bigger centre screen, satnav, sunroof, fog lights, heated, electric front seats and smart key. Prestige paint is free, it costs $700 on the VW. Capped servicing is expensive, costing $2215 over three years for six services.
Volkswagen Passat Comfortline
$39,990
Starts with a $4500 price disadvantage but trumps the Subaru with three-zone aircon, more driver assistance technology and audible parking sensors. It also has cheaper servicing at $1527 over three years (although you get three services to Subaru's six). According to Glass's Guide, it retains just 45 per cent of its value over three years, compared with 55 per cent for the Subaru.
Subaru Liberty 2.5i Premium
Subaru has lifted its game lately. Cabin surfaces are softer to the touch, the leather looks and feels better and the centre screen on the dash has a more cohesive look. The multimedia menus are easy to navigate and the voice activation for the phone is easy to use. Rear leg room and boot are smaller than Passat.
Volkswagen Passat Comfortline
The Subaru is well finished, but the Passat takes it up a notch with a prestige feel that includes soft leather, brushed aluminium highlights and better quality graphics for the centre screen and instrument panel. It also has more rear leg room and a bigger boot at 586 litres, roughly 20 per cent more than the Liberty.
Subaru Liberty 2.5i Premium
Engine
The 2.5-litre four-cylinder is reasonably quiet and refined at lower revs but can get a bit raucous when pushed hard. The continuously variable transmission is one of the best around. Outputs of 129kW and 235Nm are average for the class and acceleration off the mark isn't great. The stop-start system is unobtrusive and it gets a claimed 7.3L/100km, although in heavy traffic we saw 12s.
Volkswagen Passat Comfortline
Engine
The Passat has marginally more power and torque at 132kW/250Nm, but the torque arrives lower in the rev range, giving it better response off the mark. The seven-speed dual-clutch auto also helps performance with its rapid changes, as does the 80kg weight advantage. The Passat makes its power more efficiently too, using just 6.0L/100km.
Subaru Liberty 2.5i Premium
A strong suit for the Liberty as all models get standard automatic emergency braking, which can avoid low-speed crashes. It also has seven airbags, a reversing camera and seatbelt reminders for all five seats. Constant all-wheel-drive is another safety net. Scored five stars and 35.99 points out of 37 in ANCAP crash tests.
Volkswagen Passat Comfortline
Comes fully loaded with driver assistance technology, including fatigue detection, rear traffic alert, auto emergency braking and lane departure warning. It's a shame auto braking isn't standard across the range, though. It has nine airbags and audible parking sensors to go with the reversing camera. It scored five stars in crash testing with a score of 35.89 out of 37.
Subaru Liberty 2.5i Premium
The Liberty feels secure through the bends and is not easily upset by mid-corner bumps and corrugations. It leans more than the VW through corners but still has plenty of grip and gets its power down well. The steering is accurate but doesn't feel as sharp as the Volkswagen. Around town the ride is comfortable for the most part, but can jar over sharp-edged potholes.
Volkswagen Passat Comfortline
The Passat is the more enjoyable drive, thanks to a perkier engine, rapid gear changes and a more nimble feel through the bends. It feels and sounds sportier but also insulates the driver from road imperfections slightly better, with less road noise from tyres and suspension. The steering is well-weighted and direct.
Subaru Liberty 2.5i Premium
Volkswagen Passat Comfortline
Both are top-notch cars. The Subaru wins on value, but the Passat is the more polished all-rounder by a narrow margin.