Nissan Juke ST vs Peugeot 2008 Active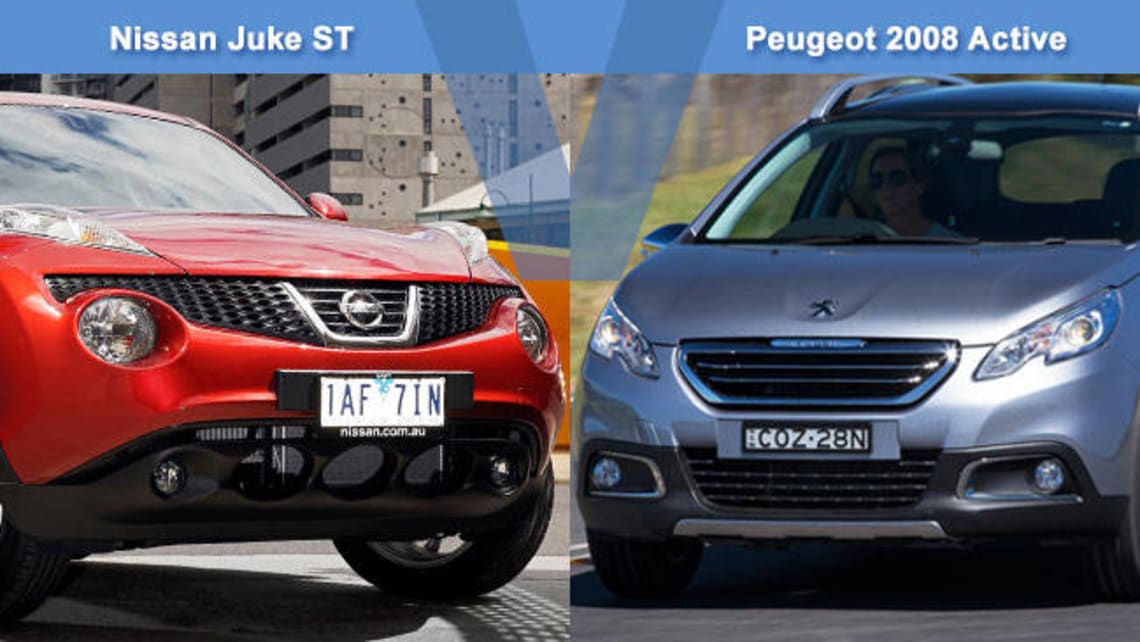 Nissan Juke ST and Peugeot 2008 Active go head-to-head in this comparative review.
Are you buying a contemporary piece of metal art or a car? The ST's price equals the 2008 and offers more power, higher tow rating, an extra gearbox cog but not a lot more. Standard kit is thin and annoyingly miss out on a reverse camera or even rear park sensors. Capped price service costs $1639 for three years (it's a six-year program) and intervals are six-monthly. Car gets a three-year or 100,000km warranty with roadside assist. Resale is 50 per cent after three years.
Peugeot 2008 Active
$21,990
Basically a 208 with an extra 198mm of length to boost luggage space by 30 per cent. It replaces the previous 207 wagon. The entry-level Active gets good equipment levels for the price but the optional 1.6-litre engine is better. A reverse camera and rear park sensors are expected inclusions -- but Juke gets neither -- and audio and touchscreen monitor are handy. Capped-price service for three years is $1107 (it's a five-year program) and warranty is three years/100,000km with roadside assistance and annual service intervals. Resale is 49 per cent.
The ST gets an aspirated 86kW/158Nm 1.6-litre petrol engine from the Nissan family, unlike the ST-S which gets a turbo mill. It goes through a six-speed manual to the front wheels. Nissan claims 6.0L/100km from a 46-litre tank. The platform is basically a Pulsar and gets four-wheel vented disc brakes, MacPherson struts and a torsion beam suspension and electric-assist steering. It can tow a reasonable 1250kg.
Rigid platform supports 60kW/118Nm three-cylinder 1.2-litre petrol with five-speed manual. It's front-drive only. Peugeot claims 4.9L/100km from a 50-litre tank. Unlike 208 Active, 2008 gets four-wheel disc brakes. Steering is electric-assist and suspension is simple coil struts at the front and a torsion beam at the rear. Towing is a piffling 780kg.
Love it or hate it, the Juke is conservative Nissan's black sheep. Passenger room is good but radical styling chomps into boot space, offering only 251/550 litres, though there's extra storage under the boot floor. Exterior design seeps into cabin with a bold -- but hard plastic -- dashboard highlighted by big circular dials. Minor switchgear is easily accessible. Rear seats split and fold flat but don't match 2008's room or flexibility and higher cargo floor makes loading awkward. Rear visibility isn't the best.
Cute French wagonette is neatly styled with efficiency in mind. Good room for four adults, a flexible cabin and flat-fold split rear seat for 410/1194 litres (up from the 208 hatch's 311/743 litres). Tie-down hooks, under-cargo floor space and very low loading sill are great. Dash is partly soft-touch plastic and trim appears high quality. Big touchscreen is user friendly. Excellent small-item storage but there's not enough cupholders.
It's a five-star car with six airbags and electronic aids. But it has little else and the omission of even rear park sensors is not on, especially given its poor rear visibility. There's also no daytime running lights, heated mirrors or auto headlights. The spare is a space saver.
A five-star rating, six airbags and all the electronic nannies typify the genre. The 2008 adds LED daytime running lights and LED tail lights, a reverse camera and rear park sensors, emergency brake display and heated/folding mirrors. The spare is a space-saver (though a full-size will fit).
Despite its quirkiness, it rides solidly and the small steering wheel enhances its go-kart handling. But thee's some choppiness at low speed ride and comfort is a tad beneath the 2008. The engine is peppy and economical and the six-speed box has short shifts and feels crisp. The driver is quickly at home in this fun wagon and the chassis could take more power (hence the turbo option).
The tech data points to a three-pot screamer but the 1.2-litre engine is actually quite docile. But weak torque needs juggling the clutch off the mark and more revs than feels comfortable. Acceleration is wanting, even with one person aboard, but ride is compliant and handling is neat -- more like a quality hatch. The 1.6 with auto is a better, though expensive, alternative.
Close. I prefer the Juke's drive experience but the 2008 wins on perceived quality, flexibility and lower ownership costs.