Ford Territory TX RWD vs Honda Odyssey VTi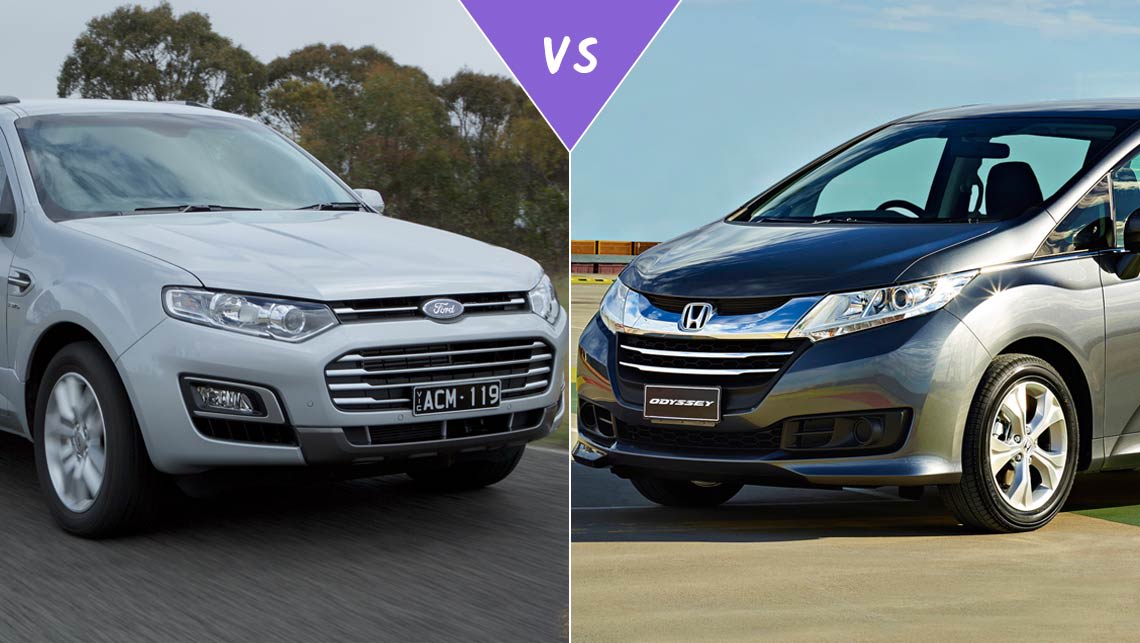 There's more than one way to skin a cat. James Stanford looks at two very different people-movers.
Ford Territory TX RWD 7-Seater
from $39,490
Recent price and content adjustments make the Territory better value than ever before. This base model is now $3000 cheaper. More importantly, all Territories now (finally) get reversing cameras as standard. A new 8-inch touch screen system with voice control, as well as new parking sensors improve the deal. Resale is 51 per cent. Capped servicing available, intervals of 15,000km of 12 months, at a cost of $1030 over three years, which is cheap.
Honda Odyssey VTi
from $38,990
There are two new Odysseys, the eight-seater base VTi at $38,990 and the loaded VTi-L seven seater version at $47,620, which has all the gear. The base car is good value given the amount of space and the eight seats. You get a seven-inch touch centre screen system, reversing camera and an electric sliding side door. The resale is a better than the Territory at 58 per cent. But capped price servicing is expensive: three years will cost a hefty $1742.
Ford Territory TX RWD 7-Seater
Ford just gave the Territory an update, but the changes are hard to spot with the naked eye. However, it is still a good looking modern SUV and a heap kinder on the eye than the Odyssey. Lots of interior space and many hidey-holes, although there is less space in the (optional) third row.
Honda's ad people says it's sexy, I say they need glasses. Previous models looked cool, but the new one is a generic tallboy, space-efficient people mover. It has a cavernous interior and the boot is very deep, which is handy with so many kids on board. Every passenger gets lots of headroom and legroom, which is not the case in the back of the Ford.
Ford Territory TX RWD 7-Seater
The Territory benefits from the big 4.0-litre six under the bonnet, which has more than enough punch and tows like a champion. But the 195kW/391Nm engine also likes a drink and the fuel economy is 10.2L/100km. Lean diesel is an option but costs an extra $3250. The six-speed auto is very good.
The 2.4-litre four-cylinder petrol in the Odyssey is no match for the big six in the Ford. With 129kW and 225Nm you do have to wring its neck. The CVT auto is not all that quiet either. But it does do better when it comes to fuel with an official average of 7.6L/100km, although there is no diesel option.
Ford Territory TX RWD 7-Seater
It has six airbags, stability control and a five-star safety rating. The side-curtain airbags do not cover the third row. A reversing camera is now standard, Sync2 system calls emergency services in event of a crash. No advanced aids such as blind spot warning etc.
It has six airbags, stability control and a five-star safety rating. The airbags cover the third row seats. A reversing camera is standard, but there are no advanced aids such as lane departure warning. It does have a tyre pressure deflation warning system.
Ford Territory TX RWD 7-Seater
Much more fun to drive than the Odyssey and one of the best handling SUVs around. Strong engine also means the Territory can get along very quickly when needed. The ride is also good.
When it comes to driving enjoyment, the Territory wins easily, but it is far less comfortable if you need to use more than five seats. The Odyssey is more like a bus, but it is a people mover, so that should come as no surprise.
Ford Territory TX RWD 7-Seater
Territory can be used a people mover, but not all that often. The wonderfully practical Odyssey wins this time.