Ford Fiesta Sport vs Holden Barina RS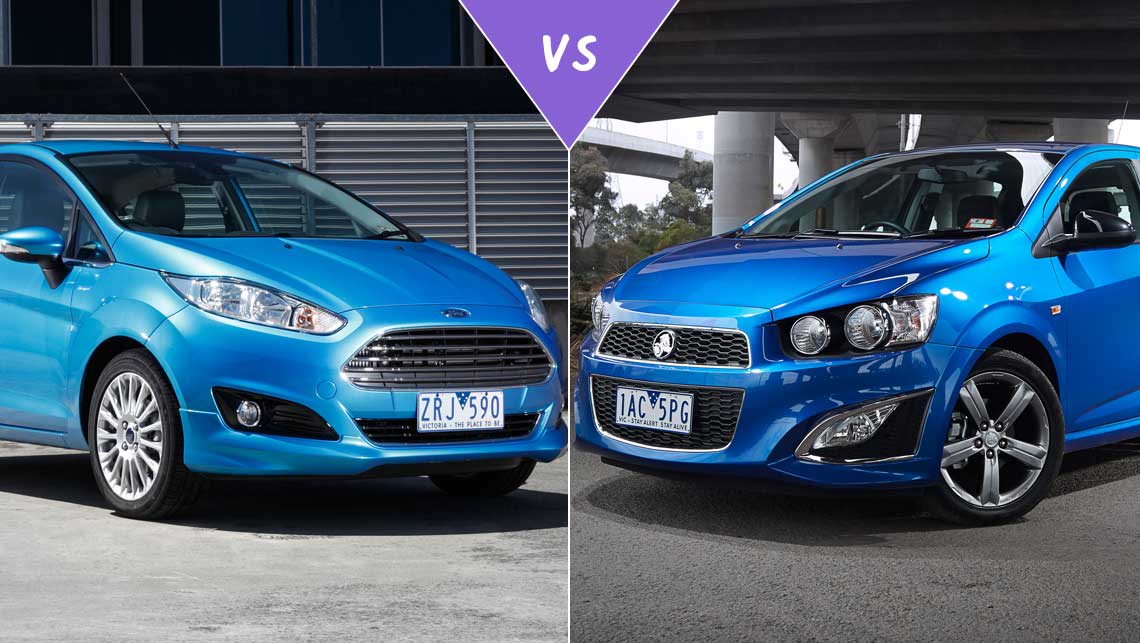 Practical, economical, affordable and with a sporty bent - Holden and Ford match up their baby hatches.
Ford Fiesta Sport
from $22,525
It's almost $1000 cheaper than the Barina but with fewer features. The Fiesta's sports-oriented nature goes straight to the driver's heart. It's a smart looker on the outside and gets Ford's clever Sync communication package. Cruise control and part-leather seats are standard but that's pretty much it. Resale is 50 per cent and the capped-price service (a seven-year program) costs $765 for three years.
Holden Barina RS
from $23,590
Holden's baby isn't the cheapest but has more features than the Fiesta. It also gets a slightly more sporty image to confirm the RS badge. Standard are a body kit, rear park sensors, automatic headlights, heated front seats, leather upholstery and six-speaker audio with Holden's MyLink app-based connectivity. Three-year capped price servicing is $740 and three-year resale is 45 per cent.
The dominant Ford grille looks perfect on a Falcon but a bit of an overkill on the small Fiesta. But though styling is attractive, little separates this Sport from lesser Fiestas. Inside there's too much hard plastic and the switchgear is small and fiddly. But the driving position is perfect. Boot is a small 290L.
Where the Fiesta is rounded, the Barina is chisel-cut. The Ford's the prettier car, subjectively - but the Barina is hardly ugly. It's a mere 57mm longer than the Ford but boot space is the same, though it has better rear-seat room. The instrument panel is almost mickey mouse in style, cheapening an otherwise attractive cabin, but there's more adjustment for the driver.
The star is the 92kW/170Nm 1.0-litre three-cylinder turbo engine and its dual-clutch six-speed automatic. Ford claims 5.3L/100km on standard-grade petrol. Sports suspension is welcome but rear brakes are drums. Car sits on 16-inch alloys but there's no spare wheel.
Barina RS gets the healthy 1.4-litre turbo-four (103kW/200Nm) shared with Cruze and Trax. It's a solid performer and well suits the six-speed automatic gearbox with a claimed 6.5L/100km. But it needs 95 RON petrol. Tuned suspension, disc brakes all around and 17-inch alloys are part of the package.
Good basic safety with a five-star crash rating, seven airbags and the mandatory electronic stability and traction aids - but not much else. No rear park sensors or camera and instead of a spare wheel (a space-saver is optional) there's an aerosol repair kit.
Five-star crash rating, six airbags, electronic stability control, rear park sensors, dusk-sensing headlights and a full-size spare wheel are standard. But there's no rear camera.
The heart of this little car is the drivetrain. Yes, even the auto works well thanks to strong low-speed engine torque. But owners may prefer to let the little engine sing and enjoy the tight road holding. It's a fun car to drive and will elicit smiles from any commuter, though don't expect the claimed fuel economy figures.
Despite its light-car classification, the Barina sits firmly on the road and raises few concerns about its handling. Its suspension is softer than the Ford's and the seats more compliant, making it better suited to urban duties. The engine is strong at low revs, again better for the city, though it can be less fun to drive than the Ford.
Drivers will enjoy both cars. The Fiesta is more fun but the Barina gives slightly more for the price.