Fiat 500X vs Mazda CX-3 2016 review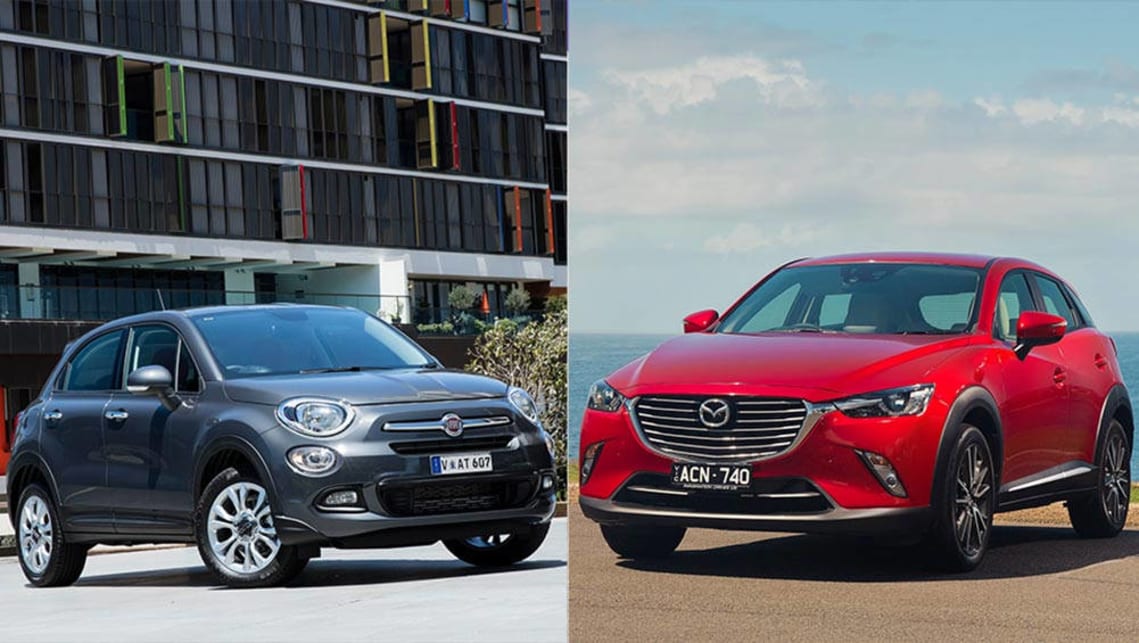 Europe and Japan take varying approaches to the "baby" SUV genre. Craig Duff surveys the high-rise hatches.
Fiat 500X Pop Star
$33,000
Pop stars tend to be flamboyant and that's apt with Fiat's baby SUV. You pay for the flair and the entertainment value but the price is high when compared to its Asian rivals. It flashes more bling to compensate, from a 6.5-inch touchscreen with satnav to auto lights and wipers and decent quality cabin plastics. Servicing costs $1,346 over three years. Service interval is 12 months/15,000km.
The Akari tops the CX-3 range with seven-inch touchscreen, active driver aids, LED headlamps, leather and faux leather trim and 18-inch alloys. It won't stand out like the Fiat (with more than 9300 sold this year it isn't unusual to see one on the road). Servicing, at 12 month/10,000km intervals, will cost $877-plus over three years - Mazda's program doesn't include items such as air filters.
The 500X is an elongated and elevated version of the 500 city car with more road presence and room to move inside. Boot space is reasonable and the interior looks classy but busy, simply because there isn't a huge amount of real estate on which to fit all the buttons and dials. Three adults can occupy rear seats at a pinch. There's an astonishing array of exterior and interior colour choices.
The exterior looks athletic and, like the Fiat, is achieved by pushing the wheels to the corners. Things are similarly impressive in the cabin, with a minimalist look, futuristic instrument cluster and classy finishing. Leather seats are a highlight, the comfortable command chairs enabling good all-round vision. Boot space is one of the few flaws in the small crossover. At 264L, it is 80L shy of the Fiat, making it far from class-leading.
The rorty 1.4-litre turbo (103kW/230Nm) and six-speed dual-clutch auto propel it to the front of the performance class. Twirl drive select to sport to tap that urge (AWD models have a more powerful version of the same engine) and thirst won't come close to the claimed 5.7L/100km. You're also paying for 95 RON.
A head-up display is the obvious highlight of the CX-3 but the engine (109kW/192Nm) is no slouch. Impressively, it even gets close to the claimed 6.1L/100km. The six-speed auto is rarely noticed — shift points have been well thought out. Sports mode elicits a more raucous note from the 2.0-litre engine as it hangs on to gears for longer but there rarely will be cause to employ it.
In Pop Star guise the 500X has blind spot alert and rear cross traffic detection as standard. There are seven airbags. Autonomous emergency braking and active lane departure assistance are bundled as an option. EuroNCAP gave the car four stars by but local models have more standard driver aids. Stay tuned for a local test.
The suite of driving aids packs rear cross-traffic alert, lane departure and blind spot alerts and city speed autonomous emergency braking. Passive safety includes six airbags, rear parking sensors and reversing camera. ANCAP gave the CX-3 five stars.
The 500X fulfils the city car brief with few complaints. The ride is fine over road ripples at city speeds but can be unsettled over larger, sharp-edged hits thanks to firmish suspension. It corners all right for an SUV. Light steering doesn't give masses of feedback.
A firm ride doesn't cause the CX-3 quite as much grief as it does the Fiat. The Mazda manages to corner hard without leaning into the turn but can still jostle passengers over broken roads. The steering is precise and outward vision is very good.
A fine car, the 500X is priced to compete with European rather than Asian rivals. The CX-3 is a better-equipped, better-riding vehicle priced to tempt buyers. It mounts a convincing case in any guise.