Audi Q5 2.0 TDI vs Volvo XC60 D5 Teknik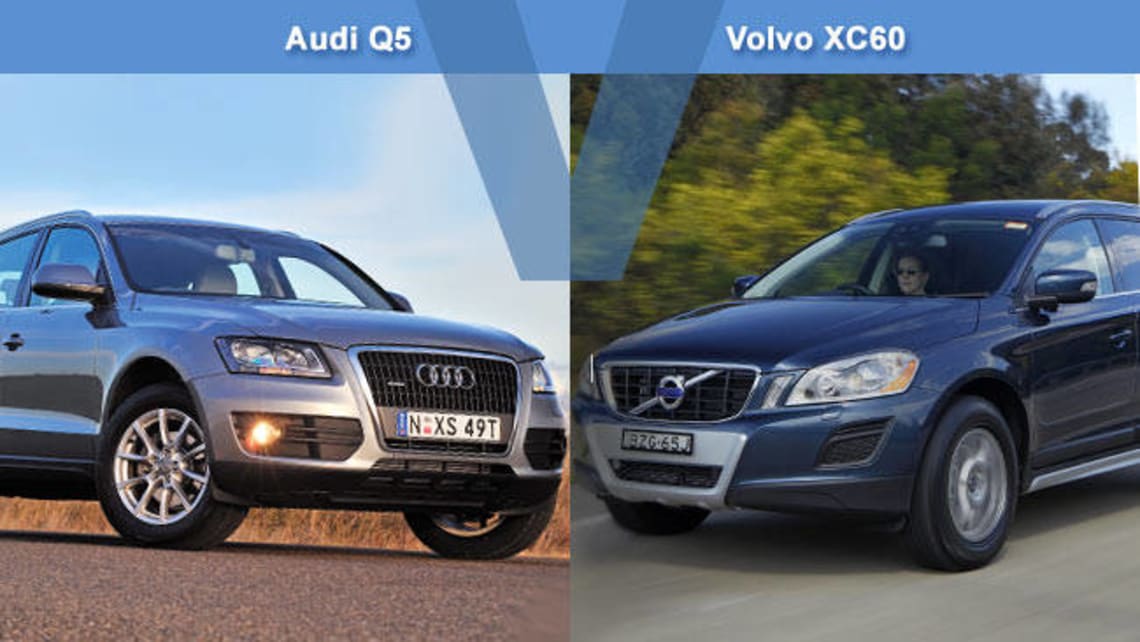 Audi Q5 2.0 TDI and Volvo XC60 D5 Teknik go head-to-head in this comparative review.
Audi Q5 2.0 TDI
from $62,200
The Q5 sits on 17in alloys and has rear parking sensors, daytime running lights, fog lights, roof rails, climate control, an auto-dimming rear vision mirror, cruise control, automatic headlights (absent on the Volvo), rain-sensing wipers, manual seat adjustment (the Swede gets power-adjustable front seats), ``leatherette'' seat trim, a ten-speaker 6CD sound system with Bluetooth phone and audio hook-up but no USB link.
Volvo XC60 D5 Teknik
from $65,990
The Volvo XC60 starts at $60,990 and the Teknik is $65,990. But the extras, selected individually, would be twice that hike. There's eight-speaker sound with USB and Bluetooth, dual-zone climate control, rain-sensing wipers, rear parking sensors and a camera, auto-dipping mirror, active headlights, satnav and blind-spot warning system.
It's not unattractive but nor is it as distinctive as the Swede. The little German cross-over wagon, a shrunken Q7, is not the most adventurously styled Audi to date but it's acceptable. Inside, there are more conservative lines but the functions and features are easy and straightforward to use.
The XC60 bears the hallmarks of modern Volvos - the solid shoulder line, tapered glasshouse and blunt-nose, with an angular rear end. The cabin is a clean-looking design that steers clear of the austere look of its German rivals. Integrated child booster seats will score points with parents.
The Audi falls short in cylinders and output, but it's no slouch, with 125kW/350Nm from the 2.0-litre turbo diesel. Audi claims 6.8L/100km. The Q5's Torsen all-wheel drive system drives all four wheels more directly than the front-biased Haldex set-up on the Volvo, via a seven-speed twin-clutch automated manual gearbox.
The kin-carter has an upgraded 2.4-litre five-cylinder twin-turbo diesel, with 158kW/440Nm. Even with newly increased outputs, fuel use has drops to 6.9L/100km. The Haldex all-wheel drive system combines with a six-speed automatic, an Aisin-built unit that runs a conventional torque-converter.
There are dual front, front and rear side and curtain airbags, as well as stability and traction control (with an off-road mode, says Audi) and anti-lock brakes with emergency brakeforce distribution.
The City Safe accident avoidance system and blind spot information system are highlights. There are also six airbags (dual front, front-side and full-length curtain). Safety runs in the wagon's DNA.
The specs say the Volvo is quicker in a straight line, but the Audi feels more nimble and connected. Ride quality doesn't suffer as much as its cornering prowess would suggest and it has a solid feel to it. Cabin space is not abundant in either vehicle, but each has enough space for an economical family.
The Swedes are getting closer to a ride-handling compromise that works on Aussie roads but are not there yet. The XC60 is quiet and for the most part smooth but not as roomy as impressions suggest. The upgraded diesel has plenty of grunt and less clatter. The rear has clever load-holding features.
It's close and much will depend on if the person who sits behind the wheel is looking for vehicle to drive or one that gets from A to B. The Volvo has some clever features (integrated boosters among them) and stylish interior, but the Audi feels more nimble.