Triumph Tiger 800 XC vs BMW F 800 GS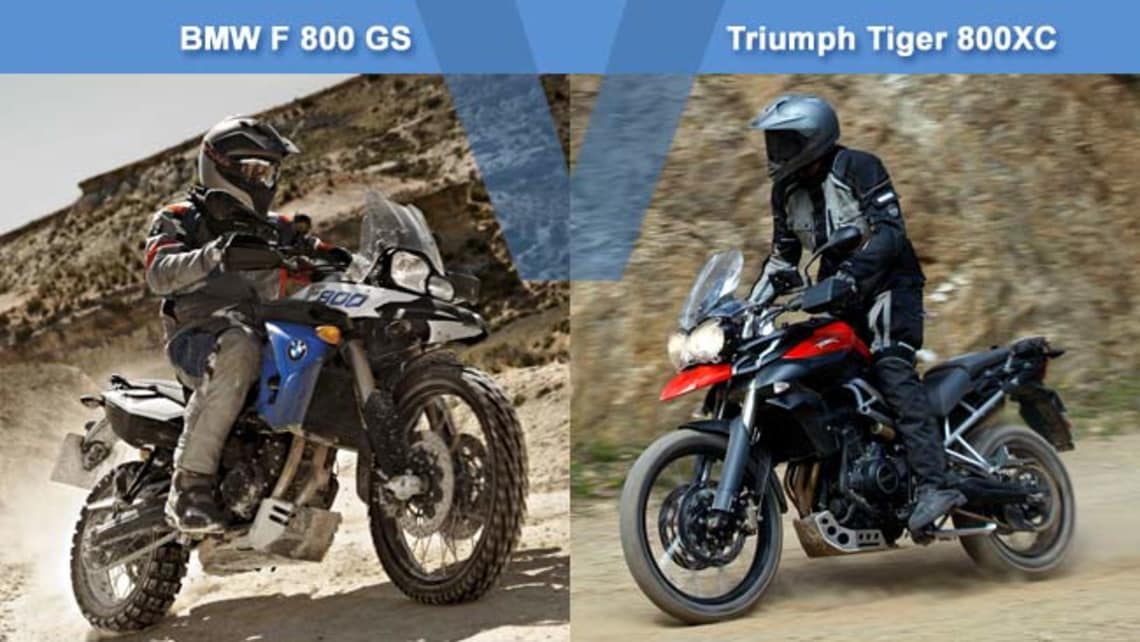 To get back on the horse that bucked you is to "attempt the same challenging action after failure", according to the Urban Dictionary. It doesn't mention anything about tigers.
But after a serious crash on the Triumph Tiger 800 XC adventure bike launch in the Victorian alps a year ago, it was time for me to mount up again.
The Tiger is Triumph's first foray into adventure bikes and will soon be followed by a 1200cc-plus Tiger Explorer and possibly a smaller model. It finished last year just behind its closest competitor in style, size and ability - BMW F 800 GS - but with only 10m months of sales.
I own a GS, so after a year of licking my wounds and dented pride, it was time to compare the two combatants.
VALUE
The Tiger triumphs in the price war starting at $16,290 compared with the GS at $17,490. ABS costs an extra $1000 on the Triumph and $1150 on the BMW. But the BMW wins in the features list. It comes standard with a more comprehensive on-board computer with a convenient toggle button on the left handlebar, handgrip warmers, centre stand and self-canceling LED indicators.
The Tiger has standard plastic handguards but most adventure riders will probably opt for sturdier guards on both these models. BMW has also released a Triple Black ($17,715) with black forks etc and a GS Trophy edition ($17,990) with blue and white livery, black and grey seat, aluminium engine guard and solid hand protection bars.
TECHNOLOGY
Three cylinders should be better than two, but the figures don't necessarily stack up. The Tiger's triple-cylinder heart pumps out 70kW of power, but it needs 9300 revs to reach that peak. By comparison, the Bavarian's parallel twin only has 63kW, but reaches that peak at 7500rpm.
More importantly for an off-roader is grunt at low revs. Here, the BMW wins with 83Nm of torque at just 5700rpm compared with the Triumph's 79Nm at 7850rpm. On paper and on the road the Triumph is a more potent machine at higher revs. It's also a little thirstier but has a similar effective range with a 19-litre tank; three more than the Beemer.
DESIGN
The designers at Hinckley obviously had a poster of the F 800 GS on the wall of their studio. Both are purposeful machines where practicality outweighs prettiness. Triumph has a slightly cleaner look with a less bulbous nose and matching eyes rather than one big headlight and one small one. Also, the exhaust pipe is on the right, not the left.
Apart from that you could easily mistake one for the other, especially now that the 2012 Tiger has gone from a grey frame to black like the BMW. SAFETY Stopping power is excellent on both with big twin discs up front. Triumph features Nissin (CORRECT) calipers, while the BMW has Italian Brembos with braided lines and about 8kg less weight, giving it the edge in stopping ability.
The switchable ABS works well on both, but works best when turned off for the dirt.
RIDING
This Tiger doesn't growl. Its smooth-running triple-cylinder engine makes more of a whizzing sound. The triple promotes rapid progress when you feed it plenty of revs, while the BMW has a lazier and lumpier power delivery. That makes the Tiger a good proposition on the road.
Off-road or dirt-road adventures require too much fancy footwork to keep the revs high. It is easier to manage the BMW's big torque in the dirt and it has the better roll-on power for passing.
The Triumph is more comfortable on the long haul with a softer seat, wider footpegs, lower buffeting from the windscreen and a smooth and quiet engine. With big 21-inch front wheels neither turns quickly on the tar, but both have a sure-footed feel on the dirt.
Suspension is a little plusher on the BMW to soak up the off-road hits. The Tiger has less fork dive and less rear squat under power.
Triumph Tiger 800 XC
Prices: $16,290, add $1000 for ABS
Warranty: 2-year unlimited km
Service: 10,000km
Engine: 799cc, 3-cylinder, 70kW/79Nm
Fuel tank: 19 litres
Transmission: 6-speed, chain drive
Tyres: 90/90 ZR21; 150/70 ZR17
Wet weight: 215kg
BMW F 800 GS
Price: $17,300, add $1265 for ABS
Warranty: 2-year, unlimited km with roadside assist
Service: 10,000km
Engine: 798cc, parallel twin, 63kW/83Nm
Fuel tank: 16 litres
Transmission: 6-speed, chain drive
Tyres: 90/90-R21; 150/70-R17
Wet weight: 207kg
The Brit triumphs on the road but the Bavarian wins in the bush.