Maserati Quattroporte S 2008 review

Rain deluges the northern Italian plains slowing even the autostrada, so the three Maseratis take to the hills, roaring onwards into the Apennines and ever upwards through the grey cloud curtain.
Braking hard into and punching assertively out of the endless succession of second gear corners carved into the mountainside, the Trident-badged missiles finally roar into the pale late autumn sunlight that bathes the uppermost of the tiny hamlets studded on these green peaks.
Oh, such sweet music these Masers make, each V8 singing in a different state of tune, but very much from the same songbook. Taking lead tenor is the recently-released (or unleashed) GranTurismo S whose aural report is but one reason to wonder if you really need to graduate to Ferrari - not least because the Maranello-sourced engine has been trained to an operatic pitch by Modena's acoustic engineers.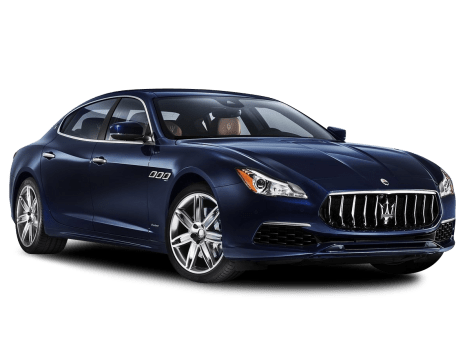 Explore the 2008 Maserati Quattroporte range
The visual impression is every bit as empathetic. Already one of the world's most beautiful cars, the GranTurismo appears positively sinister in S guise, a dark metallic predator that looms out of the cloud bank for a moment and promptly vanishes. Its sonic register is always audible as every one of the available 331kW and 510Nm are called upon in this superbly executed 4.7-litre combination of sky high revability and low down twist.
"When we design an engine we want it to have a very male sound," says Maserati product development manager Benedetto Orvietani, smiling ruefully at the incorrectness, but absolute desirability, of this. "It is important for car to have the right voice."
But this piece of auto erotic is mainly here to provide context. In less emphatic, but scarcely less resonant voice than the luxury sports coupe, is the pair of luxury sport sedans that are our main objects of interest today; the mildly revised Quattroporte and the new Quattroporte S.
The now five-year-old base model - if one priced from $286,000 can be so defined - retains the highly-adapted and wholly simpatico ZF automatic transmission. It gains LED lights and literally brilliant Xenon lamps which that night will distinguish the car from hundreds of metres back on a storm beset autostrada.
Cosmetically the interior wood and leather trim is somehow even more opulent. The trademark clock is present and correct. The tactility of this magnificent cabin is such that fingertip pleasing strips of material are laid behind the chrome gearshift levers.
Against that the satellite navigation systems remains enigmatic to put it politely. In all, the enhancements are of the sort likely to be appreciated by Maserati aficionados without dismaying current owners.
In that vein there's no outward indication of any sort that the $323,800 Quattroporte S is in any manner worthy of a premium over its lesser sibling sufficient to buy a new Golf GTI. Only on the road does its worth become (abundantly) evident.
By no means though can the lesser car's 295kW/460Nm 4.2-litrre V8 be considered an underperformer. The version that reinvented and reinvigorated the marque remains an absolutely no apologies required and altogether more stylishly Italian alternative to comparatively ubiquitous Germans.
Remarkably unremarkable in urban deployment ("You can take it to the supermarket," suggests Orvietani) it's almost unfeasibly entertaining on the tight, treacherously slick surfaces on were pedaling with some abandon. Unfeasible because despite being nearly two tonnes unladen and giving away a significant output deficit, it does a job of keeping the GT-S in sight.
The Pirelli Rossos for which the suspension is specifically tuned exert exceptional grip in these intimidating circumstances. The Quattroporte's sport mode is among the more meaningful weve encountered, containing this hefty four-doors natural propensity to body movement under duress like an electronic corset and allowing full enjoyment of the near ideal weight distribution.
Yet as pleasing as it is in isolation, there's no doubt that what must now be called the entry-level Maserati is labouring to do what the Quattroporte S is taking in its stride. The absence of readily accessible torque means were not often out of second gear here, and so the slightly slower car is the first of the three to see a petrol warning light.
It's also the first to run out of brakes. Never the Quattroporte's strength, the required anchor abuse all too soon sees the stop pedal in perilous proximity to the floor. Not something to cause concern in normal running, but a glaring defect when compared to the S model with its unperturbed Brembo six-piston dual cast discs.
Yet the ability to stop resolutely and consistently is the least impressive aspect of Maseratis range topping sedan. While it shares the equivalent S coupe's bored out 4.7-litre capacity, the 317kW/490Nm output is not the equal of the two door. For that matter it's not significantly greater than the lesser four-door and at a claimed 5.4 seconds to 100km/h from standing it's a bare two-tenths quicker.
The Quattroporte S proves, however, that it's not so much a matter of what you've got as what you do with it. Whereas the base sedan (and coupe) wants for a bottom end, the S model summons some 82 per cent of its torque total from 2500rpm and revs for a further five grand.
This more obtainable oomph makes it all the easier with which to live. "The engine," Orvietano tells us, "has reached its best configuration."
Indeed the Quattroporte S entails the best of Maserati's two model world, approximating the attack of the GT-S while affording the facility and comparative discretion of the saloon.
As to how it could be further developed, Orvietano says "there's no technical reason" why Maserati should not emulate Ferrari in climbing aboard the twin-clutch transmission bandwagon. And while he deflected with much charm questions as to an AMG-fighting Quattroporte, a member of our party saw two test variants in duct-taped disguise howling through the pre-dawn near Modena.
Such a thing would, of course, be wasted in the 19th century road conditions and attitudes that prevail in our wide, bland land. So is, to a too great an extent, the Quattroporte S. But surely it's churlish to quibble with a car that's both more efficient and ferocious than the base model.
Of course, you can always order one of the latter and use the $40K premium towards relocating to Italy, where there is a silver lining on even the cloudiest driving day.
Pricing guides
$52,395
Based on 4 cars listed for sale in the last 6 months
Range and Specs
| Vehicle | Specs | Price* | |
| --- | --- | --- | --- |
| (base) | 4.2L, PULP, 6 SP AUTO | $42,700 – 54,670 | 2008 Maserati Quattroporte 2008 (base) Pricing and Specs |
| Executive GT | 4.2L, PULP, 6 SP SEQ | $47,100 – 59,510 | 2008 Maserati Quattroporte 2008 Executive GT Pricing and Specs |
| Sport GT | 4.2L, PULP, 6 SP SEQ | $45,500 – 57,530 | 2008 Maserati Quattroporte 2008 Sport GT Pricing and Specs |
| Sport GT-S | 4.2L, PULP, 6 SP AUTO | $49,600 – 62,700 | 2008 Maserati Quattroporte 2008 Sport GT-S Pricing and Specs |
Pricing Guide
$48,950
Lowest price, based on 3 car listings in the last 6 months
View cars for sale
Similar Cars
Volvo S60

Disclaimer: The pricing information shown in the editorial content (Review Prices) is to be used as a guide only and is based on information provided to Carsguide Autotrader Media Solutions Pty Ltd (Carsguide) both by third party sources and the car manufacturer at the time of publication. The Review Prices were correct at the time of publication.  Carsguide does not warrant or represent that the information is accurate, reliable, complete, current or suitable for any particular purpose. You should not use or rely upon this information without conducting an independent assessment and valuation of the vehicle.