BMW M6 2006 Review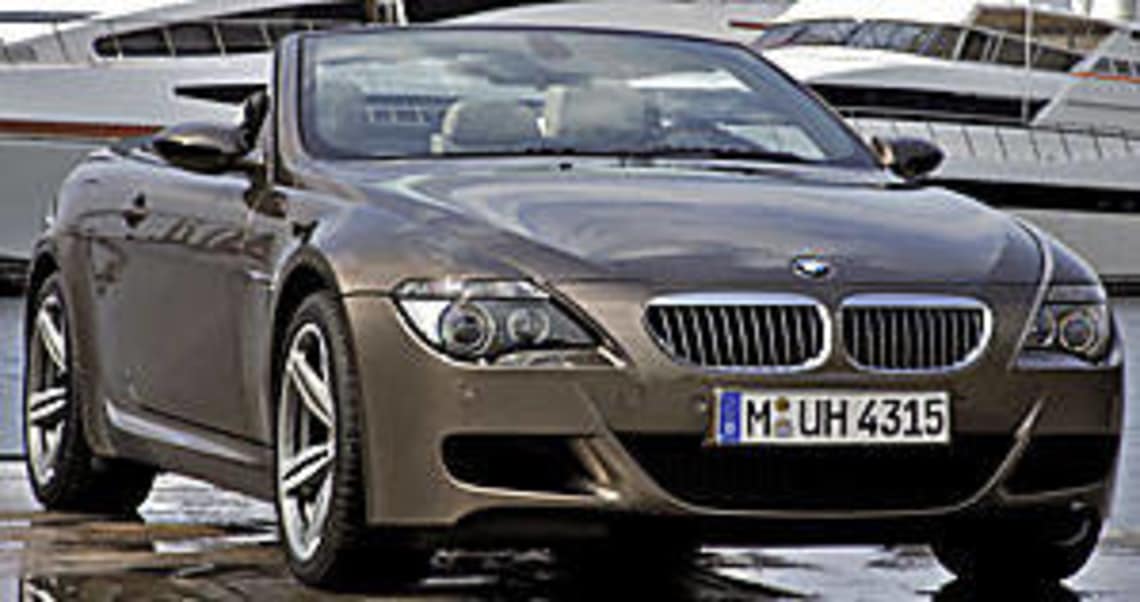 I've often pondered the strange yet undeniable connection between going bald and buying a convertible.
Are bald blokes trying to distract us from their follicular failings by driving something flashy and dashy, or are they, subconsciously, trying to draw attention to the fact by buying a car that apes their receding hairline with a receding roof?
The launch of the staggering new BMW M6 Convertible is about to add more confusion to the issue by creating another potential sub-set of nude nuts: people who weren't actually bald when they bought one but have had their hair removed from its roots by the sheer force of its acceleration.
Even baldies like to tout the term "wind-in-the-hair motoring", but in the case of the rag-top M6 it's more like tornado-in-the-hair transport.
When you put your foot down in this V10-engined V-max machine you rip holes in the air around you, both with your pace and the race-bred noise that it makes.
Anyone tall enough to have their head sticking above the line of the windscreen is in serious danger of being lobotomised as well as Yul Brinner-ised.
The 5.0-litre engine huffs out a faintly ridiculous 373kW of power and 520Nm of torque and can hurl this highly luxurious grand tourer from a standing start to 100km/h in a supercar-standard 4.8 seconds.
That figure is all the more implausibly impressive when you consider that the Convertible weighs in at 2005kg – up 220kg on the M6 Coupe.
Logic, and indeed physics, dictates that two tonnes of car simply should not be able to move that rapidly, but this M6 forces you to redefine what you think you know.
Overtaking maneouvres that would seem suicidal in other cars are performed with the flap of a paddle gearshifter, the flick of a right boot and an almost irresistible hoot of joy from your lips.
And scuttle shake, that curse of all convertibles, which sees the frame flexing and the steering wheel shickering in your hands, is banished, entirely.
Then there's the fact that no two-tonne teuton-mobile should be able to handle, and change direction, as well as this car does.
You're always aware of the weight, obviously (and personally, it's the reason I'd still choose a mere M3 over a monstrous M6) but it simply doesn't hinder you, even through tight, twisting switchback sections of road.
Throw in the marvelously meaty steering feel and you've got one hell of a car in your hands.
The thing is, BMW have already been offering a very similar and slightly faster (4.6 seconds to 100km/h) car, the M6 Coupe, for some time, so why the need for this drop-top version? Is it just the ultimate bald man's car?
Well, no. The M men admit quite happily that this car isn't really necessary, as such, in any logical way, but it does have a strong emotional element.
And that emotion is linked, essentially, to the heart through the ears.
As one M insider put it, "this is a sound machine".
The mad, metallic shriek the V10 engine makes is impressive enough in the Coupe, but hearing it, untamed, with the roof down is something else again.
It's the kind of car that has you hunting for tunnels like a mole.
And when you find one, it's impossible to resist dropping it back to second and exploring the volcanic volume that erupts above 8000rpm.
As wondrous as it is in most ways, the M6 Convertible does have its failings, including an A-pillar that's so big you have to bob your head from side to side to see around it.
I also still found myself wishing it had a manual gearbox instead of its super high-tech seven-speed SMG, which rolls back on hills because you can't control the clutch take-up and, at full noise, changes cogs with all the subtlety of someone hitting you in the coccyx with a telephone pole.
Indeed, in some countries – Canada and the US – they've wished this so hard that it's coming true, with a conventional six-speed manual set to become available for V10 M customers this year.
In the rest of the world, we're told, there simply isn't enough demand for a three-pedalled version. For shame. Then there's the styling, which might politely be described as grandiose, or less politely as just gross.
In the white livery the car was presented in at launch, it looks like a florid, Florida kind of car, which would make it a Miami sound machine, I guess.
And yet, this is a car that you could buy despite its looks, not for them, just to get your hands on that engine.
It obviously appeals to plenty of people, too, with the first production run already sold out in Europe, before it's even gone on sale.
The M6 Convertible will break cover locally at the Australian International Motor Show in Sydney next month before going on sale in December at a price tipped to be in the stratospheric $290,000 to $300,000 range.
Stephen Corby is a senior roadtester for the CARSguide team whose work also appears in the Sunday Telegraph. A version of this review plus more news and analysis can be read in the Sunday Telegraph.
More Corby rantings on non-car stuff can be found on his Daily Telegraph blog.
Pricing guides
$30,735
Based on third party pricing data
Range and Specs
| Vehicle | Specs | Price* | |
| --- | --- | --- | --- |
| M6 | 5.0L, PULP, 7 SP SEQ AUTO | $34,600 – 44,770 | 2006 BMW M Models 2006 M6 Pricing and Specs |
| M6 | 5.0L, PULP, 7 SP SEQ | $31,900 – 41,800 | 2006 BMW M Models 2006 M6 Pricing and Specs |
| M5 | 5.0L, PULP, 7 SP SEQ | $19,100 – 26,620 | 2006 BMW M Models 2006 M5 Pricing and Specs |
| 550I Sport | 4.8L, PULP, 6 SP AUTO | $19,700 – 27,390 | 2006 BMW M Models 2006 550I Sport Pricing and Specs |