Honda Jazz, Volkswagen Polo and Ford Fiesta 2014 Review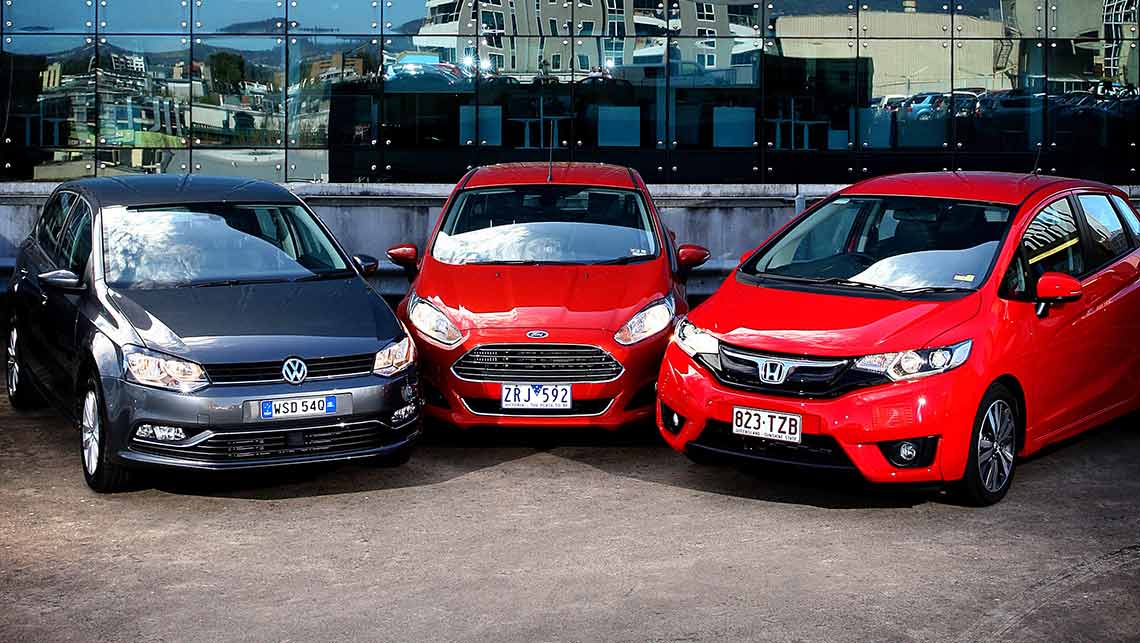 These hidden gems shine in their civic duties. 
Shopping trolleys? Kid-carters? It's easy to assume this trio has no other roles but each goes well beyond mundane motoring. They can swallow a bootload of groceries, do the school run and convey future sports stars - but they are also quality drivers.
These three hidden gems are part of the light car segment, which racked up 9501 sales last month - an improvement of 8.9 per cent on August last year. The segment has dropped by 7.7 per cent, not the worst of the passenger car segment.
Sales of the Polo, thanks to a refresh, are up 20 per cent.
Ford's Fiesta has been on the market since August last year, but the 1.0-litre EcoBoost model has only made its presence felt this year. It has long been a favourite for chassis balance.
The Jazz in this current guise arrived here only in July, bringing one of the most flexible and clever interiors around.
VALUE 
Common standard features include cruise control, trip computers, air conditioning, alloy wheels automatics (the Honda is CVT-only; the Europeans have manual options), fog lights, keyless entry, 12-volt sockets, USB and auxiliary inputs, Bluetooth phone and audio links.
Built in South Africa, the top-spec Polo 81TSI Comfortline has a seven-speed DSG and just gets over the $20K barrier at $20,790. The test car can also be had as a six-speed manual for $18,290.
Among the VW's features are a front centre armrest with storage, cup and bottle holders, touchscreen infotainment, six speakers, leather-wrapped steering wheel, gearshift and handbrake, cloth trim, front and rear reading lights and power adjustable and heated exterior mirrors.
Servicing is capped but it's at least $400 each time - servicing for the warranty period of three years will come to $1330.
The third-generation of Honda's versatile five-door hatch is $22,490 in VTi-L flagship guise - metallic paint adds $495 on any model.
The VTi-L has power exterior mirrors, LED lights, leather highlights, heated front seats and six-speaker infotainment with touchscreen and HDMI port.
Honda's servicing is capped as well, but every six months or 10,000km at $200-plus each visit - servicing for warranty period runs to an expensive $1524.
The oldest of the trio is Ford's Fiesta, which in six-speed automatic guise asks $22,525. It gets the clever and useful voice-controlled Sync setup. Manual aircon is standard but there's Sony eight-speaker audio and leather inserts in the sport seats.
Servicing is required every 15,000km or 12 months - and maintenance for the warranty period totals $765.
TECHNOLOGY 
Each shows big steps towards improving efficiency, trouncing predecessors and setting new class standards - but with compromises.
The Honda has a carry-over (and unsophisticated) 1.5-litre engine, the CVT replacing last year's trickier five-speed auto, but it's slightly more frugal. The Jazz sits on a new, bigger platform yet keeps ancient rear drum brakes (as does the Fiesta) and the ride hasn't improved.
Ford's Fiesta Sport doesn't at first impress on paper but a quick spin leaves little doubt about the punchy three-cylinder, the most powerful of this trio and the second-most frugal. Its six-speed dual-clutch automatic is similar in concept to that in the Polo and, despite sitting on tighter sports suspension, it rides compliantly.
As the newest of this bunch, the Polo gets an engine upgrade to claim top spot for frugality in this company but it needs 95RON. It is the only one here with all-wheel disc brakes.
DESIGN 
By far the most conservative, the Polo has been sharpened up but not anywhere near the cutting edge; inside is a similar story - it borrows much from the Golf but the quality of materials and finish doesn't reflect the price tag.
Cargo space of 280L, rising to 952L with only two on board, just pips the Fiesta (276L/960L).
The Jazz looks like an Odyssey people-mover left too long in the clothes dryer. Its footprint isn't sprawling but its cabin is spacious - it wins on interior room (350L/905L for cargo and 1500L stacked to the roof) and flexibility to put a gymnast to shame.
SAFETY 
Absent from this trio are standard rain-sensing wipers, autodimming centre mirror and auto headlights as standard (options for Polo and Fiesta).
The Fiesta tops the airbag list with seven (a driver's knee airbag plus the standard six of the VW and Jazz).
The Honda has a reversing camera (rendered useless by direct sunlight on the screen) and rear parking sensors.
The Polo claims a segment first with Multi-Collision Braking (which applies the anchors after a rear-end shunt) and optional Adaptive Cruise Control but it lacks standard rear sensors.
DRIVING 
As mini-machines go they all stack up well yet their character clearly differ. In the Fiesta, it takes less than a minute behind the wheel to feel it is built for an owner who likes to drive. The dual-clutch auto teams well with the three-cylinder turbo, propelling the nimble but not uncomfortable chassis with vigour.
Light and quick steering make quick work of traffic gaps or country corners, putting it firmly into top spot for the long way home.
The Honda's powerplant works hard (and sounds it) but the CVT takes the Jazz off the boil a little nipping through traffic is not its forte - and the chassis deals better with larger bumps than it does smaller ripples.
From an aesthetic perspective, the Polo doesn't excite but it's clearly the winner in terms of ride comfort (without ignoring handling, which is composed), refinement and a solid feel.
The Polo's engine is flexible and useful and its DSG, while only sporadically indecisive, is sometimes too keen to change up for the sake of fuel economy.
It works in that respect, claiming the lowest thirst from the largest tank, at least according to the official figures - the Jazz claims a 689km range, the Fiesta 792km and the VW tops the chart at 937km.
During our journey all three cars stayed well in the single-digit realm for fuel economy, with the Polo living up to its most-frugal claim.
VERDICT 
None lacks lustre. They possess different character, to suit different owners. The Polo goes for interior quality and ride comfort, the Fiesta begs for a sporty owner who loves to drive and the Jazz suits the pragmatic owner needing flexible space and reliability above driving performance. The Polo works best across the board.

AT A GLANCE 

Ford Fiesta Sport EB Powershift: 3.5/5
Price: From $22,525 
Warranty: 3 years/100,000km 
Resale: 50 per cent 
Service interval: 12 months/15,000km 
Safety: 5 stars ANCAP 
Engine: 1.0-litre turbocharged 3-cyl, 92kW/170Nm 
Transmission: 6-speed auto; FWD 
Thirst: 5.3L/100km, 121g/km CO2 
Dimensions: 4m (L), 1.8m (W), 1.5m (H) 
Weight: 1127kg 
Spare: Space-saver 

Volkswagen Polo 81TSI Comfortline DSG: 4/5 
Price: From $20,790 
Warranty: 3 years/unlimited km 
Resale: 47 per cent 
Service interval: 12 months/15,000km 
Safety: 5 stars ANCAP 
Engine: 1.2-litre turbocharged 4-cyl, 81kW/175Nm 
Transmission: 7-speed DSG; FWD 
Thirst: 4.8L/100km, 95RON, 113g/km CO2 
Dimensions: 4.0m (L); 1.7m (W), 1.5m (H) 
Weight: 1151kg 
Spare: Full-size steel 

Honda Jazz VTI-L CVT: 3.5/5 
Price: From $22,490 
Warranty: 3 years/100,000km 
Resale: 57 per cent 
Service interval: 6 months/10,000km 
Safety: 5 stars (previous model ANCAP) 
Engine: 1.5-litre 4-cyl, 88kW/145Nm 
Transmission: CVT; FWD 
Thirst: 5.8L/100km, 135g/km CO2 
Dimensions: 4.0m (L), 1.7m (W), 1.5m (H) 
Weight: 1130kg
Spare: Space-saver