Audi A3 1.4 TFSI Cabriolet 2014 review
Ewan Kennedy road tests and reviews the Audi A3 Cabriolet, with specs, fuel consumption and verdict.
What we like
Refined even with the roof down
Good looks
Quality interior
What we don't
Small rear seat
Boot space restricted when roof is down
Electric roof could raise quicker
What we like
Refined even with the roof down
Good looks
Quality interior
What we don't
Small rear seat
Boot space restricted when roof is down
Electric roof could raise quicker
When I first learned where Audi Australia planned to launch the new A3 cabriolet, I must admit to rolling my eyes to the heavens. "Why," I asked, "are they inviting me to Kangaroo Island in the middle of the Southern Ocean in the middle of winter to drive a convertible? Surely somewhere like Port Douglas would make more sense?"
Upon arrival at Adelaide airport to be greeted by a fleet of Audi A3 convertibles with their tops optimistically down, I again shook my head. Then it all began to make sense. The smallest Audi open-top cars were fitted not only with heated seats, but blew hot air at the back of my neck.
Boy, did that make all the difference! Having planned to immediately put the roof back up I found the heat settings that best suited me - you have a choice between three temperatures on the seats and the hot-air blower - and shrugged aside the brisk Adelaide morning air and enjoyed my own private climate. Simply brilliant.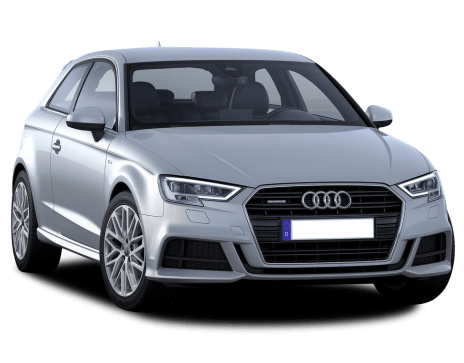 Explore the 2014 Audi A3 range
Kangaroo Island didn't meet Audi's cold-test needs, sitting at 14 to 15 degrees all day after we drove off the ferry from Penneshaw. However, it did get down to 10 in the evening and we remained reasonably comfortable. 
The neck and nether-region warmers aren't standard in all A3 models, as those in warmer climes may not need them. Speak to your local Audi dealer for details.
On the subject of putting the roof up, Audi claims it can be done in 18 seconds, but my stopwatch disagreed - stopping at 26.7 seconds. Which sounds like no big deal, but when you're sitting at a red light hoping to avoid embarrassment by being caught with your roof halfway up when the lights change it can be a long wait.
To partly compensate for Audi's overconfidence on the roof's speed is the fact that it can be raised or lowered at speeds of up to 50 km/h. So if the lights do change to green 18 seconds after you pull the lever you have another nine seconds of staying under 50 before the embarrassment kicks in. Not recommended, though!
Interestingly, the Audi A3 cabriolet convertible is based on the platform of the A3 sedan, rather than the hatch as in the previous model. As it uses the clever new Audi/Volkswagen MQB matrix platform the new cabriolet is not only significantly more rigid than the outgoing one, but also lighter, by about 60 to 65 kg according to model. 
Less weight means more performance and lower fuel consumption and emissions, and of course, nimbler handling.
DESIGN
The Audi A3 convertible follows the German marque's usual single-frame grille and widespread headlights theme. The body is low and sleek in profile, with the soft-top up it looks good, with the top in its correct position - down - it works extremely well and looks a size up on what it really is. 
The rear is low and neat and has a good solid look when viewed in motion from the rear.
Inside, there's the typical Audi design flair and high quality finish. The centre infotainment screen does look a little like an afterthought rather than part of the original design, it can be slotted down in the dash if not required.
ENGINES / TRANSMISSIONS
All familiar here, the new A3 cabriolet uses the company's 1.4 and 1.8-litre turbo-petrol units, as well as the 2.0-litre turbodiesel. Their power outputs are 103, 132 and 110kW respectively. Strong torque is a big feature of all turbo engines, particularly diesels. The petrols both produce 250Nm, but the 1.4 has a shorter spread, between 1500-3500 revs, whereas the bigger capacity of the 1.8 sees it stretches all the way from 1250-5000rpm. The turbodiesel's torque is 320Nm from 1750-3000rpm.
All variants have a dual-clutch automatic, and while the front-wheel-drive petrol models have seven forward gears, the unit in the quattro 1.8 and the diesel has six ratios.
SAFETY
Five star safety ratings go without saying in all Audis these days. There's a big emphasis on primary safety - avoiding a crash - as well as many driver assistance features such as side assist and active lane keeping. Some of the more advanced semi-autonomous features are part of an optional package. 
DRIVING
The front seats are reasonably spacious, those in the back are strictly for occasional use if you want adults back there. Kids love the back seats of convertibles - and most won't demand seat heating and neck warming… 
Boot space is quite good for this class at 320-litres with the roof closed and 275 when it's open. You lose a fair bit if height when the roof is where it should be - down - so pack economically if doing a weekend, or longer, trip.
With the roof open and the windows up life inside is relatively peaceful, see the opening to this review for heating details, with all the windows down to create the full convertible experience the A3 cab is still more than acceptable.
Engine performance from the two petrols is good, with little turbo lag and plenty of torque once everything is spinning well. Seat of the pants sensations say the 1.4-litre is almost as strong as the 1.8 and its entry level price of $47,990 makes it tempting.
We didn't get a chance to drive the Audi A3 turbo-diesel, but will try to get into one later.
The double-clutch auto's shifts are fast and this unit doesn't have the problems at very low speeds that troubled some earlier units. Shifting the transmission into its Sport mode noticeably improves driving pleasure.
Verdict
An open-top car for all seasons. The Audi A3 cabriolet gives you a bigger spread of comfort so you can justify buying a convertible instead of having to go for a mundane hatch to remain practical.
2014 Audi A3 Cabriolet list pricing
Attraction 1.4 TFSI 1.4-litre turbo-petrol: $47,300 (automatic)
Ambition 1.8 TFSI 1.8-litre turbo-petrol: $51,900 (automatic)
Ambition 2.0 TDI 2.0-litre turbo-diesel: $51,900 (automatic)
Ambition 1.8 TFSI quattro 1.8-litre turbo-petrol: $54,900 (automatic)
Pricing Guides
$22,999
Based on 121 cars listed for sale in the last 6 months
Range and Specs
| Vehicle | Specs | Price* | |
| --- | --- | --- | --- |
| 1.4 TFSI Attraction Cod | 1.4L, PULP, 7 SP AUTO | $17,498 – 31,990 | 2014 Audi A3 2014 1.4 TFSI Attraction Cod Pricing and Specs |
| 1.8 TFSI Ambition | 1.8L, PULP, 7 SP AUTO | $21,988 – 32,980 | 2014 Audi A3 2014 1.8 TFSI Ambition Pricing and Specs |
| 1.8 TFSI Ambition Quattro | 1.8L, PULP, 6 SP AUTO | $22,888 – 29,990 | 2014 Audi A3 2014 1.8 TFSI Ambition Quattro Pricing and Specs |
| 2.0 TDI Ambition | 2.0L, Diesel, 6 SP AUTO | $24,888 – 26,888 | 2014 Audi A3 2014 2.0 TDI Ambition Pricing and Specs |
Pricing Guide
$23,895
Lowest price, based on 24 car listings in the last 6 months
View cars for sale
Similar Cars
Volkswagen Golf

Audi A1

Mazda 3

Mercedes-Benz A-Class