Caravan vs camper trailer vs motorhome - how to choose the right one for you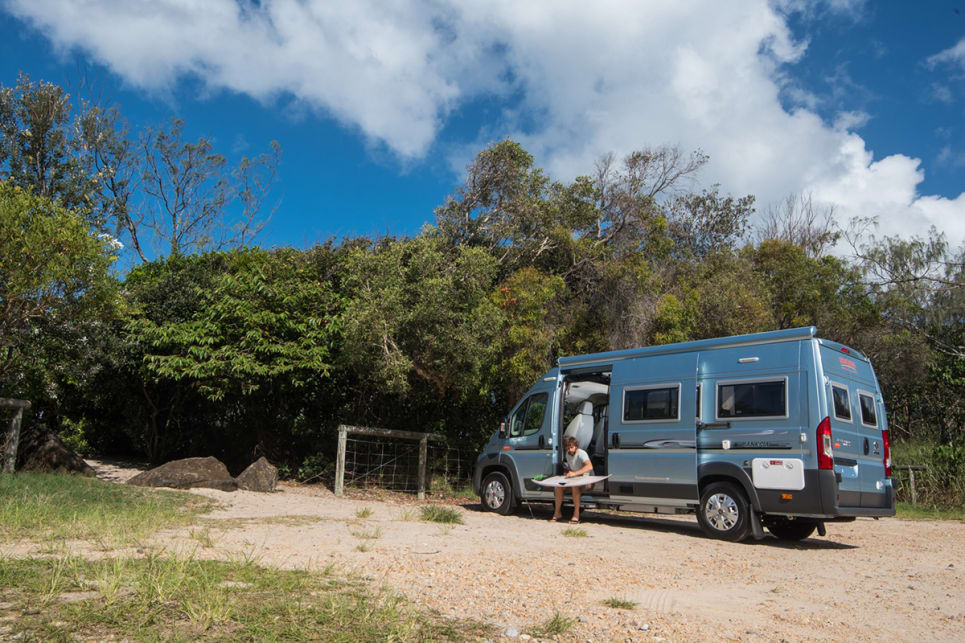 In a country as expansive, varied and as beautiful as Australia, there is no better way to explore it than by road. From the endless coastlines to the stark red deserts, Australia's natural beauty is best enjoyed close-up. 
Not too close, mind you, if we can bring a little bit of comfort – some insulation between we and the extremities, we'll be all the better for it, and there's nothing better than a good caravan, motorhome or camper trailer to provide it. But the how to choose a caravan, motorhome or camper trailer is often the hardest part, especially if you've not had much experience with any of them. So, to help you make the best decision, here's a rundown of what each is good at, features and costs, so you can plan the best way to travel Australia in your own situation. 
Caravans
For most people, a caravan of some description is the ideal holiday accommodation, and there's no shortage of choice. In fact, there are over 100 manufacturers represented in Australia, some so big they make thousands of units a year which sell all over the world and others so small they might only run out a dozen bespoke units in 12 months.

These days, most caravans are fitted with a double bed, an extensive kitchen, a comfortable dinette/lounge area and a shower and toilet of some description. (image credit: Brendan Batty)
Caravans are generally lumped into two categories. Pop-tops, with a lifting roof section, is a design popularised during the fuel crisis of the 1970s to reduce wind resistance while the full caravan, with solid walls all the way to the roof is the more traditional style. The main benefit of a full caravan is that there's no set-up at camp, you just reverse into camp and unlock the door. The overhead cabinets are also higher, often just above eye-height, so it feels bigger, too.
These days, most caravans are fitted with a double bed (often with an option for two singles), an extensive kitchen (which includes a stove, large fridge, range hood, microwave and plenty of storage space), a comfortable dinette/lounge area and a shower and toilet of some description. In the larger caravans the bathroom (often called an ensuite) has a separate area for the shower and toilet while smaller caravans might combine the two into a smaller space, the effect being that your toilet seat gets wet when you wash. On road caravans can be had from as little as $35,000 new, for a small simple example up to six-figure territory if you want a long one with the lot. 

If you want to go off-road in your caravan you will have buy one made specifically for the purpose. (image credit: Brendan Batty)
If you want to go off-road in your caravan you will have to buy one made specifically for the purpose. If it's just light off-road work (some dirt roads into a national park, a well-maintained dirt highway) many companies offer an outback-ready upgrade which usually adds ground clearance, a heavier chassis, all-terrain tyres and checker plate sides. The more dedicated off-road caravans are built from the ground up with rough-road travel in mind, and will have stronger cabinetry, sophisticated suspension systems and often, off-road caravans are all the company builds. Off road caravans often add between $5,000 to $20,000 of cost to the price of a similarly equipped on-road version. 
A caravan shouldn't be hard to tow, but remember that the longer and heavier it is, the more stress is will put on your vehicle, your fuel economy and even your energy when driving. There's value in opting for a smaller caravan if you can sacrifice just a small amount of comfort. 
Motorhomes
I want to get this straight, right up. In almost every equation a motorhome is the superior mode of mobile accommodation. As a general rule, they are built to a higher standard, have more luxurious interiors, cost less to travel with, don't have any of the hassles of towing, are more self-sufficient and reversing them into a campsite is easy-peasy. But, and this is a massive but, if you want to leave camp to go exploring (or just forgot to get milk), you have to pack up camp to go exploring. Every time.
Most people buy a motorhome because they're either sick of towing, or reluctant to do so. Motorhomes come in all different shapes and sizes and all different abilities. You can buy a motorhome that'll survive a zombie apocalypse or another that will comfortably potter around seaside villages as you read a book under its awning. How to choose a motorhome that's right for you will depend on your idea of comfort and your budget.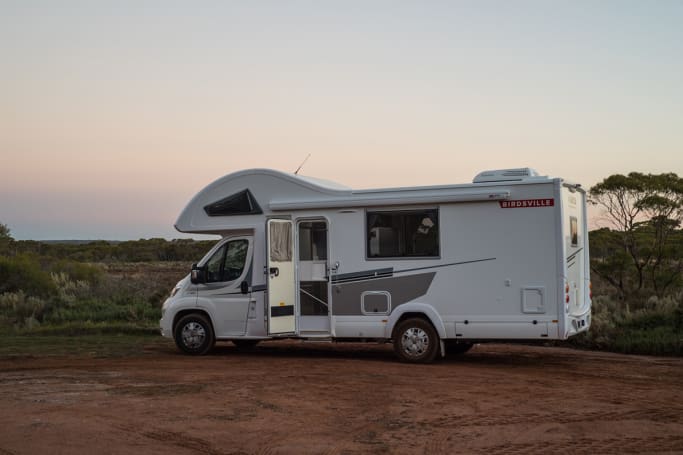 The more conventional motorhome is a coach-built marvel of modern comfort. (image credit: Brendan Batty)
The most basic motorhome is a simple van, most commonly a Toyota Hiace or Volkswagen Transporter, on the smaller scale, or Fiat Ducato, Iveco Daily and Mercedes-Benz Sprinter on the larger side, transformed into cosy little homes on wheels. Most commonly they have a bed across the back which often converts into a lounge or dining area and a small, basic kitchen behind the driver's and passenger's seats, with clever storage solutions built in every other space. The larger or more upmarket versions might also feature a toilet and shower, more sophisticated shower and potentially even features like central heating or air-conditioning. For the smaller vans, expect to pay around $70,000 to $100,000 new, while the larger vans begin at around $100,000. Second hand, campervans keep their value quite well, but there are bargains everywhere. 
The more conventional motorhome is a coach-built marvel of modern comfort. Often based on small commercial trucks, motorhome builders construct their own bodies and plonk them on the back. In the olden days, these might have been little more than a glorified caravan bolted to a tray, but today modern motorhome builders use advanced materials and construction techniques to build the box. Today, even the most basic motorhomes are fitted with toilets, grey water tanks, showers, air conditioning, large beds and extensive kitchens. They most common length is around 20 to 24 feet, but much longer versions are easily had. Expect to pay upwards of $130,000 for a motorhome of this type, new. 
If you want to look at something even more extravagant and have hundreds of thousands of dollars to spend, there are products for you too. Larger truck or bus based motorhomes are niche, but certainly not in short supply. Models with small car garages, large expanding sections and multiple living spaces are easily had, some built in Australia, others imported from Europe or the United States. 
Camper Trailers
For those that value versatility, adaptability or don't want to spend all the inheritance, a camper trailer is an excellent option. Most, these days, are off-road ready, feature a kitchen, varied storage spaces and can be optioned to the wazoo to completely suit your needs. Like Mexican food, there are a few different ways that a camper trailer can fold up, but they've all got essentially the same ingredients, which can make the question of how to choose a camper trailer a little difficult.
They're a great choice for families or those with smaller capacity tow cars. 
The most basic camper trailers are little more than a box-trailer with a tent bolted to the top and a few different storage options fitted. Commonly referred to as soft-floor campers, because the tent section folds out onto the ground, most of the trailers in the lower price brackets are imported from factories in China, and like anything, there are good and bad examples – price is usually the best indicator. These trailers can be as cheap as your first car was or as expensive as the one you're dreaming about, depending on features, country of manufacture and off-road ability. 
Hard-floor campers are those with a fold over lid that becomes the floor or bed base, from a hinged section on either the rear, front or side. Traditional hard-floor campers fold backwards and the lid becomes the floor, while those with a hinged section on the front or the side usually have a bed strapped to the underside of the lid and the space contained within the trailer walls is usually a comfortable living area with wraparound lounge (that may or may not convert into a bed) a possibly a simple kitchen. Hard floor campers start at around $15,000 and can cost as much as a block of land in Hobart.

Hard-floor campers are those with a fold over lid that becomes the floor or bed base, from a hinged section on either the rear, front or side. (image credit: Brendan Batty)
Almost exclusively, the kitchen, shower areas (if fitted) and any other modern luxuries are fitted to the outside of the trailer or pull out so they can be used under the awning. Camper trailers are the kings of outdoor living and with a good awning and decent camp chairs, it can be as comfortable as any other RV accommodation, even if it takes a few extra minutes to set up. 
For those that want the comforts of a caravan (indoor kitchen, big beds, indoor living comforts, the wind-up roof campers that have been popularised by Jayco, are a great choice. Available in on-road or off-road variations from a number of different companies, these are the closest thing to a caravan, but without the towing bulk or price tag. They're a great choice for families or those with smaller capacity tow cars. 
Increasingly there's a small trend to trailers that are less camper and more storage. Be that for big-boys' toys like motorbikes and tinnies, or muscle powered amusements like bikes, kayaks or surfboards, there's a growing range of trailers that have great kitchens, heaps of storage space but just a simple roof-top tent as accommodation. These are really well suited to more rugged adventures where the destination is just the beginning. Expect to pay at least $10,000 if its fitted with a tent of any description. 
Where to next?
Now that you've made up your mind on a travel companion, here's some of the places you should probably plan to visit. None will leave you disappointed. 
Victoria – The High Country
Whether you want to take the bitumen route along the B500 (the Great Alpine Way) or the more rugged off-road trips through the wilds of the Victorian High Country, there's something for everyone in the mountains. Great camping, excellent fishing and even skiing, walking and white-water rafting await. 
New South Wales – The Mid-North Coast
Between Port Macquarie and Coffs Harbour there's an almost endless choice of experience for the camper. Tiny coastal towns stunning beaches are all linked by the network of bitumen roads, for those in on-road based rigs, while nearly all of the beaches can be driven on between towns, creating a very long off-road route for the more adventurous. 
Queensland – Rainbow Beach
A coastal playground that's attractive to every sort of camper, there's wonderful camping that's two-wheel drive accessible, four-wheel drive accessible and even café accessible. Swim, surf, fish or just read a book on the sand, there's something for everyone. 
Northern Territory – Kakadu
Of the two hallmark NT destinations, Kakadu just tops Uluru for sheer wonder. Not only is it closer to Darwin than Uluru is to Alice Springs, there's more to do, more budget camping options and the fishing is far better. Choose from off-road campsites next to remote billabongs or well-defined campsites near aboriginal rock-art galleries. 
Western Australia – The South West Capes
Don't underestimate how big Western Australia is, even just exploring a small part of it in the south west. Taking in Margaret River, Cape Leeuwin and even Albany and Esperance, the capes have incredible landscapes, almost limitless camping options and spectacular beaches. 
South Australia – The Eyre Peninsula
One of the most stunning coastal stretches in Australia, it varies between calm waters where oysters grow almost to the size of plastic clam shells, to seemingly endless ocean cliffs that are pounded relentlessly by the Southern Ocean. With a mild climate and excellent camping, this is a highlight of South Aus. 
Tasmania – The East Coast
Between Orford in the south and St Helens in the north, the Tassie east coast is wildly varied. Take in the wonder of Frecinet National Par, have little penguins waddle past at Bicheno and swim in crystal clear waters off Bay of Fires all while camping in the most charming little towns and campsites along the way.
Where will you be travelling to next? Let us know in the comments.