5 things that can go wrong off-roading - and how to fix them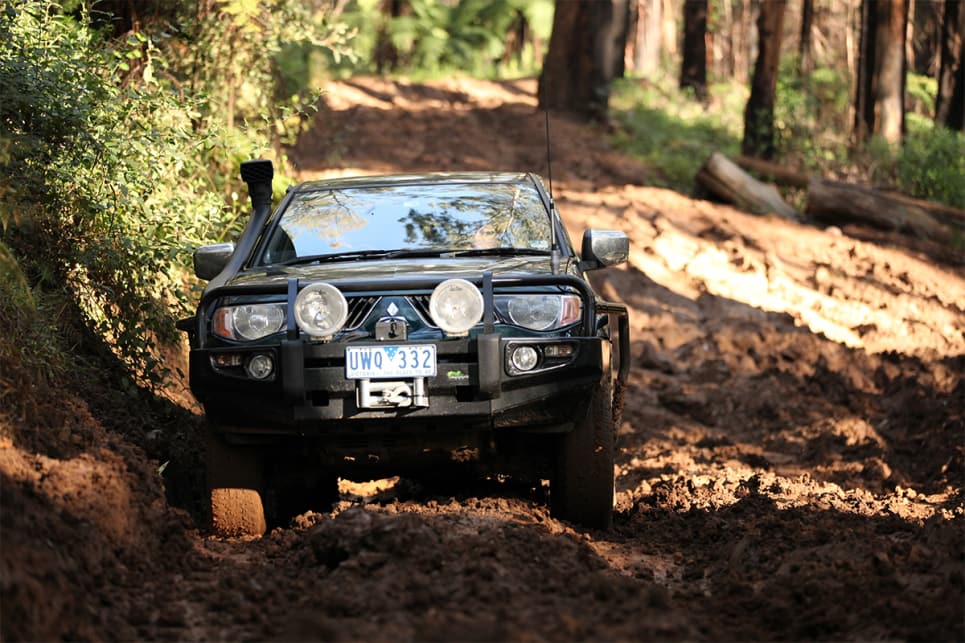 Okay, pay attention here: off-roading by its very nature involves putting vehicles in unusual and sometimes precarious situations and the potential for vehicle damage is somewhat greater than say, for instance, driving to the shops in quiet suburbia – even though that scenario carries with it its very own set of challenges and hazards. But getting bogged, stuck, hung up, or your vehicle copping damage, breakages, punctures and more, minor or otherwise, can be, ideally, avoided or, worst-case, minimised and fixed swiftly so you can continue your travels.
Here are some common things that can go wrong when you're driving off-road – and how to fix them*. (*As with anything, prevention is better than the cure so it's always best to avoid a situation in which you may get stuck or your vehicle may get damaged as best you can or have your vehicle already properly prepared, maintained and thus safeguarded against strife with the appropriate measures.) 
You're bogged

Everyone gets bogged – and you'll get bogged no matter how great a driver you are (or think you are). (image credit: Matt Hatton)
Some people are upset when they get bogged, believing it to be a sign that they are somehow less of an off-roader than others, because they've become stuck. Well, the truth is: everyone gets bogged – and you'll get bogged no matter how great a driver you are (or think you are). There's an easy way to deal with getting bogged and it goes like this:
The first thing to do is: don't rush. There is no desperate urgency to extract your vehicle unless you're stuck below the high-tide mark on a beach and the tide's rapidly coming in. A rushed vehicle-recovery can be a dangerous one – and damage to vehicles and/or bystanders may be the result.
Your next step: assess the situation. By stepping back and slowly taking it all in, you'll be better able to figure out a get-out solution.
Third, drop tyre pressures. Chances are you'll be able to get out of strife by simply dropping tyre pressures further; use a tyre deflator (try ARB's E-Z Deflator, RRP$73 or Ironman 4x4's Speedy Tyre Deflator RRP$65) to 'air down' your tyres fast and with pinpoint precision. So, the process goes: drop pressures, then drive; drop, then drive – until you're out. If that doesn't work, get your vehicle-recovery tracks* ready. (*These resemble hard plastic snowboards with rows of hard moulded lumps along one surface and are sold in pairs. A great top-quality example of these are MaxTrax, which are $299 for a pair.) 
If you have a good-quality set of vehicle-recovery tracks, you will be able to use them inverted as shovels to dig sand out from in front of each tyre and as much as you can from underneath the vehicle, if needed.
It's even better if you have a long-handled shovel for this work. Once you've cleared the sand away, flip each track over so its ramp-side is up and wedge each one under the wheels, at an angle not flat, facing in the direction you want to travel; so, in front of both front and rear tyres if you're going forward and behind both front and rear tyres if you're reversing.
It will help to drop tyre pressures even further – if you safely can – as this will provide even more traction.
Before you undertake any vehicle-recovery, move all bystanders well out of the way.
Make sure your vehicle is in 4WD Low and slowly accelerate. By going ever so slowly, it allows your tyres to grip the tracks, creep along them and then out. If your wheels start spinning, stop immediately, get out, reposition the tracks, wedge them into place, and try again.
All going well, your vehicle will slowly drive up and along each track until it reaches the end of it and hits the soft sand again. You may only need to do this whole procedure once to get out of the boggy patch or you may need to do it a few times.
If you need to inflate your tyres back to a suitable pressure, use an air compressor (try ARB's portable twin air compressor RRP $879) in order to swiftly do just that.
If things go from bad to worse, and you're unable to get out using MaxTrax, you'll need a recovery kit, which usually includes rated bow shackles, gloves, a snatch strap – to be used only on vehicles with rated recovery points – and more. Get a top-quality kit (ARB RK9 recovery kit RRP $480 or Ironman 4x4 recovery kit, RRP $345). We'll take you through how to use snatch straps etc in an upcoming yarn.
Your tyre is punctured
Your tyres are your point of contact with the ground, so all of them must be in great condition and don't forget at least one spare. You may be the most vigilant driver around – checking your tyres' condition, checking for wear and tear, cracks, splits, cuts but your tyres may still cop an errant nail, screw or stick in the tread or sidewall.
If that happens, you'd better be prepared with a good tyre-puncture repair kit* and you'd better know how to use it. Do the repair with the tyre still on the vehicle if possible. Basically this is the process: find the puncture hole, get the offending object (stick etc) out of the hole with a pair of pliers, smear the kit's lubricant on the reamer (the tool with the spiral shaft) then insert the reamer into the puncture to clear the hole and make it a bit bigger, then pull the reamer out. Next, thread a length of repair cord through the eye of the insertion tool – whack a bit of lubricant on if necessary – and push the insertion tool into the hole until only a little bit of the repair cord is visible. Pull the insertion tool out, trim the repair cord ends so they aren't protruding too much, inflate your tyre back to the suitable pressure and away you go. Our recommendation is to have the tyre checked and repaired by a professional as soon as you can – just in case. (*The ARB Speedy Seal Mk2 kit, pictured, is $49.)
Your vehicle's underbody is damaged

There are plenty of vital areas and components on your vehicle's underbody that need protecting when off-road.
There are plenty of vital areas and components on your vehicle's underbody, including electronics, sump, fuel tank, diff, gearbox, exhaust and more, that are vulnerable to damage when you head off-road. Sticks, rocks and other things, natural or mad-made, may rip, tear, dent or puncture something vital on the belly of your beast – and copping that sort of damage may cost you thousands of dollars in repairs or replacement. However, you can minimise the chance of that happening by, firstly, knowing where your vehicle's vulnerable bits are and, secondly, by protecting them with top-quality aftermarket metal armour.
This protection comes in many forms – engine and gearbox skid plates, bash plates, sump guards, diff covers – but it's all aimed at shielding your off-roader's underbody from damage.
You may also like to invest steps and rock sliders as they protect the vulnerable sides of your vehicle and under the doors from damage when rock-crawling along a difficult section.
Depending on what you get, vehicle protection plates/guards can cost anywhere from about $600, not including fitment.
Your paintwork is damaged

When you head bush or drive beaches, your vehicle may cop a scrape.
When you head bush or drive beaches, your vehicle may cop a scrape, bump and dent here and there, but drive sensibly and you'll reduce the possibility and severity of those.
Driving through tight overgrown bush tracks can often result in your off-road vehicle's paintwork suffering numerous scratches from sharp branch points. This is called "bush pinstriping" and is usually accompanied by the piercing shrieks of those aforementioned branches doing their dirty work all the way along your off-roader from front to back as you work your way through the bush. This damage is regarded by some wayward souls as badges of honour.
When you get out and survey the damage, it may look ghastly but don't crawl under a log when you get to camp and cry softly to yourself over the shocking tragedy that has befallen your once beautiful pride and joy because as much as that pin striping looks horrific, often it is only superficial and will buff right out when you get home. If you've scraped down to bare metal though, that's a different story.
You're windscreen-deep in water

Keep up the steady pace and Roberto's your uncle.
Well, you're in a lot of strife. We've driven through creek crossings and the water was so deep it washed over the bonnet and half-way up the windscreen as we drove through it – but, each time, we were in a vehicle equipped with an aftermarket snorkel.
If you think you'll ever tackle any water crossing deeper than the top of your vehicle's tyres – that's generally about the height of many SUVs' standard air intake – then consider buying a snorkel.
A snorkel sources air from a higher point on your vehicle – near the top of the windscreen – than a factory-fitted air intake – as mentioned about wheel-top height or a little bit higher – thus greatly reducing the chance of your engine sucking water in and causing serious damage.
A snorkel is also handy when driving on dirt, sand or through bull dust as it ensures fresh clean air is sourced from safely above the damaging grit clouds.
Snorkels can be rear- or forward-facing and are nowadays well-engineered to fit in with the vehicle they are mounted to. A top-quality aftermarket snorkel package will cost from $800 (fitted).

If you think you'll ever tackle any water crossing deeper than the top of your vehicle's tyres then consider buying a snorkel. (image credit: Ironman 4x4)
If you're in a stock-standard SUV and you're faced with a water crossing – get out and, if possible, walk across the route you will likely take in order to check the strength of the water flow, the consistency of the creek bed's surface, and to also check for potholes, obstacles (rocks etc) or debris (branches, rubbish etc).
If the water is deeper than shin-height, think seriously about finding another way, a shallower or preferably dry section through which to cross the creek.
Before you drive into the water, use a tarp, if you have one, as a good makeshift piece of protection: tie it, flat and tight, across the front of your vehicle, using your wing mirrors as tie-off points, to prevent water from flowing into the engine bay.
When you're ready to enter the water in your vehicle, do so slowly, and drive at a slow, consistent speed across the creek in the route that you walked earlier; don't brake, slow down or turn sharply.
When you exit the water at the other side, it's sound off-roading etiquette to stop as soon as is safely possible, let the water drain off, then proceed along the track.
Note: Never drive through flood-waters.