22 March 2019
We spanked Alfa Romeo and Abarth's entire performance range around Albert Park. Here's the nutshell review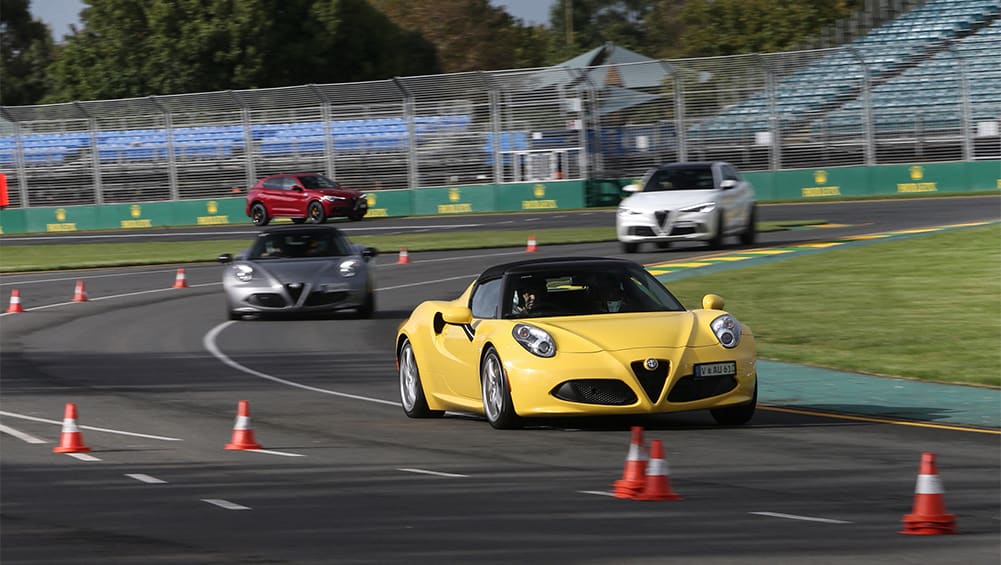 I don't know about you, but I get a kick out of retracing the route of street circuits when they're not set up, or even extinct. There's even whole YouTube channels dedicated to the pursuit.
So when FCA Australia secured three hours of Wednesday morning Albert Park track time before last week's Australian F1 Grand Prix and invited OverSteer along, you can imagine my response.
The main point of the exercise was to give us our first taste of the new Alfa Romeo Stelvio Quadrifoglio on Australian soil, which sounds about as relevant as testing the 4C on a speedway oval, but there was more method to this apparent madness.
Aside from the Stelvio Q being a rip-snorter of a performance car regardless of bodystyle and therefore deserving of an Albert Park red carpet, Alfa also brought along the Giulia Quadrifoglio and 4C for us to revisit in the interest of extracting max value from the experience. Sister-brand Abarth got a guernsey too, bringing along a 595 Competizione and a 124 Spider to round off the Italian performance quintet.
Representing a spectrum of front, all and rear-wheel drive, front and mid-engined, H-pattern manual, dual-clutch and torque converter autos, and sedan, SUV, convertible and hatchback bodystyles, this Albert Park breakfast resembled an Italian feast of similar scale to the wedding scene in The Godfather.
In lieu of the essay I'd like to write on each, here are my key thoughts, accompanied by stunning Christian Brunelli photography.
Alfa Romeo Giulia Quadrifoglio

Alfa's answer to the BMW M3, Mercedes-AMG C63 and Audi RS4.
- Refreshingly design inside and out, with a clearly Italian rather than German personality.
- Smooth, sharp, precise - a genuine threat to established rivals like the BMW M3, AMG C63 and Audi RS4 - on Alfa's first attempt!
- Really easy to overcome the rear tyres in patchy moisture, of course.
- Exhaust note is really angry and exotic for a relatively small 2.9-litre V6
Alfa Romeo Stelvio Quadrifoglio
- Feels about 25cm higher than the Giulia Q, because it is, but also shorter, even though it's actually 6cm longer, but that's a side effect of more fore and aft pitching when pushed.
- Nonetheless, amazing body control for an SUV.
- All-wheel drive handles moist patches much better than Giulia, and is rear biased to keep the fun edge.
- Same exotic noise from the relatively small 2.9-litre V6 as the Giulia Q
Abarth 595 Competizione
- Tall seating position with fixed height seats. Even my 172cm height with helmet was rubbing against the roof.
- Narrow gate box not the best defined shift, I went from second to fifth on the final corner
- Little firecracker with lots of spunk and exotic looks.
- Bounces around like an original Mini when going fast. Shame you can't get a new Mini as exciting as this.
Alfa Romeo 4C
- Alive! So alive! With a seating position right down on the front axle that makes it feel a bit like you're piloting an '80s LeMans racer.
- Heavy but direct unassisted steering with amazing feel, looks like you're wrestling an '80s Group A car at speed. Or a go kart.
- Heavy but unassisted brakes align with the weighty steering to make you work for the performance.
- Just slow enough to probably be a better drive with an H-pattern though (rather than the 6sp dual clutch),  to complete the analogue experienced set up by the unassisted steering and brakes.
Abarth 124 Spider
- Light, comfortable, easy
- Balanced and grippy - predictable
- Feels like the chassis could cope with much more power
- More linear engine delivery - say, like in a 2.0-litre MX-5 - would make it more thrilling.
Which one would you choose to tackle Albert Park? Tell us in the comments.