Volkswagen Touareg vs Land Rover Discovery4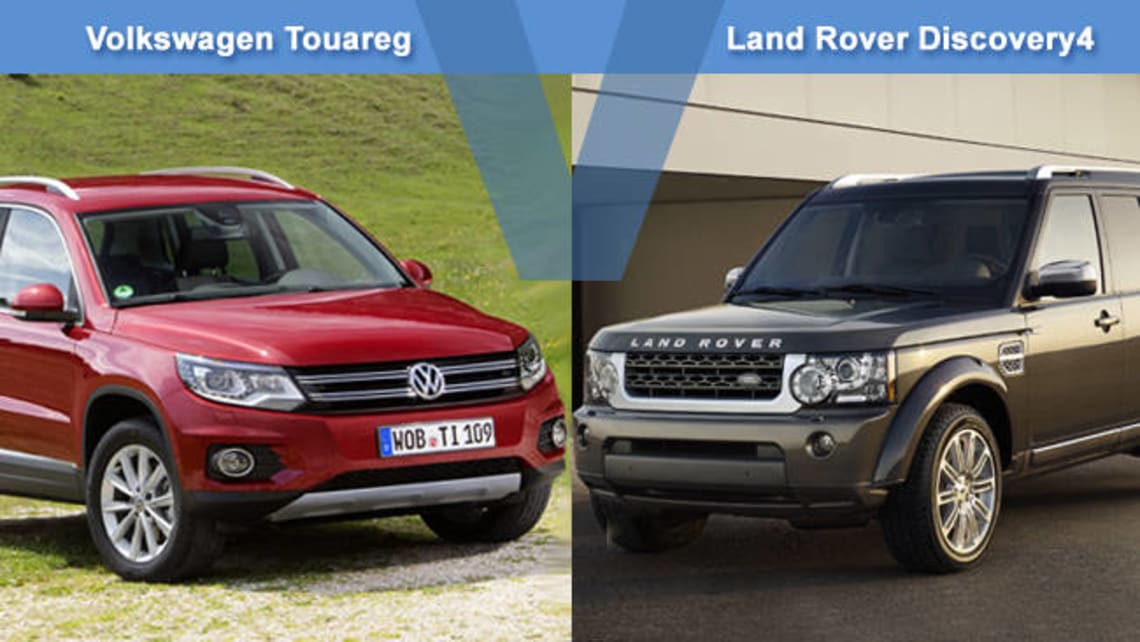 Volkswagen Touareg and Land Rover Discovery4 go head-to-head in this comparative review.
Volkswagen Touareg
from $82,990
Has just about everything that opens and shuts and that's not surprising as this is the top of the Touareg tree. Standards include Bluetooth and iPod connectivity with audio streaming, electrically adjustable front seats, auto headlights, 18cm colour multi-function display, dual-zone climate control. Centre and rear electronic diff locks are standard.
Land Rover Discovery4
from $84,300
It's well equipped and features seven leather seats, as well as Bluetooth and iPod connectivity, bi-xenon headlights with cornering function, an alarm system and 19-inch alloys. It also gets dual-zone climate control, and a colour 13cm touch multi-function control unit that can be had with or without navigation. Rear electronic diff lock is optional.
Was always considered a better-looking version of the Porsche Cayenne, but was never attractive. Not so this refreshed version. Has a premium look inside and out. The dash is as functional as the Disco's, but it's more passenger-car-like. But where it falls down is the lack of a third row as standard.
Designers lauded the Discovery 3, but punters viewed it as too cold. Not so, the Disco 4 which has been tweaked to counter the criticism. Seven proper-sized seats are standard. The second and third row fold flat into the floor giving you up to 2558 litres of bootspace. And each row of seats is set slightly higher than the one in front.
BlueMotion keeps the engine thrifty. So, like a lot of other VWs, this eight-speed auto gets stop/start, brake-energy recuperation, and a new thermal management system which ensures a faster start-up. All of this helps the 3.0-litre V6 turbo-diesel (producing 180kW and 550Nm) consume just 7.4L/100km.
Terrain Response automatically tweaks the gearbox, throttle, air suspension, traction aids and electronic diffs to suit the surface (settings are Normal, Grass, Gravel and Snow, Sand, Rock Crawl and Mud and Ruts). A 3.0-litre twinturbo diesel V6 makes 180kW and 600Nm. There's a supersmooth six-speed auto that drinks just 9.3L/100km.
Impressive occupant protection with up to nine airbags and a front bumper that deforms for better pedestrian/ cyclist head protection and five-star ANCAP. Stability and traction control are standard.
Available with up to eight airbags (the third row gets curtain bags on both sides) plus a full range of active and passive safety measures. Hasn't been tested by ANCAP, but Discovery 3 scored four stars.
Thanks to active dampers, is more drivable than it's been before and, off-road it's probably the closest to the Disco of all rivals. The steering is well-weighted, there's decent grunt, the gearbox is excellent, but the ride isn't quite as compliant as the Disco. As the speed drops, like, when you're off-roading, the ride softens and it's a fun, and competent car to drive.
Drivability stands it out from the crowd. That, and the fact that there's plenty of oomph from the twin-turbo engine. The steering is as crisp as the gearbox, and the ride, thanks to air suspension, is unflappable. But it's when you turn off the bitumen and on to the rough stuff that the car shines. Even an amateur four-wheel driver like me can feel like an off -roading god.
You wouldn't have thought these two would be that close, but the Touareg runs the Disco pretty close in all areas. But in the end, the Disco wins because of its breadth of talent.