Honda Accord V6 vs Toyota Aurion Presara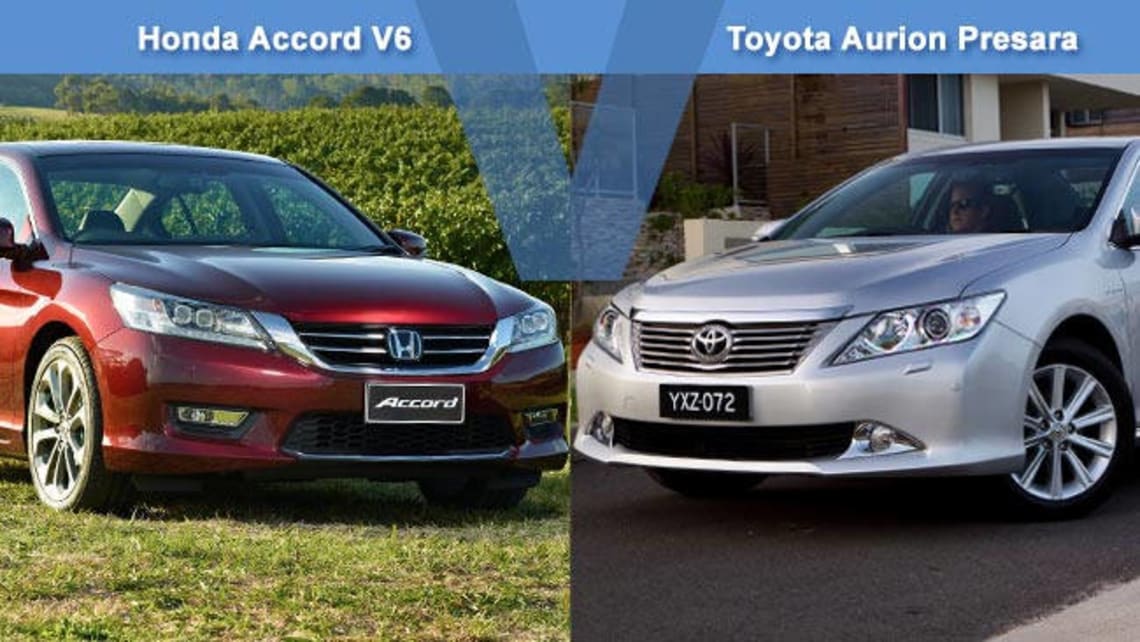 Honda Accord V6 and Toyota Aurion Presara go head-to-head in this comparative review.
Honda Accord V6
from $51,990
Similar in ride and comfort to the Aurion, with more comprehensive safety gear. No digital radio and "only'' seven speakers. Six-monthly servicing, no capped-price program so will be more expensive than the Toyota. Resale is ordinary -- 42 per cent -- but better than Aurion.
Toyota Aurion Presara
from $49,990
Aims for mature, low-speed motoring with roominess, quiet, comfort and good economy. There is a sunroof, 10-speaker audio with neat digital radio, leather and woodgrain. Excellent service program is $130 every nine months but resale is a weak 38 per cent.
Petrol V6 (206kW/339Nm) with six-speed automatic is pretty basic but that's the point: tried and true and very reliable. Fuel use is 9.2L/100km. Hi-tech stuff is reserved for the audio, satnav and safety gear. Foot-operated park brake (as with Toyota) is a reminder of a previous age.
Front-drive 3.5-litre petrol V6 (200kW/336Nm) claims 9.3L/100km. Six-speed auto is simple stuff that should endure. Most of the you-beaut stuff is in the feature list, including the digital radio and 10-speaker audio. The foot park brake is ordinary.
A new model that looks like an old model. Large numerals on dials and big controls aim to appeal to older motorists. Cabin room is liberal, materials are excellent, comfort is first-rate, though nothing here invites brisk driving. Boot space is 457L.
Seven years old and shows it, yet it's a relatively attractive shape, shorter and lighter than the Accord but with similar cabin room. Olde-worlde dashboard look with dials and switchgear to suit the clientele. Boot is 515L.
Excellent. Mandatory electronic stability and traction control, adding cruise control with active braking, crash avoidance, lane departure with steering assist, LED lights, park sensors and rear camera. Spare is full-size.
Australian-built sedan gets five stars and seven airbags, stability and traction control, blind-spot sensor, front and rear park sensors with a reverse camera, and a full-size spare wheel.
US-inspired, Thai-built and conservative. It's all about maximum comfort. The engine is very sweet and likes to rev but the chassis wants no enthusiasm through the corners. Good in heavy traffic -- that's no compliment.
There's dull feedback from the steering wheel but point it at a corner and you can almost raise a smile. The engine is as eager as the Accord's but the ride is firmer, handling is better but there's a bit more road noise. It feels more energetic.
Transport at its blandest, yet there's no denying they are functional, luxurious and comfortable. The Toyota takes the honours primarily on low ownership costs.