Ford Fiesta Sport vs Fiat Panda Easy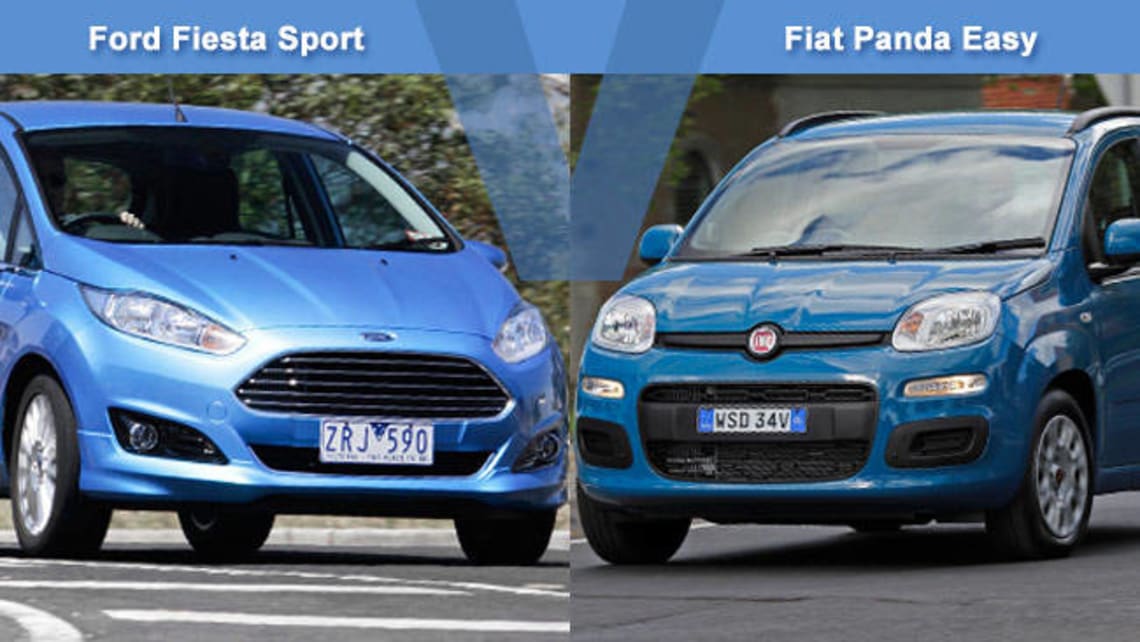 Ford Fiesta Sport and Fiat Panda Easy go head-to-head in this comparative review.
The Fiesta gets more smiles than the box-like Panda and has more features, including cruise control, eight-speaker audio, rear electric windows, part-leather trim and capped-price servicing ( $765 for three years). Servicing is annual, warranty is three years/100,000km. Resale is a very high 68 per cent.
The four-seat wagonette Easy sits in the middle of the four-model Panda range. There are lots of storage bins, excellent vision, good audio and media connectivity. Annual service interval, long 150,000km warranty with roadside assistance, and a 56 per cent resale. No capped-price servicing.
As with the Fiat, the engine is the standout. Ford's turbocharged and intercooled 1.0-litre three-potter (92kW/170Nm) with five-speed manual is good for for 4.9L/100km. The fuel tank is 42L (standard 91 RON). Like the Panda, the Fiesta has front discs and rear drum brakes. Sport gets firmer suspension.
Eyes popped when Fiat announced its 875cc two-cylinder TwinAir engine (63kW/145Nm), now in Panda, 500 and even the Alfa Mito. The turbocharged and intercooled twin is Panda's most powerful engine option. Fuel economy is 4.2L/100km but needs 95 RON and has a small 37L tank. Panda uses the 500 platform, five-speed manual box, disc/drum brakes and electric-assist steering.
Looks sharp thanks to a bold new grille. Clearly more 'car-like' than the Panda, the 4m long Fiesta has more luggage room (290L-974L) but Panda has better boot access. Dash design is contemporary but a bit confused and switches are small. Vision is reasonable - the price for a low-slung car with edgy styling. Big 16-inch alloys and body kit look great.
Europeans love Fiat's minimalist Italian-centric ideals. It's comfortable and practical but to some it's just a small box. It is just 3.65m long yet can hold 225L-870L of luggage, has durable cabin fabrics and simple controls, even to the point of manual winders for the rear windows. Easy's steel wheels are part of the appeal (pictured, Lounge spec).
A five-star car with all the mandatory electronic aids. Fiesta adds seven airbags but skips on daytime running lights, park sensors and even a spare wheel (a space-saver is optional).
The five-star crash rating comes as a surprise in a car so small. But the Panda extends that with electronic stability and traction control, daytime running lights, rear park sensors, hill holder and space-saver spare (the Fiesta has no spare).
The Fiesta is simply a fun drive. The handling is close to spot-on for a city-bred hatch (go to ST for more dynamics) and ride isn't too bad. Engine performance is great but is so much fun that the claimed fuel economy will rarely be seen. But it's a busy car to drive, with lots of switches and buttons, poor vision and - in comparison to the Panda - a quite cramped cabin. Needs sensors to fit neatly into parking bays.
Two cylinders make an odd, uneven rumbling sound yet there's nothing slow about delivery. It pulls hard - peak torque is from 1900rpm. Ride comfort is pretty good and cruising quietness is excellent, though handling isn't overly inspiring because its 985kg makes it move around a bit during cornering. Super-easy to park and a doddle to drive.
The Panda doesn't appear to have much until you dig deep. But extra safety and versatility won't win over conventional users. The Fiesta prevails.