Fiat Abarth 595 vs Renault Clio GT Premium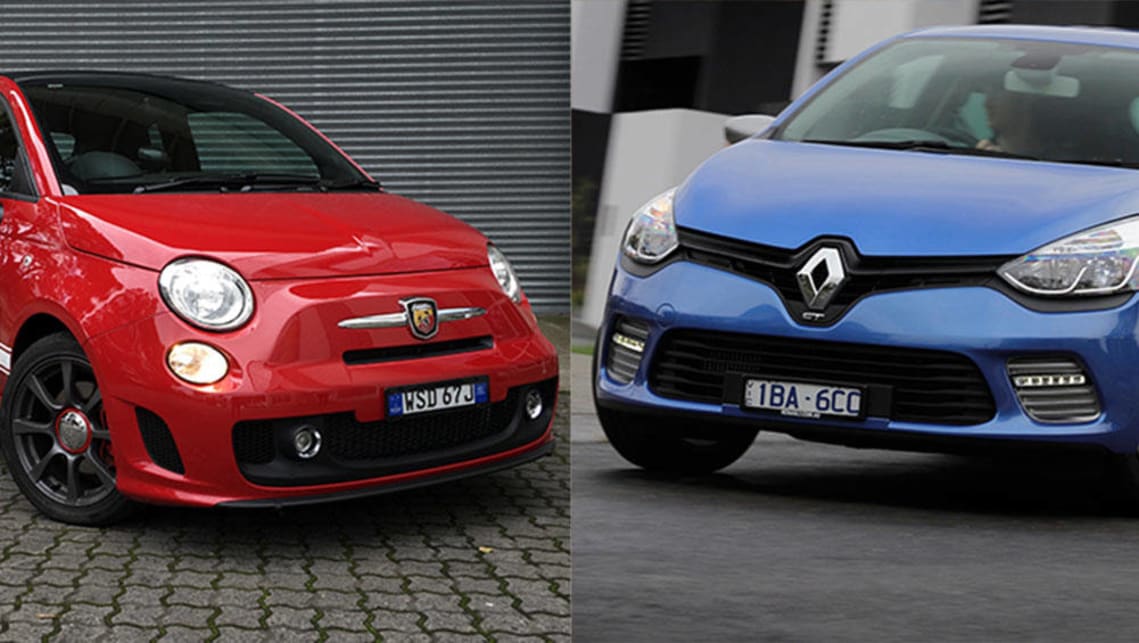 There is sporting intent, then there's how it is delivered. Richard Blackburn rates Italian flair against French fun.
Starts with a cost advantage but lacks reversing camera, satnav and centre screen. Go-fast gear includes rear disc brakes, red front brake calipers, Abarth floor mats and flat-bottomed sports steering wheel. Aircon is manual and there's no keyless start. Capped price servicing is expensive at $1335 for three years. Three-year/150,000km warranty with three years' roadside assistance.
Renault Clio GT Premium
$29,990+
Less bang for your buck in the engine but well-equipped cabin has satnav, seven-inch touchscreen, rear camera and sensors, leather sports seats, panoramic glass roof, standard auto and upgraded Arkamys audio. Servicing is $897 over three years plus five-year unlimited kilometre warranty with five years' roadside assistance.
Abarth scorpion logo features prominently in the cabin. The digital instrument panel changes configuration in sport or eco mode and there's a boy racer turbo boost gauge. The seating position is way too high, though — last time I was perched that high I was being fed banana custard. Rearward vision is average, which makes the omission of a camera more glaring.
The cabin is darker and more conservative, although the centre screen's RenaultSport menu cites acceleration, g-forces and lap times. Set lower, the seats provide good side and thigh support. Paddle-shifters and RenaultSport logos in the cabin hint at the sportier intent. Rear vision is also a problem but it wins points via the convenience of five doors and a bigger cargo area.
Wins handsomely here, with 1.4-litre turbo (103kW/ 206Nm) outgunning the Renault (88kW/190Nm). It has plenty of low-down urge and pulls strongly through the rev range, with a nice growl and the odd "blat" when you change gears. There are only five ratios, which means the little Fiat revs quite high on the freeway. Fuel consumption is good considering the performance focus at 5.8L/100km.
Renault Clio GT Premium
Engine
The Clio is more lukewarm hatch with modest outputs from the 1.2-litre turbo and no sporty exhaust note to speak of. Dual-clutch transmission exploits the urge and a sports button holds on to lower gears longer for better drive out of corners. Completes the 0-100km/h sprint in a leisurely 9.4 secs compared with the Abarth's 7.9 secs. It's more frugal than the Fiat, using 5.2L/100km.
No standout, with seven airbags and rear parking sensors in lieu of a camera. The hazard lights activate during emergency braking and there is a tyre pressure monitor. Five stars from ANCAP in 2007 with 34.91/37.
Trumps the Fiat with the reversing camera but loses points for no airbags for rear passengers. ANCAP crash test score was 35.87/37. There are seat belt reminders for the rear and dusk sensing headlights but, as with the Fiat, none of the driver aids available on other cars at similar prices.
High driving position, plus it feels top-heavy around corners. It grips well but doesn't feel as composed as the Renault, especially over mid-corner corrugations or larger bumps on the freeway. Bumpy ride around town. The steering is accurate, though, and it's fun to drive thanks to the peppy engine and slick gearshifts.
What it concedes in straight line speed it makes up for in roadholding finesse. Sports suspension is planted through corners and less jittery over bumps and pockmarked surfaces. It seems like a chassis in search of more power. It also feels more civilised around town, with more compliant suspension. Low-slung position and snug bolstered seats complete a more driver-friendly setup.
The Fiat has more power, an exhaust note to envy and more sporty styling cues. The Renault is better value and more fun on a twisting road.
Which one would tempt you more, The Abarth 595 or the Clio GT Premium? Let us know in the comments below.