How many electric cars are there in Australia?

As of April 2022, there are 30 electric vehicle models available in Australia, including 65 variants, compromising of 28 plug-in hybrid electric vehicles (PHEVs), and 37 battery electric vehicles (BEVs, or EVs). 
EV sales Australia: How many EVs in Australia?
Since 2011, there have been more than 40,000 electric vehicle sales in Australia. There are 30 electrified vehicles for sale in Australia in 2022, and a total of 65 variants, with more models planned to hit the market in 2022 and beyond. 
If you're wondering "How many electric cars in the world?", you may be surprised by the answer: by the end of 2021, there were about 16 million light-duty plug-in vehicles - that's PHEVs and BEVs - on the world's roads.
Around 6.6 million electrified vehicles were sold globally in 2021, which is almost triple the figure from two years earlier. 
Leading the charge in terms of sales is China, where 3.4 million electrified vehicles were sold in 2021 - more than the entirety of 2020 globally - accounting for a whopping 53 per cent of 2021 global EV sales.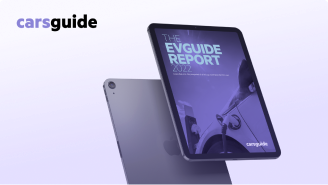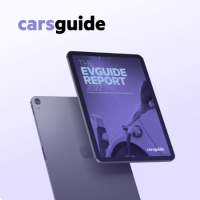 Download the EVGuide Report, 2022
Australia's one-stop snapshot of all things relating to electric cars.
Download for free
Trailing behind China is Europe, where 2.3 million EVs were sold in 2021 - a 70 per cent increase on 2020's numbers. 
It's a far cry from electric car sales in Australia, with electric car sales statistics revealing that only 20,665 EVs were sold here in 2022. Yes, in a market that regularly buys more than 1 million new cars a year, that is an absolutely tiny, and possibly abysmal, number, even if it's triple the amount of EVs sold locally in 2020. 
The percentage of electric cars in Australia accounts for a mere 2 per cent of the overall market in 2021, a drop in the ocean compared to 17 per cent in Europe, and 13.3 per cent in China.
Although EVs only accounted for 9 per cent of global car sales in 2021, there's a definite trend toward growth of EV sales. 
Around 130,000 EVs were sold globally in 2012, but now, that many EVs are sold in a week. 

Around 130,000 EVs were sold globally in 2012, but now, that many EVs are sold in a week. (Hyundai Kong Highland pictured)
In 2019, 2.2 million electric cars were sold (2.5 per cent of global car sales), and in 2020, a year where the global car market contracted, 3 million electric cars were sold, raising the share of global EV sales to 4.1 per cent of new-car sales. 
In Australia, the fact that EVs jumped from 0.78 per cent of the new-car market to 2 per cent in 2021 had a lot to do with Tesla finally reporting its sales figures. 
A whopping 12,094 Tesla Model 3s were sold in 2021, accounting for 60 per cent of all EV sales in Australia (the second-highest selling model, and cheapest, was the MG ZS EV, which sold 1388). 
A significant factor in the lack of uptake of electrified vehicles in Australia is our country's lack of incentives and tax breaks for potential EV drivers, with Victoria even going to the extreme measure of introducing a law to charge EV owners a special road tax of 2.5 cents per kilometre and owners of hybrids two cents per kilometre. 
Other countries aren't being aggressively anti-EV in their approach, in fact they're mostly the opposite. 
The market share of electrified vehicles in Norway in 2021 was a staggering 72 per cent, a huge leap from a tiny 6.1 per cent in 2013. 
The major reason why electric car sales have been so healthy over the last few years in that country is Norway's incredibly attractive incentives to buy electrified vehicles, like EVs being exempt from all non-recurring vehicle fees, including purchase taxes, and cuts of at least 50 per cent to parking, toll road and ferry charges for EV owners.
Reticence from the Australian Government to incentivise driving electrified vehicles has had both a negative impact on their cost - low sales equals high price tags - and on what we have available to buy. 

A whopping 12,094 Tesla Model 3s were sold in 2021.
Europe's largest automaker, Volkswagen, has now pushed back the Australian debut of its range of ID electric cars from 2021 to 2023, due to the government's attitude toward electrified vehicles, the company even going so far as to label Australia's EV policies as being equivalent to a "third-world country." 
As you'd expect, projections for year-on-year growth in the Australian EV market point to a trend of slow progress: with 18 per cent of new cars in Australia being electrified by 2030 and 64 per cent by 2040, according to BloombergNEF.
If the next Australian Government looks at countries like Norway and decides to follow suit - and don't bet your battery pack on that - there are still a reasonable number of electrified vehicles currently getting about on Australian roads. 
Electric car sales statistics Australia: Electric car sales by state
NSW
As of the end of 2021, there are 10,026 battery-electric vehicles registered in NSW, with about 61 per cent of those being Teslas. 
VIC
As of mid-2021, there were 10,311 registered electric vehicles in Victoria - up from 3398 EVs in June 2018.
QLD
As of March 2022, there are about 8000 electric vehicles registered in Queensland. 
SA
About 200 EVs and 164 plug-in hybrids were sold in South Australia during the first nine months of 2021. 
ACT
As of October 2021, there were 1304 electric vehicles in total registered in the ACT, up from 734 in October 2020. 
WA
In 2021, 0.8 per cent of all new car sales were EVs. WA had the highest uptake of Tesla cars sold in Australian states in 2021, with 1501.
TAS
Tasmania has around 340 electric vehicles on roads, or one for every 1,599 people.
NT
As of December 2021, the Northern Territory comes in lucky last with just 61 electric cars registered.