2019 Caterham Seven
Pricing and Specs
Click here to see 2020 pricing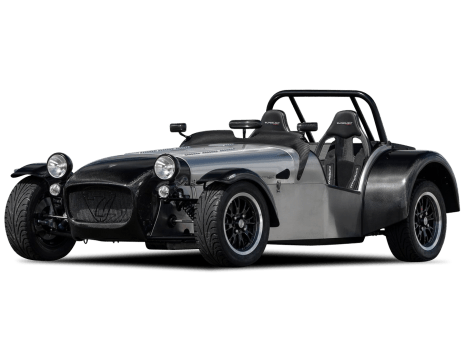 Pricing from
$48,800 to 105,380
Based on third party pricing data
The Caterham Seven 2019 prices range from $48,800 for the basic trim level Convertible Seven 275 to $105,380 for the top of the range Convertible Seven 485 CSR.
The Caterham Seven 2019 is available in Premium Unleaded Petrol and Regular Unleaded Petrol. Engine sizes and transmissions vary from the Convertible 1.6L 6 SP Manual to the Convertible 2.0L 5 SP Manual.
A new generation of the Caterham Seven Convertible was released this year.
Convertible
Caterham Seven Models
SPECS
PRICE
275

1.6L

PULP

Premium Unleaded Petrol

5 SP MAN

5 speed manual

$54,200 – 68,530

275

1.6L

PULP

Premium Unleaded Petrol

6 SP MAN

6 speed manual

$48,800 – 61,710

275S

1.6L

PULP

Premium Unleaded Petrol

5 SP MAN

5 speed manual

$50,600 – 64,020

275S

1.6L

PULP

Premium Unleaded Petrol

6 SP MAN

6 speed manual

$53,800 – 67,980

355

2.0L

PULP

Premium Unleaded Petrol

5 SP MAN

5 speed manual

$55,800 – 70,510

355R

2.0L

PULP

Premium Unleaded Petrol

5 SP MAN

5 speed manual

$68,400 – 86,460

485 CSR

2.0L

ULP

Regular Unleaded Petrol

5 SP MAN

5 speed manual

$83,300 – 105,380

485R

2.0L

PULP

Premium Unleaded Petrol

6 SP MAN

6 speed manual

$75,200 – 95,040

485S

2.0L

PULP

Premium Unleaded Petrol

6 SP MAN

6 speed manual

$82,600 – 104,500

CSR

2.0L

PULP

Premium Unleaded Petrol

6 SP MAN

6 speed manual

$74,900 – 94,710
* Manufacturer's Suggested Retail Price