Nissan Patrol V8 Ti-L vs Lexus LX570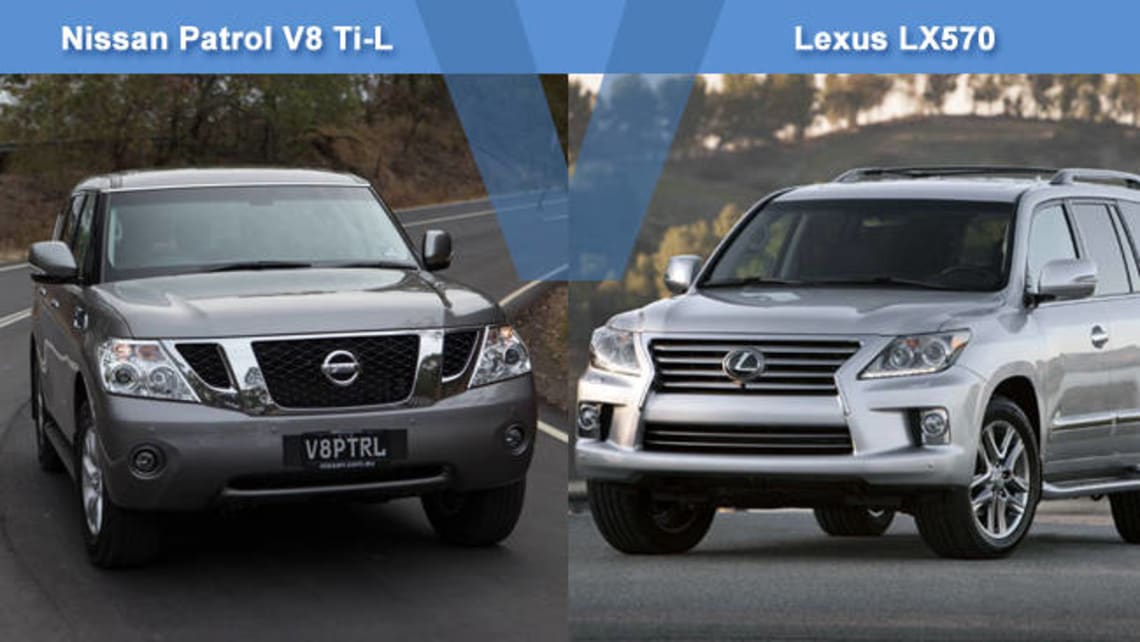 Nissan Patrol V8 Ti-L and Lexus LX570 go head-to-head in this comparative review.
Nissan Patrol V8 Ti-L
from $113,900
Matching the Lexus on almost every point (lesser-specced Patrol V8s start at $82,200), the Ti-L has a 13-speaker audio, wireless two-screen DVDs, three cameras plus an additional aerial-view for precise parking, sunroof, electric tailgate and 18-inch alloys.
The Lexus is as adept at cosseting occupants as crossing the Simpson. Standard kit is too long to list but includes a 19-speaker audio with two wireless-headphone DVD screens in the back, electric tailgate, electric seat adjustment all around, four cameras and a sunroof.
The subtle curve of the body panels softens its bulk (it's 120mm longer than the Lexus). There are seven seats (other Patrol V8s have eight). Rear seats don't have the adjustability or electric assist. Cabin gets top-notch leather and woodgrain.  
Based on the LandCruiser, its major visual point of difference is the grille. The 20-inch wheels balance the vehicle's size. There is limousine-standard seating for eight. The LX570 is just ahead on cabin looks and equipment levels, with electric flip-down rear seats and fore-aft adjustment front and centre.
The 5.6-litre V8 (298kW/560Nm) is the basis for the Nissan V8 Supercars contender. It works through a seven-speed auto and two-speed transfer box. The more sophisticated suspension uses a closed-loop hydraulic system. Nissan claims 14.5 litres/100km from a 140-litre tank.  
The 5.7-litre petrol V8 (270kW/530Nm) is quick, quiet and thirsty, claiming 14.8 litres/100km from a 138-litre tank. Constant 4WD helps its 2.8-tonne mass on the road, as does active suspension with electronic dampers. A multi-mode switch allows precise off-road control.
No crash test rating either. But it has 10 airbags and clearly has size on its side. The ''virtual'' camera plots the vehicle from above, plus there are all the latest electronic aids, lane-departure and blind-spot warning system and full-size spare.
No crash rating given. There are 14 airbags, loads of electronic minders, 4WD, full-size spare, four cameras, front and rear park sensors, cornering headlights with xenon bulbs and -- probably most important -- its size, almost 2m high and 2.7 tonnes.
The over-engineered quietness changes your perspective of what an SUV can or should be. Steering is less vague than the Lexus, the engine more responsive and hydraulic suspension is more secure through bends. It will tow 3500kg but has tiny 671kg payload.
Ultra-quiet and over-engineered, it ignores road surfaces and eliminates exterior noise. The comfort, space and complexity are daunting and exciting. In the dirt it is as capable as any LandCruiser. Tow rating is 3500kg but payload is too small at 600kg.  
These are very similar. The Patrol's pricing will swing some buyers, though Toyota (Lexus) has strong loyalty. Both have awful fuel consumption - and no diesel option - so I'll take the Nissan.