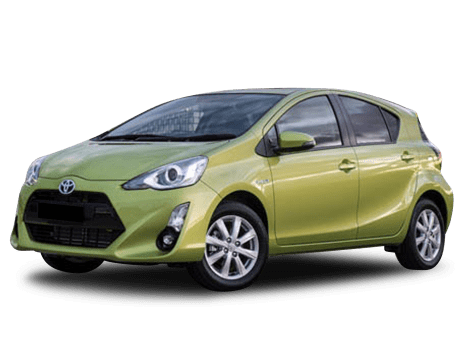 COMPARE
Toyota Prius C
VS
Suzuki Baleno
Toyota Prius C
Likes
Miserly fuel use
Eye-catching exterior design
Surprisingly quick away from lights
Dislikes
Feels record-player old in places
Some cabin materials feel cheap
Standard safety is underdone
---
Suzuki Baleno
Likes
Cheap to buy
Light
Big boot
Dislikes
Expensive servicing
Cheap interior
Dull
Summary
Toyota Prius C
See if you can guess the name of the world's first ride-sharing app. You're thinking Uber, right? Nope. It was a company called Sidecar. It's broke now, shuttered for good in 2015. What about the first video-on-demand service? Netflix? Nope. Amazon beat them to it, for starters, but so did many other, now-defunct companies who tried it even earlier.
The point is, being first on the scene is no guarantee you'll be the best, or the most successful. I mean, just look at electric cars; plenty of manufacturers were doing all-battery models before (and arguably better than) Tesla, and every one of them is now parked in Elon Musk's gargantuan shadow.
Before full-electric there were hybrids, and first to arrive on that particular scene in any meaningful way was Toyota and its awkwardly shaped Prius, back in 2001. And they had that field to themselves for a while, but soon enough the other manufacturers trotted out hybrid and plug-in hybrid models of their own.
And so Toyota shook up the Prius offering, launching the seven-seat Prius V, and the bite-sized (and Yaris-based) Prius c we've tested here, in 2012, hoping to broaden the appeal of its hybrid offerings. Problem is, 2012 was an awfully long time ago, and so Toyota has waved its wand over the ageing Prius c for 2018, changing its design, tech offering and interior in an effort to keep it fresh.
So, is the Japanese giant still head of the hybrid class? Or has it been beaten at its own game?
| | |
| --- | --- |
| Safety rating | |
| Engine Type | 1.5L |
| Fuel Type | Hybrid with Regular Unleaded |
| Fuel Efficiency | 3.9L/100km |
| Seating | 5 seats |
---
Suzuki Baleno
The fact of the Suzuki Baleno's existence is one of the more puzzling features on the automotive landscape. It's a car that pits itself against all manner of worthy competition - some of it exceedingly so - in the small hatch segment.
People still buy what the industry calls light cars (in ever-diminishing numbers) so perhaps Suzuki thought offering two would be a good idea, as its Swift occupies the same patch of sales ground in this city-sized segment.
In this part of the market, you've really, really got to want it. You need to be stylish, sophisticated and packed with tons of safety gear if you've any hope of so much as laying a fingernail on the Mazda2. Or, let's face it, be dirt cheap to counter Yaris and (the soon to depart) Accent.
It's all the more puzzling because Suzuki does interesting cars like the Jimny, Swift, Vitara and Ignis. And the oddball S-Cross (RIP).
The Baleno seems far too tame, timid and, well, blergh. But according to VFacts, Suzuki shifts at least a hundred of these per month, sometimes over 200.
| | |
| --- | --- |
| Safety rating | — |
| Engine Type | 1.4L |
| Fuel Type | Regular Unleaded Petrol |
| Fuel Efficiency | 5.1L/100km |
| Seating | 5 seats |
Verdict
Toyota Prius C
6.6/10
It's as if the the future is firmly rooted in the past at Toyota. The Prius is still undoubtedly clever, frugal and easy to drive, but it is feeling so old in places that the bad had begun to weigh on the good. If you're a tech-head or have a right foot crafted from lead, then there's nothing to see here. But if the thought of saving money at the bowser sets your heart aflutter, then step right this way.
Does a Prius c make you feel green, or just queasy? Let us know in the comments below.
---
Suzuki Baleno
6.5/10
The Baleno is a disappointingly dull car from a company that makes plenty of un-dull cars. I suppose it's prudent for Suzuki to at least try to look like a grown-up, but as this car proves, there's no fun in that.
It will no doubt be dependable and if kept in metropolitan areas, will serve its owners well. But it's lacking in key safety gear, the servicing is a bit on the stiff side and the interior feels cheaper than most of its competitors.
And on top of all that, it feels really old.
Is there anything tempting about the Baleno? Tell us what you think in the comments below.
Design
Toyota Prius C
7/10
The good news is that it doesn't look quite so quirky as the full-size Prius. The not-as-good news is that it's still no beauty-contest winner. Not helping matters was the fact our test vehicle was painted in a retina-burning yellow (they call it Hornet Yellow, and it's new for 2018) that looked almost nuclear.
Viewed front on, the blacked-out section of grille and bumper gives the littlest Prius a vaguely manta ray-shaped front-end, while the headlights climb both upwards and back into the body, lending a sense of sportiness to this very unsporty hybrid. From the back, the chunky bumper, vertical taillights and rear windscreen spoiler all add a little attitude to the design.
Inside, you'll find a small but premium-in-places space, with a gloss-black stereo surround that angles the main controls toward the driver, while the digital driver's binnacle is pushed toward the centre of the car, displaying speed, fuel and other key info above the stereo, rather than in front of the steering wheel.
---
Suzuki Baleno
6/10
Suzuki says the Baleno's look reflects the brand's 'Liquid Flow' design language, but I'd much prefer it if they had stuck with the angular design of its other cars. Almost all of them are far better looking, or at least characterful.
The Baleno's recent facelift, which is mostly a new front bumper and a headlight tweak, was probably supposed to improve the looks but instead the car now appears to have had some fillers pumped into its cheeks.
It's not an attractive car from the front, with the grille overpowered by the lower fascia's sheer breadth. The rear and profile are fairly anonymous and to ensure its anonymity, there is little in the way of adornment. Looks basic, is basic.
Step in to the spacious-for-its-size cabin and you'll be greeted with the usual Suzuki staples of super-hard plastics, hardy carpets and tough cloth trim.
There is a little curvaceousness to the dash design but it just feels a bit half-hearted until the curves run into the centre console's alien-with-flappy-ears effect. There's nothing wrong with it but it does look dated.
Practicality
Toyota Prius C
6/10
Not very. This is a Yaris-based city car, let's not forget.
That said, it never feels cramped up front, with enough shoulder and headroom to ensure you feel separated from your fellow passengers, where you'll also find two cupholders, and an infuriating USB connection housed in the touchscreen - so your cord dangles from the dash when connected.
Climb into the back, and you'll find yourself in a pretty snug space. Sitting behind my own (5ft-8inch) driving position, it's only the scalloped back of the driver's seat that affords me any clear air between my knees and the seat in front, and the space behind my head and the roof lining is minuscule, too. But again, we're talking city car space here, so you can't expect to lounge about back there.
The ambience in the backseat leaves a little to be desired, though. The door trim pushes into the passenger space, and the plastics used in the rear are rock hard. There's a single cupholder to share, and a seat-back pocket on the rear of the passenger seat, but that's it; there's no vents, USB or power sources. There's no bottle-room in the rear doors, either.
An easy-access boot space will swallow 260 litres with the 60:40 rear seats in place. And there are two ISOFIX attachment points, one in each window seat in the back.
---
Suzuki Baleno
7/10
Here's some excellent news - there is plenty of space in the Baleno's tiddly sub-four metre frame. The awkwardly-proportioned body has delivered good space for front and rear passengers who would be happier on more comfortable seats, but for city driving, they do just fine.
If you're up to around 180cm tall, there's enough space for you and your legs in the back and headroom is adequate.
Storage is a limited to a couple of open trays but you can put your phone in the same place as the USB port. You get two cupholders at the front and if you don't mind losing the rearmost of your storage trays, the back seat passengers can share it as a solitary cupholder. Each door has a very handy bottle holder that will secure a 1.5-litre vessel.
The boot is a good size for the segment at 355 litres to begin with and 746 with the 60/40 split fold rear seat folded down.
Price and features
Toyota Prius C
6/10
We've just spent a week behind the wheel of the Prius c i-Tech; the top model in the two-variant range, sitting above a cheaper model known simply as the Prius c.
At $26,540, it ain't cheap for a city car (and it's $4k more than the most-expensive Yaris on which it is based; more worryingly, it's only $1500 cheaper than an Audi A1), and the standard features list is more a novella than War and Peace.
Outside, you'll find 15-inch alloy wheels, remote unlocking, LED headlights and front fog lamps, while inside you'll leather-look seats (they're actually vinyl), sat-nav and climate-control.
Tech is covered by an  (old-school feeling) 6.1-inch touchscreen that pairs with a six-speaker stereo, but there's no Apple CarPlay or Android Auto.
---
Suzuki Baleno
7/10
For $16,990 drive away, Suzuki opens the range with this GL. That scores you 15-inch steel wheels with less than fetching hubcaps, a six-speaker stereo, air-conditioning, reversing camera, remote central locking, cruise control, sat nav, auto halogen headlights, power mirrors and windows, and a space-saver spare.
A 7.0-inch touchscreen that you can find in almost every Suzuki handles the sat nav and entertainment duties. It's not a bad piece of hardware except it doesn't have a proper volume knob, but more than makes up for that with Apple CarPlay and Android Auto. Then ruins it again with tinny sound. You can't have it all, I suppose.
Engine & trans
Toyota Prius C
7/10
Under that little hood lives a 1.5-litre, four-cylinder petrol engine good for 54kW, which pairs with a 45kW electric motor. Toyota lists combined outputs at 74kW at 4800rpm and 111Nm at 4000rpm.
That hybrid setup partners with a CVT automatic, pumping power to the front wheels.
---
Suzuki Baleno
6/10
You'll not need to hold on to your hat in the Baleno. The 1.4-litre naturally-aspirated four-cylinder musters up 68kW at 6000rpm and 130Nm 2000rpm earlier. It's not a lot, but at 915kg, the Baleno isn't doing too badly.
There's an old relic in the transmission department. Power reaches the front wheels via a four-speed automatic transmission. There aren't many of those left in circulation on new car forecourts.
You can't buy a Baleno with the plucky 1.0-litre turbo anymore, which is a bit of shame.
Fuel consumption
Toyota Prius C
8/10
If that last section didn't impress, this one surely will. The little Prius c will sip a claimed 3.9L/100km on the combined cycle.
That's very low, and the fact it accepts cheaper 91RON fuel makes it a very affordable car to run. Except... the onboard computers revealed a slightly less-impressive 5.1L/100km after my time with the car.
Emissions are a claimed 90g/km of CO2, which is very good.
---
Suzuki Baleno
7/10
Suzuki says you'll get 5.4L/100km on the combined cycle, which isn't too far off reality, our time delivering around 6.6L/100km. Which was remarkable in itself given how much throttle you have to use to move along.
Another bonus is that even though the fuel tank is just 37 litres, you won't spend half your life filling up.
Driving
Toyota Prius C
6/10
In much the same way that you don't buy an exotic performance car for its ability to run to the shops, you're unlikely to be buying the Prius for its ability to set your pulse racing.
But happily, it doesn't feel wobbly or disconnected, either. It's aided by being such a small package, and when you're not wafting silently about in electric mode, and you've coaxed that little petrol engine into life, it serves up more than enough poke to navigate the city, and even to leave the slow-reactors in your rear-view mirror at traffic lights.
The ride is good, too, feeling connected to the road below without feeling uncomfortable, although the little Prius does tend to track with the corrugations in the road, leaving you to wrestle it back into line. That's a job made easier by light and surprisingly direct steering, which feels tailor-made for the city.
Finally, the leather-look seats are comfortable, even over long distances, the razor-thin A-pillars make forward vision easy and it's a very simple thing to drive and manoeuvre  into parking spaces. And all of those are good things.
Not so good? Well, the entire drive experiences feels a little beige and emotionless, it can get noisy and there are parts of the cabin that feel downright cheap. Worst of all, though, is that for a car that once heralded the future, it's feeling very, very dated.
But there are some amazing quirks attached to driving an (almost) electric car, including the delivery of eco awards for using the least amount of fuel (they were awarded for 2.6, 3.2 and 3.6L/100km over as much as 25km - none of which occurred during my tenure). The hardest thing to get used to was the absolute silence served up in electric mode. I counted four seperate occasions when I walked away from the car with it still turned on.
---
Suzuki Baleno
6/10
Most Suzukis are fun to drive even if they're on the slow side. The Jimny bounces around like a fat puppy full of sugar, the Swift is a good laugh and the Vitara is quite handy. The Baleno fails to be any of these things, but it's not all bad news.
The first thing you'll notice is the very light steering that makes a high-pitched noise when you turn it.
The second thing you'll notice is the whine coming from the transmission or somewhere very like it, no matter how much throttle you have on. It shifts smoothly enough, though, which isn't very often given the lack of gears.
It's not often I yearn for a CVT, but that might be the better transmission for this car. Yes, I just checked outside for airborne pigs, too.
The Baleno does feel like it teeters a little on its skinny, high profile tyres. It's not a car to drive with enthusiasm, but if you're happy enough with its almost-lively off-the-mark acceleration, which then fades away rapidly, you'll be perfectly happy.
It's not very quiet, though, with plenty of noise passing through the trademark thin sheetmetal and sparingly damped shell. It's light, but you can hear why - there's not much sound-deadening to weigh it down.
On the open road the Baleno further reinforces its credentials as a city car - it wanders around on the tyres, the steering loses all its feel and the wind noise means you have to turn up the volume to either drown it out or make yourself heard.
Ownership
Toyota Prius C
7/10
Toyota offers a three-year/100,000km warranty, while the batteries are covered for eight years or 160,000km. The car's six-month service intervals might sting a little, though, but with each service capped at $140 for the first three years, even taking two trips to the dealership a year isn't too expensive. Just annoying.
---
Suzuki Baleno
7/10
Suzuki has joined the mainstream market herd with a five year/unlimited kilometre warranty for private use (ie not Uber) but there isn't even a solitary year of roadside assist.
Happily, since we last drove the Baleno, service intervals on the 1.4-litre have improved to 12 months/15,000km (rather than the previous 10,000km) and the company also offers five years of capped pricing up to 90,000km.
Services come in between $239 and $499, unless you've somehow covered 90,000km inside the five year window, and then it blows out to $649. That last figure aside, you can expect to pay $1635 over five years (or $2045 if you go nuts on the mileage). It's not especially cheap.