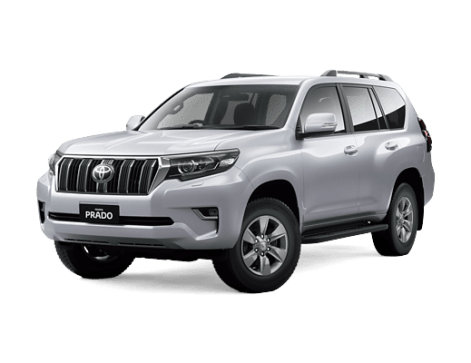 COMPARE
Toyota Land Cruiser Prado
VS
Toyota Land Cruiser
Toyota Land Cruiser Prado
Likes
Value in low-spec auto models
Serious off-road credentials
Lower prices across the range
Dislikes
Safety kit isn't widespread enough
Pricey in high-spec models
No Apple CarPlay/Android Auto
---
Toyota Land Cruiser
Likes
Promises to remain king of the mountain
Improved on-road capabilities
Huge upgrade in cabin and safety tech
Dislikes
Not cheap
Full safety suite should be standard across the range
Missing that V8 diesel snarl
Summary
Toyota Land Cruiser Prado
The heavily updated Toyota LandCruiser Prado range sees some big changes for 2018, with a new look, updated interior and added equipment across most models in the range.
The good news for buyers is that prices are lower across the line-up, with reductions of between $600 and $1200 depending on the variant. That should be enough to see it retain its spot at the top of many customers' shopping lists – it sure as hell can't do much wrong on the sales charts, where its easily the best-seller in the large SUV segment. 
And with four trim levels available to choose from, each offering new kit and lower pricing, buyers are undoubtedly better off with the Toyota Prado 2018 model range. But has it improved over the previous model? And which is the one you should be looking at?
Read on, and we'll figure it out together.
| | |
| --- | --- |
| Safety rating | |
| Engine Type | 2.8L turbo |
| Fuel Type | Diesel |
| Fuel Efficiency | 8L/100km |
| Seating | 5 seats |
---
Toyota Land Cruiser
We've waited 14 years for this moment – an all-new Toyota LandCruiser.
A workhorse, an adventure plaything and paragon of dependability, a reputation earned over eight decades, the Japanese 4WD wagon is woven into the Australian cultural fabric.
Now the homegrown heroes are all history, a generational change is national news indeed. 
Back in May, we were granted brief access to a multi-million dollar, hand-built, pre-production late-stage prototype, as one of the first publications in the world to get up close and personal with the all-new 300 Series LandCruiser.
It was heavily disguised and jealously guarded at a remote location in Victoria, weeks before the final design was revealed to an expectant world.
But don't worry, because Toyota promises us the LandCruiser 300 Series you will be able to buy come October will drive pretty much identically to this final-stage prototype.
Plus, we've spent enough time in the new LC300 (as Toyota puts it) to bring you our first, telling – and very surprising – impressions. And in the words of that other suburban Aussie legend… we like what we see!
And, one last thing before I kick off. Keeping in mind this publication's unwavering commitment to keeping you informed about all things 2022 LandCruiser 300 Series, I was personally bound by a strict non-disclosure agreement until now, and so couldn't tell anybody else at CarsGuide about it. Not even my closest colleagues.
| | |
| --- | --- |
| Safety rating | — |
| Engine Type | 3.3L |
| Fuel Type | Diesel |
| Fuel Efficiency | —L/100km |
| Seating | — |
Verdict
Toyota Land Cruiser Prado
7.5/10
The updated 2018 Toyota LandCruiser Prado might not have needed to see changes in order to remain the biggest-selling large SUV on the Australian market, but the facelifted model has seen the Prado take some steps forward to keep it on the shopping lists of buyers looking for family-focused SUVs with a breadth of ability. 
It looks better and is better value – and there is one model that seemingly stands apart as the best buy of the bunch: the GXL. It's just a shame it can't be had with the extra safety kit of the VX and Kakadu models.
What spec Prado would you buy? Let us know in the comments section below.
---
Toyota Land Cruiser
8/10
So, has the new LandCruiser 300 Series been worth the wait?
I reckon that's a big fat yes. Toyota set out to build the best 4x4 it can with the new 300 Series, and it succeeds admirably with its new driver-control systems, off-road systems and greater strength in its body and chassis.
But more importantly, I think they've made a proper 4WD that now competes with luxury SUVs on road, thanks to better steering, better handling and a better ride. Those things, along with a more-refined powertrain and greater efficiency, make the new 300 Series one of the best luxury SUVs you can buy.
We haven't yet driven it on local roads, but our first impressions point to something truly special.
Watch this space…
Design
Toyota Land Cruiser Prado
8/10
The facelifted version of the Toyota LandCruiser Prado undoubtedly takes the boxy off-roader and makes it more appealing to the majority of consumers. It is, dare I say it, good looking now.
That certainly is the case for the exterior of the Kakadu model you see here, with its brilliant LED headlights and DRLs, which look so much better than the old dot-matrix numbers in the pre-facelift car. The new shape of the headlights accentuates the width of the Prado, as does the new grille treatment.
And while nothing has changed if you look at it from side-on (aside from different wheel designs), the Prado somehow looks more muscular than it did. The tail-lights have black surrounds which helps, and the rear door has been neatened up a touch, too. 
While you get a rear spoiler on all Prado models, you have to spend up on the VX or Kakadu to get side steps. And if you want a body kit, you'll have to look up eBay's UAE sellers.
The interior design has seen a big workover, with a new centre stack and media interface, new steering wheels and other refinements. But the interior dimensions haven't changed, because the size hasn't either: check out our interior images to get a better idea.
This is a facelift done right. And this writer in particular thinks the flat tailgate version looks even smarter again.
---
Toyota Land Cruiser
8/10
Visually, the 300 Series is a safe and conservative evolution of the vehicle it supplants.
Sure, the nose is more contemporary. The rear is cleaner. And the proportions are broadly similar. But the only really interesting touches pertain to the GR Sport, with its T-O-Y-O-T-A badge up front, blacked out trim and unpainted bumpers, adding a nice, retro, 1980s 60-Series-style attitude that's keeping with the 4WD's adventurous spirit.
Dimensionally, and as the practically interchangeable numbers prove, the new LandCruiser wagon is identical to the 200 Series. Key length, width, height and wheelbase numbers are 4980mm to 5015mm, 1980mm to 2000mm, 1950mm and 2850mm respectively. The first two item variations are down to differences in grades.
The 300's official running clearance is 245mm. Toyota states ground clearance is 235mm.
Why so similar to before? Toyota's research has shown that people are happy with the size of the old car. If it ain't broke…
Still, there are massive shifts in certain areas, which have also helped shape the Toyota's design. For instance, for the first time in any LandCruiser, the tailgate is now a one-piece lift-up door like a regular SUV's, not a split design like your granddad's old Holden EH wagon or barn doors like, well, a barn.
And in the Sahara ZX, the shape of the tailgate skin has been altered again to make it look more upmarket – hence the length difference in this grade.
Further engineering decisions have impacted the way the latest LandCruiser looks.
The 300 Series is claimed to be "new-from-the-ground-up new", sharing no components with its 14-year-old predecessor. It rides on the 'Toyota New Generation Architecture – Frame' (TNGA-F), a modular body-on-frame architecture that will underpin a number of different sized SUVs and pick-up trucks in the future – including, it's reported, Prado and HiLux (link to Byron's related news story).
Shedding weight was another target, helped by all "bolt-on" body panels including doors, mudguards, bonnet and tailgate now being made of aluminium, while only the core frame remains high-strength steel – a first for LandCruiser.
Aided by using a lighter and smaller engine, an average of 200kg has been saved. This, in turn, improves fuel economy and lowers the centre of gravity, assisting handling and high-speed controllability.
Suspension is via a redesigned version of the old double wishbone front and five-link (with Panhard rod) independent rear set-up. Axles front and rear are rigid. There is no air suspension option at this time. Payload remains at 3500kg braked/750kg unbraked.
Tyres are smaller at 265/18 spec, to also save weight and improve rolling resistance, while wheels move from a five-stud to a six-stud pattern like all models prior to the 100 Series.
With development commencing in 2014, Toyota Australia was involved from the start. Key goals were to maintain or improve quality, durability, reliability, diesel performance, long-distance comfort and towing capability.
There is also a big emphasis on accessories – with bull bars, 'roo bars, tow bars and extra lighting designed, developed or tuned here as required.
Practicality
Toyota Land Cruiser Prado
7/10
The revisions to the dashboard are really quite nice. In the lower-spec versions there is more storage space in front of the shifter, while higher-spec models, like the Kakadu you see here, have a smaller little caddy (big enough for a wallet) because the stack has all the serious off-road controls – check out the Prado interior pictures attached for a better idea.
Even so, every Prado has good storage options on offer: you will find more than one cupholder to suffice – in fact, there are cupholders in the first, second and third rows, and holsters for bottles in all four doors. The higher-spec models have a cooled/refrigerated centre console area, which is great to keep your drinks chilled on longer trips. 
Of course the entry-grade GX with five seats is a better bet if you need the ultimate in luggage capacity, rated at 640 litres, and there's a cargo cover (plus you could fit a cargo barrier if you wanted to) – well and truly better than the 480L in the seven-seat model.
Because the vast majority of Prado models are seven-seaters, the measurement with seven seats in use is 120L – small by class standards. If you need more boot space, you could consider adding roof racks to the rails on GXL, VX and Kakadu models. The flat tailgate setup available on those variants includes a very practical opening tailgate glass, which makes putting shopping bags in even easier, especially in tight parking spaces.
While the GXL and VX feature very simple third-row seat operation, the electric seats in the Kakadu are daft. They take more than 10 seconds to raise or lower completely, and – like many of the Prado's electronic items – the controller beeps every time you use it. And that's really, really annoying. One nice counterpoint is a 220-volt powerpoint in the boot in high-spec models.
In terms of space, adults will be able to comfortably slot in the second row seating and allow enough space behind them for smaller adults or children. The back row isn't the roomiest place, but for adults – even taller ones – it is definitely bearable for short trips. Headroom is good throughout the cabin, and legroom in the second row is pretty good, too.
For customers with kids, there are dual ISOFIX seats in the second row, and three top-tether points as well. There are air-vents to all three rows (in seven-seat models) but entry-grade models will need those up front to control the climate for those in the back.
The 8.0-inch media system is typical Toyota – that is to say, it's reasonably easy to use but the on-screen buttons are a bit small, and it certainly doesn't set any new standards. There is no Apple CarPlay or Android Auto connectivity, and the Bluetooth system – while easy to connect and reasonably clever at reconnecting – requires the car to be at a standstill to search contact lists and operate the pairing function: that may sound like a safety feature, but what if your child or partner wants to connect their phone on the move? It's a fail.
It may also be worth noting for those parents out there with device-addicted children that the Prado only has one USB Port. I reckon it's a bit of a miss, especially for the Kakadu: I mean a Blu-ray player might have been okay five years ago, but times have changed, and kids are very much about BYO device, these days.
---
Toyota Land Cruiser
8/10
At the time of driving the 300 Series back in May, the prototype's interior was a working testbed of varying materials, errant wires and additional telematic technologies as per a regular development vehicle's, so wasn't as representative of the finished product as what you are seeing right now in the photos.
Additionally, with all the extra cladding on the outside as well as roof racks and a bull bar, it was difficult to ascertain refinement levels due to the extra noises they elicit.
Still, things are chalk and cheese stepping from the old to new LandCruiser back-to-back, which was part of the testing experience on that day.
The first thing that strikes you in what approximates to the flagship Sahara ZX grade in this prototype is how much airier and roomier the 300 feels, from the moment you open up the hefty door and climb up inside. There's a sense of width and space missing from the 200, aided by what seems like deeper windows.
The seats are also a revelation. Significantly larger and broader than before, with a wide flat base but with bolstered sides and bigger backrests, to nestle better in. Toyota reckons they hold you in more during 4x4 off-road manoeuvres.
Appearing like a larger version of the dashboard design first seen in the LandCruiser's immensely popular RAV4 baby brother, the look is pleasingly symmetrical for the most part, as well as downright practical.
An expansive display, it includes (likely optional) 3D digital instrumentation combined with analogue dials, vehicle data and multimedia info, to impart a sense of modernity and progress, but without losing the connection of what came before. There's nothing here to scare off crusty old 'Cruiser diehards.
The same applies to the climate control and audio systems, with a big volume knob where you want it, air outlets where you need them, and plenty of welcome, physical switchgear instead of confusing and annoying 'virtual buttons' lost deep in sub menus. This is all easy and intuitive stuff.
Being a high-grade series, the larger 12.3-inch centre screen's fresh design features swipe control and all-new graphics never before seen in a Toyota-badged vehicle.
They also house the displays for the climate control as well as the multimedia visuals. Plus, the screen's vast dimensions make the most of the big 360-degree surround-camera views. Suddenly, you might be able to justify what your $140K buys.
Moving on to the rear means clambering up into a large and spacious second row. The seat cushion seems larger and so supports longer and larger legs better, though the additional data-collecting equipment and tatty non-production trim made it difficult to really get a sense of what the finished product will seem like.
All we can say is that it's also airy, roomy and accommodating – as you'd expect in a 5.0-metre SUV – with all the gadgets and gizmos you expect in a flagship LandCruiser.
However, the third-row area was out of bounds in this prototype. But one of the biggest advances is the move from side-mounted third-row seating to an under-floor system, though whether our test car had this fitted was difficult to tell.
This one change guarantees that seven-seater versions will have hugely more cargo space available when the rearmost chairs aren't in use, significantly boosting the 300 Series' practicality and family-friendly appeal. Welcome to the 20th Century, LandCruiser!
Overall, then, the biggest take-away is how much more comfortable, composed and stable the interior felt, albeit driven only along a Toyota-sanctioned test track, and only up to 120km/h. This now seems like a bona fide luxury SUV experience as a result, rather than a 4WD in drag.
Price and features
Toyota Land Cruiser Prado
8/10
Yes, there have been price drops across the model line-up, but there are also much more affordable alternatives to the Prado if what you want is a rugged, off-roadable seven-seat SUV with a diesel engine and good towing ability.
Those competitors, clearly, are the likes of the Mitsubishi Pajero Sport, Isuzu MU-X, Holden Trailblazer and – to a lesser extent because it's a bit expensive – the Ford Everest. Even the Toyota Fortuner could be considered a more affordable alternative.
But the Prado is bigger than those models, and some would argue more comfort-focused, too. For the most part, I'd be one of those people – the Prado can be surprisingly comfortable, depending on the spec you choose – but we'll get to that later.
Let's run through the variants: GX vs GXL vs VX vs Kakadu, a sort of models comparison. I don't just put a price list with how much each will cost, but rather run through the recommended retail price (plus on-road costs) of the models in the range. You can check out the Toyota site for a drive-away price. 
The GX model is the entry-grade variant with a manufacturer's list price of $53,490 – that's before on-road costs, and that's $600 less than before. 
How many seats in the GX? It's a five-seat model, but if you choose the automatic version (priced at $56,490) you also get the option of a seven-seat layout, but that adds a further $2550 to the price. 
Standard inclusions: lane departure warning, a pre-collision safety system with pedestrian detection, auto high-beam lights, and automatic cruise control – that's only on the auto model, though - the manual misses out. The manual also misses out on the 'electroluminescent combimeter with colour multi-information display', or driver info screen. You do get cruise control, even on the manual.
The GX comes with 17-inch alloy wheels, keyless entry (smart key) and push-button start, an 8.0-inch touch screen media system with reversing camera and satellite navigation/GPS  (with live traffic updates for the navigation system), Bluetooth phone and audio streaming, USB connectivity and a nine-speaker sound system. It has radio and a CD player, too. There's no DVD player, and you can't get Apple CarPlay and Android Auto, either. 
The next model up the range is the GXL, which comes with seven seats as standard, but can be had as a manual (from $59,990) or automatic ($62,990). Price drops for the GXL model equate to $1200. 
It gets a bunch of worthwhile extra equipment over the base model, including LED headlights (a big improvement), LED daytime running lights, LED fog lamps, and lamps in the sun-visors. There's also the addition of privacy glass, roof rails, side steps, a leather-lined steering wheel, tri-zone climate control, and a rear diff lock (auto only).
The GXL can be had with what Toyota is labelling a 'premium interior', which adds $3500 to the price and includes leather-accented seat trim, ventilated front seats with power adjustment, and heated front and second-row seats. Sounds like money well spent to me.
The third rung up the ladder in the 2018 Toyota Prado range is the VX, which is only available as an automatic and sees a considerable price jump over the GXL auto – it lists at $73,990 plus on-road costs, but that's $911 less than 2017.
The VX brings additional items such as 18-inch alloy wheels, panoramic/surround-view camera monitor with low-speed forward view setting, ventilated front seats, heated seats front and rear, a cool box between the front seats and LED fog lamps. It also sports leather seats, and a 14-speaker JBL sound system.
And if you spend this much you also secure more safety equipment: blind-spot monitoring, and rear cross-traffic alert. 
The top-of-the-range variant in the Toyota Prado 2018 model range is the Kakadu, which is auto only, and lists at $84,490, representing a drop of $1121 compared with the model it succeeds. It's the model you see in the images here.  
You certainly get plenty of additional equipment over the VX for your $10,500 extra expenditure – the Kakadu is the only model in the range with Toyota's 'Kinetic Dynamic Suspension System' (KDSS) – a high-tech set-up that reacts to forces felt by the suspension that can modulate or disable the anti-roll bars. 
Further additions to the Kakadu include 'Crawl Control' (Toyota's advanced traction system that monitors slippage at each wheel and works to ensure optimal traction), 'Multi-Terrain Select' (with rock, rock & dirt, mogul, loose rock, mud & sand settings), a new drive mode select system that changes the settings of the drivetrain, chassis and air-conditioning (with Comfort, Eco, Normal, Sport and Sport+ settings). There's no denying the Kakadu seems like the one you'd pick if you want to go off-road – like, to Kakadu, for instance…
Other additions for this spec include a sunroof, woodgrain trim, power folding third-row seats, and a rear seat entertainment system with a Blu-ray entertainment screen, plus three wireless headsets.
A newly added no-cost option for August-onward 2018 Toyota Prado models is a flat tailgate setup, which was previously reserved for the Prado Altitude limited edition models. Available for GXL, VX and Kakadu grades, the  sees the removal of the tailgate-mounted spare wheel and cover, with the spare wheel instead mounted under the boot floor. There is an impact on fuel tank size, with the 63L reserve tank removed to make room for the spare wheel (leaving an 87-litre capacity). But flat-back Prado buyers will get an opening tailgate window, making quick access to the boot even easier. 
No matter which model you choose, if you want one of Toyota's 'premium paint' finishes you'll have to pay $550 (only one of the black options and white are exempt from extra cost). The colours include three different black hues, a dusty bronze/gold/beige/orange/brown finish, grey, red, two choices of silver, and white – no green, blue or yellow here. 
Of course if you want to further customise your Prado, there are plenty of accessories you can choose beyond rims and floor mats in each of the trim levels.
The genuine accessories list features two options for your choice of bullbar, a nudge bar, snorkel, and you'll want the cargo barrier if you need to haul your tool kit with you.
---
Toyota Land Cruiser
8/10
First and foremost, new Land Cruiser sales will commence in October, which is expected to coincide with its release date and when the first owners will take delivery.
Compared to the old 200 Series, prices have risen by between $7000 and $10,000, depending on grade. And, guess what? Now, there's more to choose from, as well.
The extra cost is down to the fact that the 300 Series ushers in an all-new body and platform (what Toyota calls "a rigid, yet lightweight, TNGA body-on-frame construction"), improved power and efficiency, more equipment, and significant upgrades in safety and equipment levels. Maximum towing capacity is 3500kg.
Plus, the two most expensive versions represent a march upmarket for the half-century old plus series, with one targeting more-serious off-roader consumers (GR Sport) and the other high-end luxury buyers. Note this pair, along with the base GX, are five seaters while the rest are seven-seat models.
The base GX from $89,990, before on-road costs, includes autonomous emergency braking, active cruise control and a host of other driver-assist technology that we'll cover off in the Safety chapter.
It also gains LED headlights, keyless entry and start, two-zone climate control air-con, a reversing camera, a one-third bigger (9.0-inch) touchscreen display, as well as smartphone integration, an electric park brake, and one-touch power windows all round.
You'll also find a trailer wiring harness, and 'Toyota Connected Services' with automatic collision notification, SOS button and stolen-vehicle tracking.
The GXL from $101,790 steps up with seven seats, rear cross-traffic alert, blind-spot monitor, wireless phone charger and 18-inch alloy wheels, while the VX seven-seater from $113,990 adds rear-AEB, 360-degree monitor, active lane assist, upgraded traction and stability control operation, a bigger (12.3-inch) touchscreen, upgraded audio, four-zone climate control, power-adjustable steering wheel, heated and cooled front seats, and a multi-terrain off-road system that automatically selects the appropriate 4WD-related tech to get you through more easily.
Going Sahara – the flagship of the seven-seater LandCruisers from $131,190 – means more premium audio with 14-speaker sound, a head-up display, heated steering wheel, heated middle-row seating and power-folding third-row seats.
Among other items, the newly-minted GR Sport five-seater, from $137,790, boasts 'TOYOTA' lettering in a gloss-black mesh grille, GR Sport branding everywhere the eye can see, blacked-out trim, unpainted bumpers and racier seat material.
More importantly, it scores front and rear differential locks and an evolution of the old 200 Series' independently locking/unlocking front and rear stabiliser bars dubbed e-KDSS (electronic Kinetic Dynamic Suspension System). Along with five driving modes, adaptive variable suspension and adaptive high beams, all aim to improve on-road handling, control and confidence.
Finally, the Sahara ZX five-seater, from $138,790, brandishes a chrome grille, redesigned headlights, bumpers and tail-lights and a reshaped tailgate for a more luxurious look. There are also glossy 20-inch alloy wheels, side steps, jazzier trim, middle-row outboard heated/cooled seats and a torque-sensing rear limited-slip differential.
It also appears to be the only entry-point into a 300 Series with a powered tailgate.
The new LandCruiser's main opponents include its age-old arch enemy, also from Japan, the Nissan Patrol, and though the Y62 is nearly a dozen years old now, a recent (2019) second makeover, V8 power (albeit petrol) and sub-$100K pricing (from $81,160 to $94,115) keep it in the hunt.
Given the Toyota's shift upmarket, the Land Rover Defender's reinvention as a monocoque-bodied, off-road focused yet newly on-road savvy design icon cannot be underestimated either, especially as it starts off costing even less than the Patrol (from $74,516), offers two body styles (90 and 110 lengths), seven-seater options, six-cylinder turbo-diesels as well as four-cylinder turbo and supercharged V8 petrol choices (even though the latter starts north of $200K). 
Land Rover's related, evergreen Discovery 5 also weighs in strongly, starting from $101,875 and topping out at $120,575. 
People moan about a 'Toyota Tax', but considering the 300 Series promises to maintain its predecessors' sterling reputation for reliability, durability and dependability, has newfound on-road dynamic prowess, and does offer a wide range for consumers to choose from, it may end up being the best value 4x4 by far.
Engine & trans
Toyota Land Cruiser Prado
7/10
Every variant in the Prado range is powered the same engine, with the same size - a 2.8-litre four-cylinder turbo-diesel engine. The entry-grade models (GX and GXL) have the choice of a six-speed manual or six-speed auto, while the top two grades (VX and Kakadu) are auto only.
There are no changes to specifications for power outputs of the diesel drivetrain, be it the manual gearbox with retained power and torque outputs of 130kW/420Nm, or an automatic transmission, which bumps the torque spec up to 450Nm. 
Competitor SUVs out there can be had with more power and torque – even some that are smaller, like the Holden Trailblazer (2.8-litre turbo-diesel, 147kW/500Nm). 
Unlike a lot of those other competitors, though, the Prado runs a permanent four-wheel drive (4WD or 4x4) set-up with 4H and 4L modes – there's no 4x2 mode. You need to get an automatic to be able to get a rear diff lock, and even then it's not available on the base model GX. So, manual gearbox enthusiasts need to think twice.
Some buyers may not be too impressed by the Prado's comparatively low braked towing capacity weight of 2500kg (750kg un-braked) for manual models – but the automatic pushes that braked capacity to 3000kg, which is what you'll likely need for a big off-road caravan. Our test vehicles didn't have a towbar, so there's no towing review here. 
And there's no argument for petrol vs diesel, as the 4.0-litre V6 has been axed. And there's never been an LPG model here. 
You might want to check out our Prado problems page for any relevant information on potential diesel engine problems or issues with injector performance, automatic transmission or clutch / gearbox problems, suspension issues or cruise control complaints. And any concerns over diesel particulate filter problems should be allayed by the addition of a new DPF forced burn-off switch, to give a manual override control to the owner.
Timing belt or chain? The 2.8-litre engine has a chain, thank you very much.
---
Toyota Land Cruiser
9/10
Dubbed the F33A-FTV, all Oz-bound 300 Series 'Cruisers for now will be powered by a 3346cc 3.3-litre double overhead cam, 24-valve, chain-drive V6 twin-turbo diesel engine, delivering 227kW of power at 4000rpm and 700Nm of torque from 1600-2600rpm.
Over the old 200kW/650Nm 4.5-litre V8 twin-turbo diesel, this represents rises of 27kW and 50Nm respectively. It also enjoys a much stronger power-to-weight ratio – nearly 91kW per tonne versus just 73kW. This means it can do more – and go further – with less.
The transmission is an Aisin-built 10-speed torque-converter automatic, permanently driving all four wheels, and with a low-range transfer case. Sadly, there is no more manual transmission on offer – not for the time being, in any case.
Fuel consumption
Toyota Land Cruiser Prado
8/10
Toyota claims diesel fuel consumption of 7.9L/100km for the manual Prado, while the automatic model uses 0.1L/100km more, claiming 8.0L/100km. 
Realistically you can expect fuel economy around 9.5L/100km in most situations, or a tad more if you're running around with adults accompanying you in the other four seats.
If you venture off-road the fuel use number will probably rise to about 11.5L/100km, which is pretty good given the size of the Prado. Towing will likely see that figure jump a tad, but not to excessively high levels (depending on the weight of what you're towing, of course!).
The Prado's huge 150-litre fuel tank capacity (with an 87L main tank size and 63L sub) will assure long range mileage between visits to the pump, but expect a big bill if you run it to empty. If you get the flat tailgate version of the GXL, VX or Kakadu, you will only get the 87-litre capacity, which will still be able to get you plenty far. And it's a little bit smaller (length is down from 4995mm to 4825mm) and lighter (reduced about 60kg across the range), so you may even see better fuel consumption, not to mention easier parking in small spots.
As mentioned above, there's no petrol option anymore.
---
Toyota Land Cruiser
7/10
There was no way we could access any sort of meaningful real-world fuel consumption figures during our pre-production drive of the new LandCruiser back in May.
However, the official data is now in. Compared to the 200 Series, the 300 Series uses just over half-a-litre less fuel, according to its combined fuel number – it's down to 8.9L/100km… which is hardly night and day.
Toyota says the more-efficient and smaller engine means it could fit a smaller fuel tank. This results in a theoretical range of 1236km between fills. 
That's down from 1453km, due to the old model's 28L-larger tank.
Driving
Toyota Land Cruiser Prado
8/10
If you plan on spending the vast majority of your time on paved surfaces – be that running around town or cruising country highways – you ought to choose the GX, GXL or VX models.
Why? It all comes down to the Kakadu's suspension system. It's undeniably brilliant when it comes to scrambling up craggy hills, especially if there are heaps of offset bumpy sections because of the way it can adjust the anti-roll bars. Admittedly there is adaptive front and rear variable suspension (not air suspension) on the Kakadu, but even in the most passenger-friendly Comfort setting it isn't as comfy as it should be, with the four-link rear suspension abruptly rebounding over bumps. The front suspension is a trailing arm double-wishbone type, and it is more resolved over bumps.
It is ridiculously capable when it comes to off road ability, with the permanent 4WD system (with 4H high range and 4L low range), a locking rear diff, and the brand's dependable drive-mode selector system allowing for assured progress on gnarly surfaces.
That said, it mightn't be quite as terrific as it once was: we didn't get the pre-facelift model and the new model together for a head-to-head, but the numbers don't lie: the new-look Prado has worse approach and departure angles vs the old one. The approach angle is now 30.4 degrees, where it used to be 32.0deg, and the departure angle is now 23.5deg (was 25.0deg). Ground clearance is down by a millimetre, to 219mm.
And while that anti-roll bar adjustment certainly makes the Prado Kakadu hold itself flatter through a series of sharp corners, that's not what this SUV is all about. Nor what this review is about. 
In the lower-spec models there is better bump absorption – the smaller alloy wheels help, though we know some buyers will be tempted to upsize to 22-inch chrome wheels…The steering response largely remains the same between the four variants – the wheel action is light and easy to twirl at lower speeds with a decent turning circle of 11.6m, and it has good weighting at highway pace, too. 
And no matter which model you choose, you'll be getting a diesel engine that feels suited to day-to-day life: the 2.8-litre four-cylinder turbo unit isn't excessively grunty, but with the clever six-speed automatic the Prado definitely offers enough punch to jump a gap or two in traffic. 
Even so, I have often thought to myself 'there is no faster car on the road than a Prado driver who is late to drop the kids at school' – and the performance lives up to that expectation. There's some turbo lag to contend with from stand-still, but its roll-on acceleration is convincing below 70km/h. 
It isn't quite as sprightly once you get above that, presumably because aerodynamics starts to play a more integral role in forward progress. But realistically if you want to know what 0-100km/h acceleration it'll do, or what top speed it'll hit, maybe you shouldn't be looking at a Prado.
My biggest annoyance with the Prado is its brake pedal feel. While the response from the stoppers is good, the squelchy feel of the pedal and the fingernails-on-a-blackboard screechiness as you apply pressure is frustrating. The body of the Prado can pitch forward when you apply the brakes, too. 
---
Toyota Land Cruiser
8/10
So, the question on every one's lips is: does the new 3.3L twin-turbo diesel V6 perform as well or better than the 4.5L TT diesel V8 it replaces?
Well, in the limited time we've had around the high-security Anglesea Proving Ground, the Toyota certainly feels at least as fast, and certainly quiet and smooth and refined in the way you'd want an all-new V6 engine to be.
Secondly, the 10-speed auto transmission seems to shuffle through each of the ratios quick smart, with no delay or lag or jerkiness – so that's a good thing. How it would behave with a bigger load, we cannot say, but on the day, the shifter seemed swift, smooth and sure.
And thirdly, we did a towing test with 3000kg and a 10 per cent load on the towing ball, and we found that the towing capacity of that car was smoother and more effortless than driving the similarly-hitched 4.5L V8 200 Series. So, as far as I'm concerned, that's a win for the 300 Series.
Probably the only thing I am a little disappointed in is that it doesn't quite have the V8 snarl – that diesely grunty snarl that the 200 Series has.
Having said that, this is not a bad sounding engine, by any means. And while the official fuel consumption figures are better but not stellar, maybe they promise to be a lot better than the current car out in the real world.
If that's the case, that's a small price to pay for significantly increased efficiency. Only pump-to-pump tests will reveal the truth here.
Now, even though the LandCruiser retains a double-wishbone front end and a five-link rear suspension system, it's been completely overhauled and redesigned for this configuration.
And combined with the hydraulic electric steering system in the high-grade model, the handling and ride qualities are comparable to most luxury SUVs. Not the highest bar in the world, I know, but this is a basically a body-on-frame truck wagon, remember.
Inevitably, the steering errs on the light side, and isn't the last word in feedback. But it's also measured and progressive, and goes exactly where you point it – even with a huge trailer out back. The helm is your friend.
On the subject of suspension comfort, the pitching and body roll that was sometimes detected in the current 200 Series that accompanied each driving test were happily absent in the latter's successor.
That's great news for kids of all ages who go green at the notion of riding in the rear of a separate chassis 4x4.
I'm not going to say that this is as good as, say, a BMW X5 because it just can't be, being a ladder-frame chassis vehicle. But, gee, it feels so much tauter and tighter and more in control than any LandCruiser series I've driven.
And I've driven a lot of them in my 25-year history testing cars, and before that even, and I've got to say that this is one car I could live with around town. And you couldn't say that about a LandCruiser before.
Again, a win for LandCruiser fans. And Toyota!
Also, folks, please keep in mind this is a prototype we're driving. It cost millions of dollars, it's extremely precious to Toyota. In fact, it's going back to Japan, and being torn down so they can glean even more information out of it.
So, never mind the camouflage and the sticky tape and the gaffer tape and the wires and all that hanging out, because even with all those gubbins poking in and out of this car, it's very clearly a car that is more than generationally better than its predecessor.
This is one that raises the bar for all 4x4 wagons with this level of off-road capability anywhere in the world.
That said, consider our appetites well and truly whetted; we cannot wait to drive the new 300 Series out in the real world. 
Safety
Toyota Land Cruiser Prado
8/10
The facelifted Prado model hasn't been crash tested by ANCAP, but this generation was tested all the way back in 2010, when it scored the maximum five-star safety rating. It is unlikely the facelifted version will get the crash-test treatment again.
The manual models miss out on the added safety gear that every automatic Prado gets as standard as part of the update, which is disappointing, and you don't even get a hill-hold function on the base model GX. 
The kit every auto Prado now gets includes auto emergency braking (AEB) with pedestrian detection, adaptive cruise control, lane departure warning and automated high-beam headlights. 
Manual or auto, the Prado comes with a reversing camera with active steering guidelines and rear parking sensors. All Prado models have seven airbags (dual front, front side, full-length curtain, driver's knee), stability and traction control, ABS, EBD and trailer-sway control.
If you step up to the VX you also get blind-spot monitoring and rear cross-traffic alert, not to mention the surround-view camera and low-speed off-road front-view camera, and front parking sensors. The Kakadu model gets the lot, plus all of the off-road hardware and tech.
Parents will appreciate the two second-row ISOFIX child-seat anchor-points. 
---
Toyota Land Cruiser
8/10
It's too early for the 300 Series to have an ANCAP safety rating. And we don't even know how many airbags it will have, but we're expecting a high standard of safety, given the significance of this new model.
Here's what we know so far.
All grades include autonomous emergency braking pre-collision safety system with pedestrian (day and night) and cyclist (daytime-only) detection, as part of what is dubbed "the latest Toyota Safety Sense package."
There's also all-speed active cruise control, auto high beam and lane-keeping technology that steps up to lane-trace assist with steering-wheel vibration in VX grades and above.
Also standard on all models are LED headlights, reverse camera, 'Toyota Connected Services' with automatic collision notification, SOS button and stolen-vehicle tracking.
You'll need to step up to the GXL and up for rear cross-traffic alert and blind-spot monitor, and only the VX and up adds rear-AEB, 360-degree monitor, active lane assist, and upgraded traction and stability control operation.
All other information, including AEB operation parameters and child-seat fixtures will be released closer to the 300 Series' launch date in the final quarter of 2021.
Ownership
Toyota Land Cruiser Prado
6/10
Toyota's unbreakable reputation is well founded, and reliability issues are reportedly few and far between. The brand offers an expansive dealer network providing access to professional Toyota care pretty much anywhere you think you'll take your Prado.
The company isn't unbeatable for warranty cover, however. It offers the bare-minimum three-year/100,000km plan for all of its cars, utes and SUVs.
Likewise Toyota's maintenance schedule remains annoyingly short - intervals are every six months or 10,000km, which could be painful if you do a lot of mileage. At least the visits are affordable, with service costs capped at $240 each time for the first three years/60,000km.
Resale value is hard to argue with for the Prado – and most Toyota's for that matter. But if you're concerned about a used car purchase maybe check out our problems page for common problems, issues, faults and complaints about the Prado. 
---