26 April 2017
What is this Fiat 500 and why is it almost a 3 wheeler?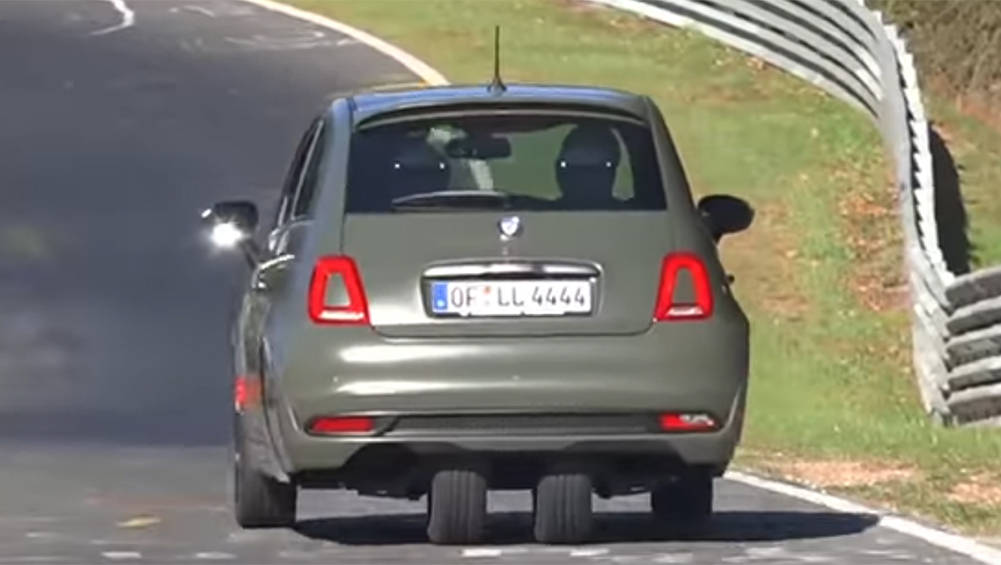 Spotted on the darn Nurburgring of all places is this truly odd looking Fiat 500. We think it may be a manufacturer prototype.
We think this for a few reasons. Firstly: Why would anyone in their right mind make an aftermarket three-wheel 500 and secondly: It looks suspicously tidy to be a custom job, paticularly with the wheel sticker 'camouflage' - if you can call it that.

The number-plate prefix is a decent clue.
If you dig just under the surface though, there could be more to it. The German number-plate prefix OF stands for Offenbach.
It's a city in Germany that just happens to have a branch of GKN driveline, the same folks that helped develop the AWD drivetrain for the Fiat 500X SUV and Jeep Renegade.
So what are we looking at here? A new base-model city-runabout Fiat 500? A kind of modern-day BMW Isetta?

BMW's Isetta. Hilariously unsafe, even for 1955.
It was spotted thanks to this compilation by TOP Nurburgring Videos that showcases a whole bunch of other completely inappropriate vehicles being raced around during the famed tourist days.
Update -
Turns out this is a thing that Germans do and all our investigations were for nothing!
There is a German third-party company that will do this to a range of small cars for $5k. They'll do it to Volkswagen Polos, Seat Ibizas, Skoda Fabias or Fiat 500s.
It invloves changing the rear axle and de-tuning the engine to only 15kW. This is to re-classify the vehicle so that anyone as young as 16 can drive it.
The more you know.
The 500 appears at 3:47. Other highlights include GMC Savanna at 0:18 Ford Transit at 2:39 Jeep Wrangler at 2:13.