30 October 2017
Is two million dollars too much for this go-anywhere Maybach G-Wagen?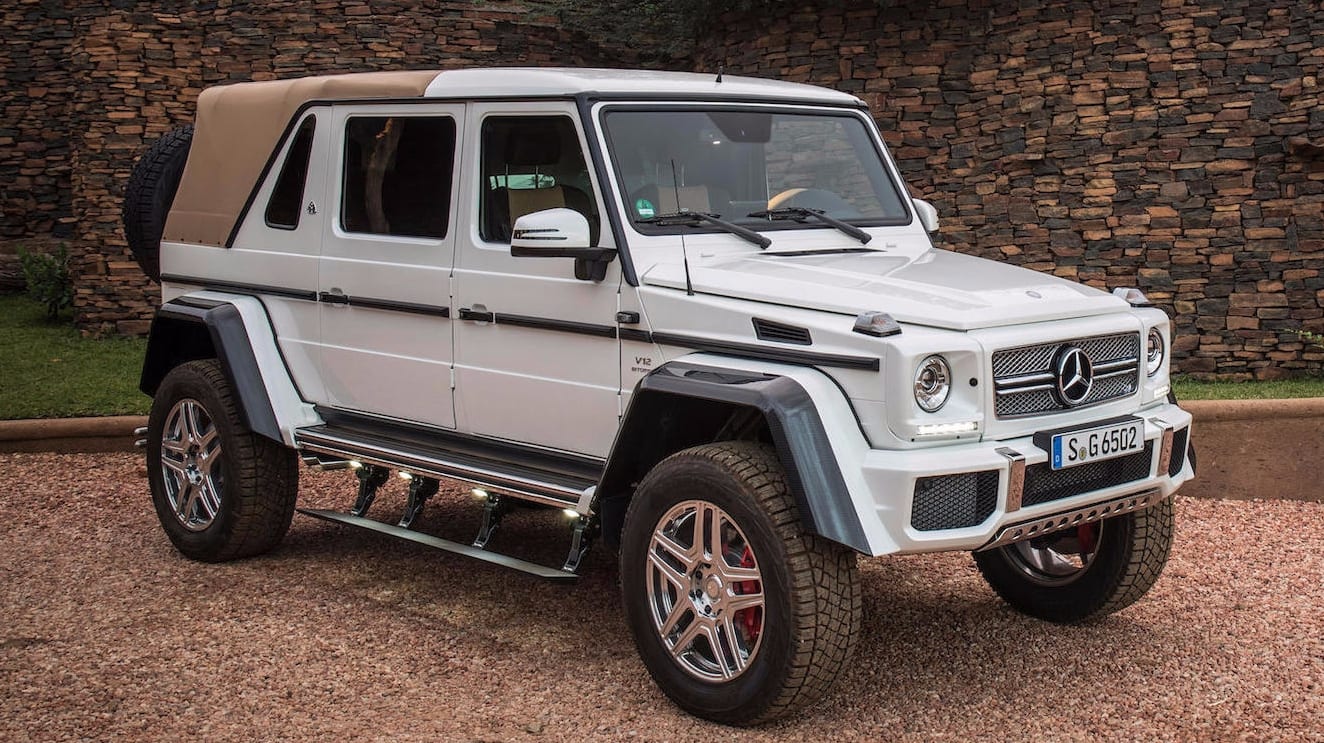 What is the most you'd pay for a car, even if you were the wealthiest person in the world?
Is AU$2 million too ridiculous? I think if you asked whoever bought Steve McQueen's LeMans Porsche for almost AU$18 million, they'd say no. Regardless, this is still a massive sum for this unusual Maybach sold at Bonhams' 'Zoute' auction earlier this month.
Which leads us to the next point, what's the deal with a Maybach badge on a G-Wagen? Glad you asked, get a load of that interior. Yes, this is a 5.3 metre-long off-roader with only four seats, but oh do every one of those seats look opulent.

Helps dampen the shock factor when getting out of a private jet and into an off-roader. (image credit: Bonhams)
As the tan roof section and fat phat 'Landaulet' badge suggest, it's even a convertible, if you're being chauffeured in the rear. Plus it is quite rare, this is one of only 99 Maybach G650 Landaulets that were ever built.

Proportions to suit an emir. (image credit: Bonhams)
Enjoy any precarious terrain your vast estates may throw at you, while enjoying the fresh air and cocktails courtesy of the cooled centre console cupholders. Sounds absolutely spiffing, no?
Mercedes calls the rear seats 'the rear seating concept' – because just 'the back seat' doesn't begin to cover it and, of course, it wouldn't be a Maybach without message seats. Mercedes say these are for 'relief on strenuous safaris' – yeah, I hate those stressful safaris, too…

The drop-top won't keep the deadly creatures of the orient out, though... (image credit: Bonhams)
Oh, were you concerned for a moment that you would have your sensibilities offended by the odour of diesel? No, no. Instead, offend philistine 'environmentalists' with your 6.0-litre twin-turbo petrol V12, naturally. That's 463kW and 1000Nm of torque, by the way.

With 1000Nm of torque on tap you need not concern yourself with diesel. (image credit: Bonhams)
Hey, maybe you're a true off-roader with $2 mil to splash, maybe you're Bear Grylls or something… In any case, if you were concerned that all this money is for regular G-class off-road credentials, fear not, it also sports portal axles along with the regular arsenal of low-range kit just like the G63 6x6.
Thankfully, this auction piece was for charity. All 'benefits' (read: profits) Mercedes make on the sale go to the Laureus Sport for Good foundation. Something the purchaser will be able to remind their passengers of ad infinitum thanks to the 'Laureus' badge in the front grille and the included silver champagne flutes with an 'engraved special message' – whatever that means. Gotta spend money to make money I guess…
For comparison, the other 98 Maybach G650s were touted to sell for around AU$700,000.

Just for a sense of scale...
It's almost a shame most of these 99 cars will end up in 'private collections'. Damnit Indy, this one doesn't belong in a museum!
What do you think? Gratuitous display of wealth or the ultimate go-anywhere limousine? Tell us in the comments