30 October 2017
Thought the F40 was the wildest Ferrari? Think again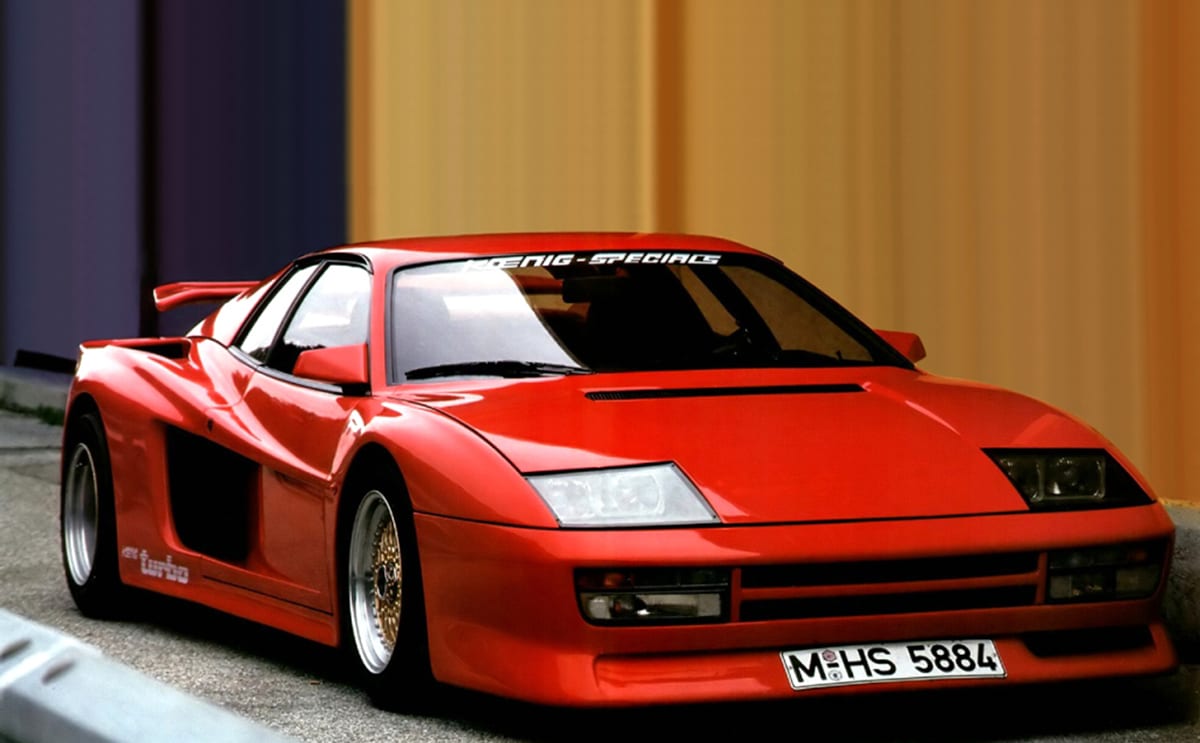 If the Ferrari F40 was the most outlandish supercar of the 1980s, then the Koenig-Specials Testarossa Bi-Turbo was the first hypercar.
Which is interesting, because it was the Ferrari F40 that inspired the Koenig Testarossa. Or at least, the lack of it.
You see, when the Ferrari F40 came out in 1987, everyone wanted one. Everyone. It was fast, it was exciting, and it was the last Ferrari to be personally approved by Enzo Ferrari himself before his death. Combined with the explosive soundtrack (and flames) that shot out its three exhausts, its 323km/h top speed, and brace of high-po turbochargers, the Ferrari F40 was the car to have.
Only the Porsche 959 could come close to the F40 in the imaginary supercar hierarchy. But that was more of a car for nerds. Not petrolheads.
Only they didn't sell that many of them.
More than the initial, stingy (and typically Ferrari-like) announcement of just 399 units – yes – but the final 1315 production number still wasn't enough to stop people from privately selling their cars at a 328 per cent price increase. Some F40s swapped hands for up to $1,300,000.
'We needs bigger, more badder supercar, me thinks'.
Enter the Koenig-Specials tuned Ferrari Testarossa.
While the standard Testarossa made a class-leading 291kW (390hp), thanks to its 4.9-litre flat-12, the extensively modified Koenig-Specials Testarossa Bi-Turbo… err, didn't.

The only thing more insane than the exterior styling was the engine's output.
A new exhaust, bigger cooling unit, and two Rajaj turbochargers were just some of the modifications done to boost power up to a monumentally reckless 529kW (710hp) and 690Nm. Remember, Ferrari's prized F40 supercar - the most outlandish car of the time - made 'just' 356kW (478hp).
Thanks to the extra kick, a 0-100km/h dash could be done in 3.8 seconds and, if allowed, would climb through the gears until it hit a top speed of 340km/h.
Remember, this was before traction control became popular, so to help reel in the massive power figures, massive 345/35 VR 15 wheels were bolted on the back, supplemented by 225/50 VR 16 rubbers up front.

Despite the enormous outputs, Koenig Specials later released versions with even more oomph.
Though, as you can see in the images, that wasn't the most obvious change to the car's exterior. Koenig Specials added on huge wings, ducting, and grills to separate their models from standard Testarossas, a move so wild that Enzo Ferrari reportedly demanded that they should remove the Ferrari badging.
For another 1980s monster, check out the twin-turbo Lamborghini Countach with 549kW.
What do you think of the Koenig-Specials Testarossa Bi-Turbo? Is Enzo Ferrari's demands justified? Tell us what you think in the comments below.