15 April 2020
Rolls-Royce Crabmobile? When kids get the keys to the ideas cupboard...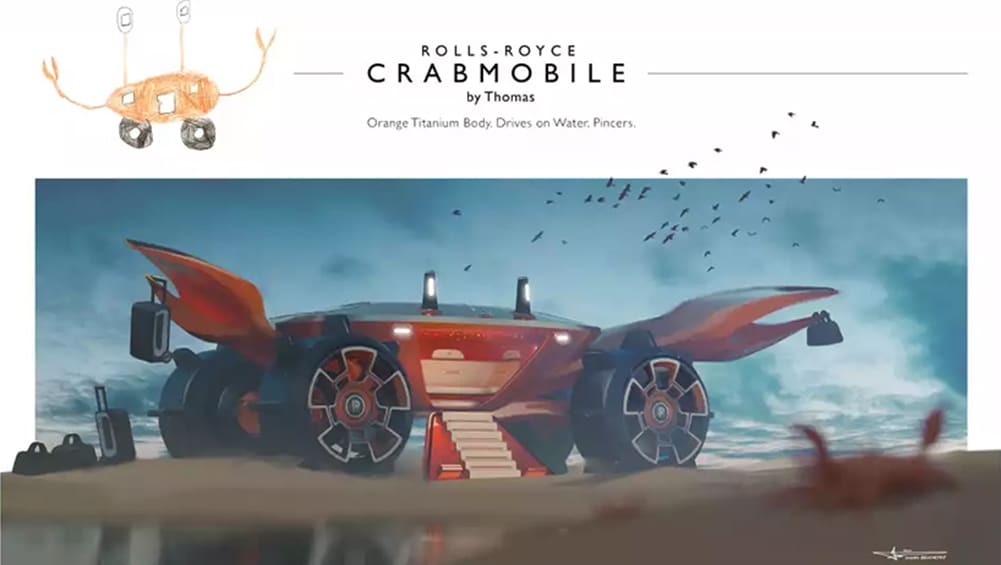 Rolls-Royce is calling on aspiring designers to give insight into what the future should look like through the Rolls Royce Young Designer Competition.
If the example work provided on the competition portal (and shown at the top of this article) is anything to go by, this future can look however you want it to look, even crab shaped.
Okay, so it's just one example, but it's a nice little indicator that the famously fancy marque is encouraging kids' imaginations to run wild and – speaking as someone who once wrote an essay-length article about a robot-dinosaur-truck – it's a terrific idea.
All entries will be judged by Rolls-Royce designers who will select a single winner to receive a grand prize that is any nerd's dream come true: a rendered illustration of their design (as exemplified by the 'Crabmobile').
If you know a kid with a dream to design the next Phantom or hey, if you ARE that kid, get that creativity engine running. As long as you're 16 or younger. Sorry grown-up nerds, this one's just for the kids, unfortunately.
The Rolls-Royce Young Designer Competition is (at time of writing) open and will stay open until Monday May 18, 2020. Kids up to the age of 16 are invited to take part and submit their design through the online portal here.