5 May 2020
Rolls-Royce and Mercedes are now older than your average Galapagos tortoise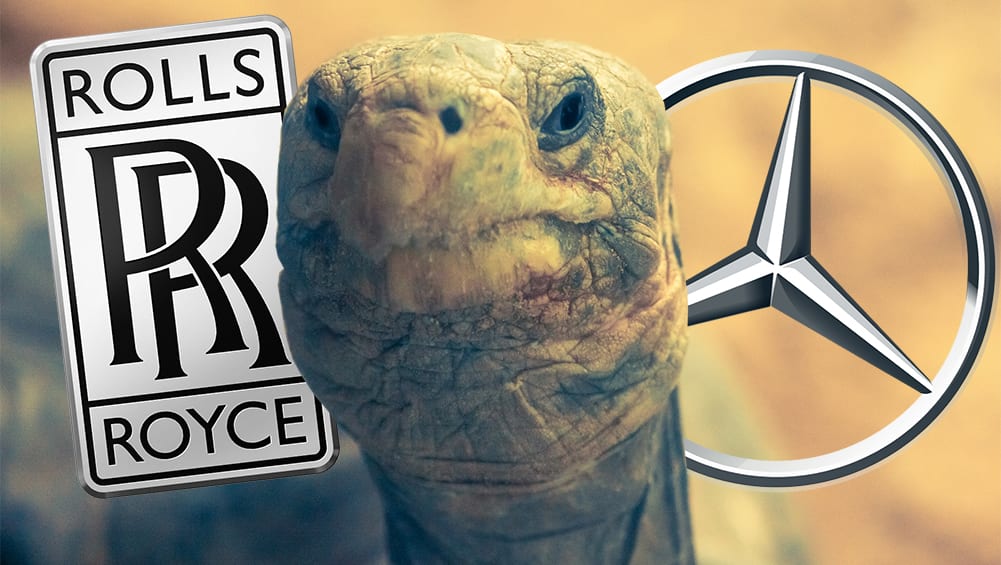 Why is it worth noting that Mercedes-Benz and Rolls-Royce are older than a species of Tortoise? Well, did you know the Galapagos tortoise generally lives to be over one-hundred years old?
In fact, the oldest known specimen, Harriet, was kept at Australia Zoo where she died in 2006 at the age of roughly 175 years old. For a bit of context, she was so old it's reported that she was first collected from the Galapagos Islands by non-other than Charles Darwin in 1835 during the second voyage of HMS Beagle. You may have heard of it. It was the expedition with the finches you learned about in high school.
Okay, so Harriet was an outlier, but the average age of a Galapagos tortoise being 100+ years old is still impressive. Hence, why it's a worthwhile comparison to make with two manufacturers, especially when you consider how eventful the 20th and 21st centuries have been.
Rolls-Royce's history began when The Hon. Charles Rolls met Henry Royce at the Midland Hotel in Manchester. Rolls said of Royce: "I have met the greatest Engineer in the World", and so the company responsible for the world's most exclusive honey (and a few cars, I guess) was born. This all happened on May 4th 1904, so it's probably fair to say that Rolls and Royce were the world's biggest fanboys, making sure Rolls-Royce shares its birthday with Star Wars Day ("May the 4th be with you") a full forty years before George Lucas was even born. Visionary.
Mercedes-Benz is technically slightly older, well... Mercedes is at least. Mercedes-Benz as a name didn't appear until 1926 as a brand extension. Prior to that the Mercedes name was used to brand passenger cars made by Daimler-Motoren-Gesellschaft. This is because prior to THAT towards the end of the 19th century, Emil Jellinek - a businessman and motoring enthusiast - insisted on better performance and technology from Daimler-Motoren-Gesellschaft. This, according to Mercedes, resulted in the development of the modern motorcar.
From 1899 onward, Jellinek competed in races on the Cote d'Azur in Daimler vehicles under the pseudonym 'Monsieur Mercedes' (not to be confused with the Stephen King novel). The name was later used alongside Daimler vehicles, notably the Mercedes 35 PS, powered by a new engine using the name Daimler-Mercedes. The vehicles new design focusing on aerodynamics and, funnily enough, NOT looking like a horse drawn carriage, made the vehicles nigh unbeatable while other manufacturers caught up. And the rest, as they say, is history.
But as we know, it wasn't all racing victory and exclusive honey (and cars, jeez) and Both Rolls-Royce and Mercedes-Benz have weathered wars both world and otherwise, economic crashes the most notable of course being the Great Depression, you may have heard of it, and pandemics from the Spanish Flu to COVID19 and everything in-between.
In fact, Rolls-Royce has recently recommenced manufacturing. Mercedes-Benz did the same last week. And as we make our way into another uncertain period of world history, it seems that Rolls-Royce and Mercedes-Benz are continuing to weather the storm. Who knows, maybe when everything goes to hell, the Galapagos tortoises are extinct, and we're all cobbling together our 'Mad-Max'-esque apocalypse cars, they might be weirdly more luxurious than we think.