23 August 2019
Mercedes-Benz Classic pilgrimage: A holy experience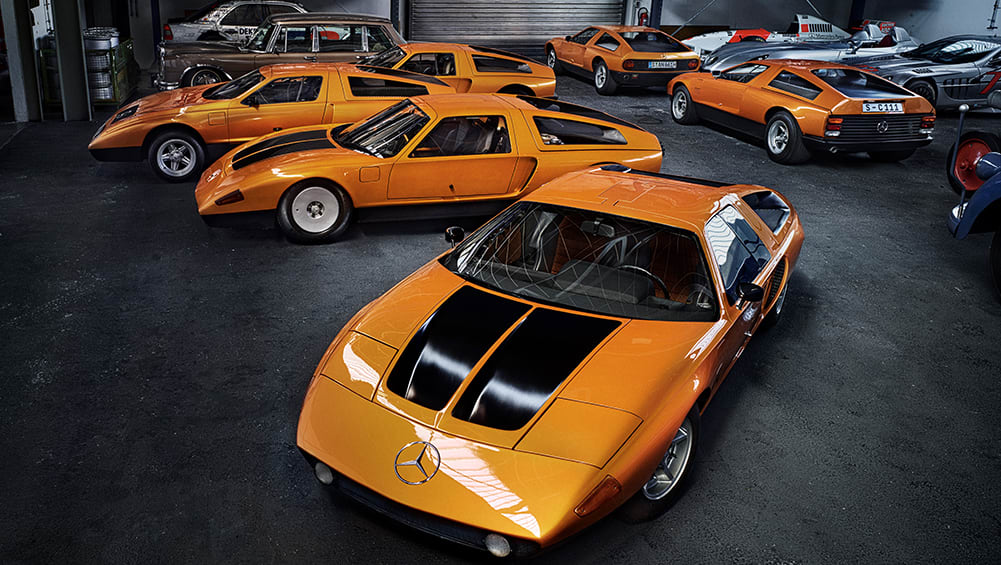 Okay, full disclosure. I've owned several Mercedes-Benzes, with a couple sitting in the Cleary family garage right now.
I worked for Mercedes-Benz as a junior burger in my first full-time job, on the payroll when the brand celebrated '100 Jahre Automobil' in 1986, and like a puppy was imprinted with the history and heritage of the world's oldest carmaker.
But for those concluding that as a member of the CarsGuide editorial team I might be biased, rest assured I aim to call a spade an 'effing shovel when it comes to assessing the current line-up.
Admiration in moderation is fine, and who am I to knock back an opportunity to visit the factory museum in Stuttgart chronicling the three-pointed star's jaw-dropping back catalogue?
Not only that, it's a Monday, so the museum is actually closed and I'm heading into a one-on-one guided tour courtesy of Ralph Wagenkneckt from the Mercedes-Benz Classic media team.
And we're going to pull back the curtain on the 'Holy Halls', 11 super-max secure facilities containing roughly 1100 vehicles – prototypes, competition cars and irreplaceable one-offs – held by Mercedes as a physical and ever-growing record of its unbelievably diverse past.
The halls are controlled by Mercedes-Benz Classic, the operation overseeing the museum, with a walk through the corporate archive of images, film, marketing material and significant documents also in prospect.
But first, the current museum, and some stats. Opened in 2006, it houses 160 vehicles and a total of 1500 exhibits over nine levels on a display area of 16,500 square metres.
So, it's big, and it's beautiful. Designed by UNS (United Network Studio) in Amsterdam, the structure was inspired by the double helix of human DNA. The idea is you take a lift to the top floor where the company's creation is detailed, and gradually walk your way back down through the ages, not unlike the layout pioneered by Frank Lloyd Wright in the Guggenheim Museum in New York.
Even the lift ride is a display opportunity with each elevator car exposed to the building's interior atrium and projecting historical footage onto opposing concrete walls, the images ascending with you.
There are seven 'Legend Rooms' ranging from the invention of the automobile, through safety and the environment, to 'emission-free mobility' and motorsport.
Then, on the other DNA spiral, sit five 'Collection Galleries', housing sets of vehicles themed according to use and ownership.
Everything from specialised commercial vehicles, to research and development exhibits, even celebrity-owned wheels (including Princess Diana's R129 500 SL). Plus, fascinating ephemera and other irreplaceable bits and pieces from the brand's history. 
But rather than detail every exhibit (which I could totally have a crack at, by the way) here, in no particular order are my Top 10 highlights.
Grandfather Clock
Gottlieb Daimler's 455cc single-cylinder design was the world's first small high-speed internal combustion engine to run on gasoline, with a patent filed in 1885.
The engine's 'Grandfather Clock' nickname came from its distinctive appearance and the museum highlights its versatility, displaying installation in Daimler's iconic Reitwagen (riding car) motorcycle, Otto von Bismarck's motorboat 'Marie', and the gondola of the Wölfert airship that took flight in 1888.
Mobile post office
The Mercedes-Benz O 10000 is an imposing 6x4 six-cylinder urban bus and long-distance coach produced from 1937 to 1941. This particularly handsome example served the Austrian Postal Service as a parcel truck after World War II on the Salzburg to Vienna route.
It was later converted to its final, mobile post office spec, which is amazing, with exquisite detailing including frosted glass on the doors of the on-board phone booths, liberal use of art deco-style chrome accents, and 'Österreichische Post' in low-relief chrome lettering along the side with the Austrian coat of arms below.
Mercedes-Benz 300 Messwagen (measuring car)
Forget over-the-air data transfer, in 1960 Mercedes-Benz created this 'measuring car' for the R&D department.
Stuffed with recording equipment and linked to sensors on the test car in front by bundled cables it's powered by a 3.0-litre in-line six and finished to showroom standard with two-tone paint, custom rear windows, as well as beautifully fabricated one-off panels and trim pieces.
Steam rocket
In the early 1960s Mercedes-Benz dialed up its focus on safety, and crash testing became an even greater priority in research and development.
Early barrier impact systems used a cable to bring the car up to speed, but in 1962 this steam rocket emerged. Mounted on a single-axle trailer attached to the rear of the rail-guided test vehicle it consisted of a pressure tank, fast-opening valve and discharge nozzle. It was capable of accelerating a car to speeds in excess of 100 km/h.
Jellinek's Simplex
Emil Jellinek's 1904 Mercedes-Simplex 60 HP touring limousine was built by Daimler to help him promote the new concept of holiday road trips to wealthy industrialists in Europe. Jellinek used his daughter's name, Mercedes, as the brand.
It was much more luxurious than previous Simplex models, featuring an enclosed section for the driver, as well as leather trim and polished metals around the cabin. In the flesh it is striking in terms of its size and obvious quality.
L 20 light aircraft engine
How's this for a name? Friedrich Karl von Koenig-Warthausen. In August 1928 he flew his Klemm-Daimler L 20 light aircraft from Berlin to Moscow in record time. But once there spontaneously decided to fly around the world to win the Hindenburg Trophy for long-distance flight.
Powered by a Mercedes-Benz F 7502 two-cylinder aircraft engine the authentic reconstruction of the L 20 on display in the museum makes a striking statement. The plane is branded 'Kamerad' (German for mate).
W196R 
They say no matter what it looks like, a successful racing car is beautiful. But I'd argue, even if it was at the rear of the grid the streamliner version of Mercedes-Benz's W196 Grand Prix car would cause heads to turn and jaws to drop.
Exploiting the rules to the full, Merc ran this car for the 1954 and 1955 seasons, in streamlined form for high-speed circuits (Reims, Monza, Silverstone) and lightweight open wheel spec for others.
Driven by the likes of Fangio, Kling, Lang and Moss it's powered by a 2.5-litre, naturally aspirated straight eight engine and won the constructor and driver's title each year it ran.
And just to top it off the car sits next to 300 SLR #722 steered to victory by Stirling Moss and journo co-driver Denis Jenkinson in the 1955 Mille Miglia. The actual car!
Fun Fact: Mille Miglia competition numbers aligned with start time, so 722 was allocated in line with Moss and Jenkinson's 7:22am start.

W196R - They say no matter what it looks like, a successful racing car is beautiful.
Bracq painting
Paul Bracq led the Mercedes-Benz design studio for a decade from the late 1950s putting his stamp on a long line of cars including the W 100 600 limo, W111 'Finnie', and most memorably, the 'Pagoda' SL roadster.
Bracq went on to work for BMW and Peugeot and is now in retirement in Bordeaux in his native France. This year he produced a painting of the Pagoda which has been reproduced on the cover of the factory's Classic customer magazine, and the original work was on display next to a real-life 280 SL in the museum's foyer.  
The Blue Wonder
Motor races aren't simply won on the circuit. Psyching out the opposition can begin the minute you roll into the paddock, and in 1955 Mercedes-Benz played with the opposition's minds thanks to 'The Blue Wonder' a high-speed, single-car transporter.
Built at the request of racing manager Alfred Neubauer, there was only ever one, with 'Royal Blue' paint, powered by the engine from a Mercedes-Benz 300 SL 'Gullwing', and capable of close to 170km/h.
When Mercedes-Benz withdrew from Formula One in 1955 the carrier was out of service until 1967 when Rudolf Uhlenhaut (see Uhlenhaut Coupe below) had it scrapped. A factory-built replica now sits in the museum and is magnificent in its oddball glory.
Type SS
This 1930 SS (Super Sport) is powered by a 7.0-litre, supercharged straight-six and boasts a top speed of 190km/h – huge speed for the time. Despite massive success in motorsport, the road-going SS was usually a four-seater GT-style sports car. How appropriate that this magnificent example was originally owned by the Maharajah of Kashmir.
Mercedes-Benz Classic Centre
Then there's Mercedes-Benz Classic in Fellbach, on the north-east edge of Stuttgart. This operation encompasses a full factory service and restoration workshop (working on private vehicles and the factory collection), as well as an archive containing information on almost every Mercedes-Benz ever built, including one-offs and low-volume custom models. The data card record alone details the as-delivered condition of 10 million vehicles.
There's also a treasure trove of 'new old stock' and re-manufactured parts, as well as technical literature including owner's manuals, workshop manuals, spare parts lists and maintenance books (many offered for sale).
And if you want to buy a classic Merc they'll sell you one. The 'All Time Stars' sales operation offers vehicles that, following inspection, receive a 'Classic Data' certificate with information on what may or may not have been changed from standard over the car's life.
According to Ralph, the company caught on to the history thing early on. Collections were maintained by the founding companies (Daimler-Motoren-Gesellschaft and Benz & Cie) mainly to protect patents.
Systematic retention of important vehicles and related documentation began in 1923, and in 1936 the first 'proper' museum was created.
Fast forward to 2019 and there's rack after rack of still photographs, film, video, marketing material and press information, all in the process of being digitised into the M@RS (Multimedia Archive and Research System) set-up.
Roughly 15km of shelving, 4.5 million photos, 10,000 films, more than 15,000 books and magazines. It's a monumental task with literally tonnes of stuff already available and several years left to complete the transfer process.
Moving through each section of the facility the temperature drops a little further with delicate drawings and design renders kept in a chilly, low humidity and low light environment.
Local fire services are on notice that if they get a call from Mercedes-Benz Classic they should throw everything at the response. All this stuff is utterly irreplaceable.
And photos on-site (during our visit) are strictly verboten due to the risk of geotagging data allowing people to locate the halls.
Looking at a range of technical drawings and hand drawn design office sketches the attention to detail is incredible. One notation from an early '50s drawing lists a 1.0mm variation in ride height according to the tyres fitted. 
And it was at this point that I saw, with my very own eyeballs, an original patent document for the first Benz and the world's first 'motor car'. I didn't know several were originally issued, but the fact the one I was looking at is the one-and-only remaining is pretty special.
But the rare car fireworks are reserved for the 'Holy Halls', and we're set for a rare peek inside two of the 11 storage facilities housing the roughly 1100 cars that form the Mercedes-Benz collection.
Some will see the light of day in the museum. Others will be exercised at classic events like the Goodwood Festival of Speed, while others quietly slumber, waiting for their time in the sun.
Ralph tells me the Classic team undertakes 1100 vehicle movements each year. For example, a dozen racing cars including a 300 SL 'Gullwing', numerous DTM cars, a W 125 'Silver Arrow', a W 196 R and a Sauber Mercedes C9 were on display to help Merc celebrate 125 years of motorsport at this year's German Grand Prix at Hockenheim. The F1 team actually had a shocker on track, but the display was great.
Opening the door into the first hall is ridiculous. Despite open chequebook offers from the time it first appeared, Merc has kept all 14 of its mid-engined C111 experimental coupes, and several of them are just sitting there.
Close by is 300 SL coupe chassis #2, featuring small gullwing doors enlarged in later iterations for Le Mans. Then the one and only SL X, a mid-engine supercar study from 1965 designed by Paul Bracq's team that ended up on the cutting room floor.
Not far away is the first 'Silver Arrow', the W 25 Grand Prix car from 1934, famously stripped of its white paint to save weight prior to its debut at the International Eifel race on the Nürburgring.
Now my head's really starting to spin. The 190E 2.3-16 Ayrton Senna steered to victory in a one-off, one-make race full of F1 stars to open the new Nurburgring in 1984. At a rough count, more than 50 modern McLaren Mercedes and Mercedes-Benz formula one cars are stored in stacked pods with clear ends like boxed diecast models at the end of the warehouse.
As well as the Penske PC23 which famously exploited the regulations to use a pushrod V8 engine design to win the Indy 500 in 1994… and it's right there in front of me.
There are DTM cars everywhere, Sauber sports cars, the 450 SLC Andrew Cowan drove to victory in the Rally Vuelta a la América del Sud in 1978.
Then we go to the second warehouse, and two cars stand out for different reasons. The first is down to its sheer scale, a 600 Pullman landaulet, one of many 'Popemobiles' produced for successive Roman Catholic pontiffs over the years.
It's huge, and when I ask Ralph if I can sit in the single, sumptuously upholstered rear seat, the answer is a firm no.
But the other stand-out is one of two 'Uhlenhaut' Coupes (the other is in the museum) named after the father of the 300 SL and Mercedes-Benz design, engineering, and motorsport legend, Rudolf Uhlenhaut.
Built to his spec, the 300 SLR Gullwing coupes were effectively 300 SLR race cars registered for the road, and capable of 290km/h… in 1954.
The urban myth goes that Uhlenhaut, in Munich and late for a meeting in Berlin, fired up his coupe and covered the 220km distance in a little over an hour.

The Uhlenhaut Coupe.
Ralph assures me neither of the cars will ever find their way into private hands, but best estimates point to a value of around $100 million (each) on the open market. To the best of my knowledge I've never stood next to a nine-figure car before.
And that's it. A rare, money-can't-buy privilege comes to an end.
Mercedes-Benz Classic oversees an amazing physical, pictorial and digital record, covering an incredible history, and we're all better off for its existence.