8 August 2019
Homemade Daewoo Matiz ute is the ultimate hay hauler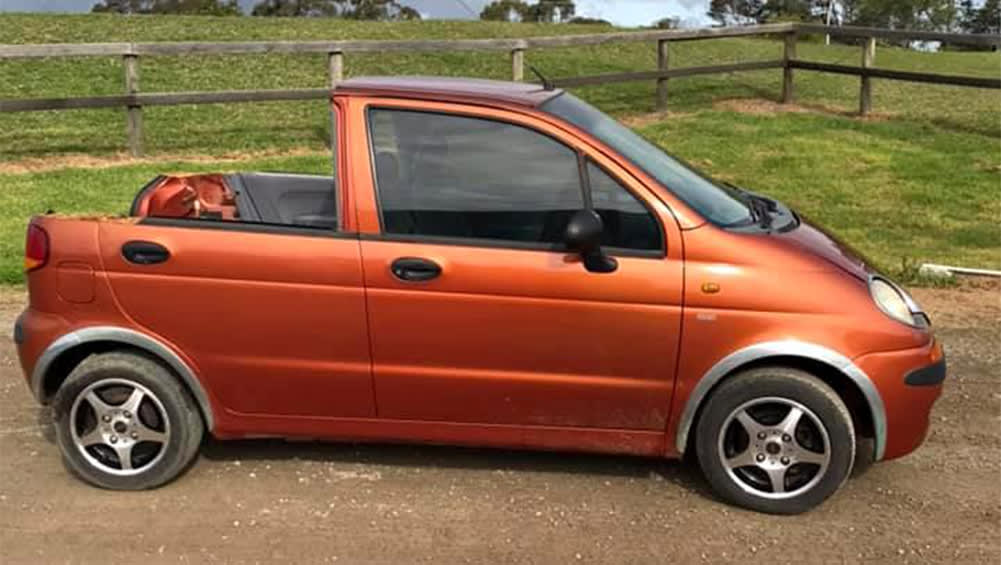 There has been some fantastic one-off utes based on brilliant cars over the years, such as the BMW E92 M3 and Honda Civic Type-R.
Now joining the ranks is the 2000 Daewoo Matiz.
The Aussie behind this beaut ute is Paul Bonacci, who has cut the roof back from the B pillar and added a wooden tray bed to replace the rear seats. 

What's the payload of this bad boy? (image credit: Paul Bonacci)
Currently for sale on Facebook Markeplace, it was originally a project between Paul and his kids, but according to his ad the "Xbox won."
Underneath the bonnet is a massive 800cc three-cylinder engine, making a whopping 38kW/69Nm, and which is connected to a five-speed manual.
If that wasn't tempting enough, the Matiz also comes with a new fuel pump, battery, stereo and electric windows.

Imagine if Daewoo actually sold the Matiz as a ute? (image credit: Paul Bonacci)
Located in Tyabb, Victoria, all this glory can be had for only $1200! Now, that's a bargain if ever we saw one.
The only downside is the unfinished project isn't road legal, but it would make for a great paddock basher.
Do you crave a Matiz ute? Let us know in the comments.