Car industry scandal hits soccer kids | exclusive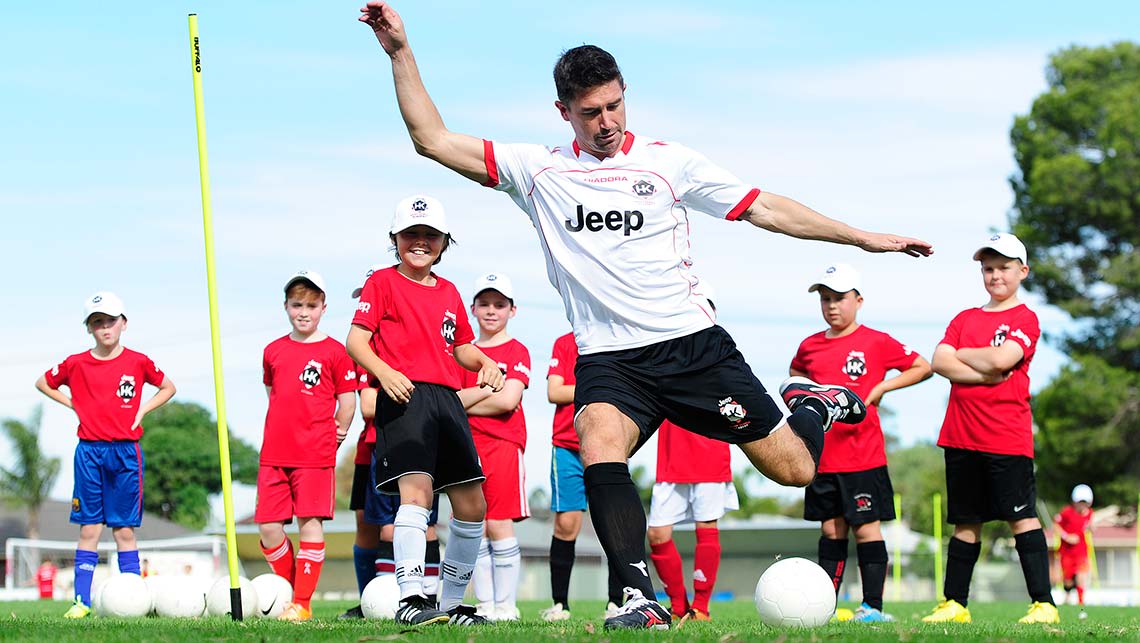 Has Jeep just kicked an own goal? The US car giant has pulled its support from the Harry Kewell Academy and is now being sued by the soccer superstar.
The $30 million car industry scandal has spilled onto the soccer field and blown the whistle on weekend competitions for kids.
In a bizarre twist to a case that is before the Federal Court, soccer superstar Harry Kewell is suing Jeep for breach of contract after it withdrew its sponsorship of the Harry Kewell Academy, which visited soccer fields across the country to find Australia's next sporting heroes.
News Corp understands the Harry Kewell Academy has not been paid since November last year even though the soccer legend has conducted more than 60 training sessions with kids across Australia since then.
In April this year -- one month before Jeep's parent company Fiat Chrysler Automobiles launched legal action against former boss Clyde Campbell for allegedly misusing corporate funds -- Mr Kewell arrived in Australia to find that Jeep executives wanted to end the deal on the spot and allegedly withdrew their offer of a car to attend the latest kids soccer academy sessions.
After negotiation, Jeep provided Mr Kewell with a car for that series of training sessions.
However, News Corp has been told the relationship soured soon after that.
There is no longer any Jeep signage on the Harry Kewell Academy website and photos of Harry Kewell wearing soccer shirts with the Jeep logo appear to have been removed. A spokesperson for Harry Kewell declined to comment.
But a Fiat Chrysler Automobiles Australia source has confirmed to News Corp the car giant has been served with legal papers from lawyers representing the Harry Kewell Academy regarding a breach of contract.
News Corp Australia understands Mr Kewell has paid for the kids soccer club tours out of his own pocket since last November.
According to court documents, Mr Kewell was to be paid $1 million a year over three years to promote the Jeep brand to families and to run the soccer academy.
Mr Kewell could be owed as much as $2 million
But given the contract was a little more than 12 months old before the payments allegedly stopped, Mr Kewell could be owed as much as $2 million.
The soccer legend is the second party named in court documents to have taken reciprocal action against the US car giant.
Two weeks ago, News Corp Australia exclusively reported that a group of three Melbourne Jeep dealerships is suing the car maker.
Motorworld Australia, which owns dealerships in Brighton, Mentone and Oakleigh -- selling Alfa Romeo, Chrysler, Fiat and Jeep vehicles -- lodged a statement of claim in the Federal Court in Victoria alleging FCA Australia blocked an agreement for the sale of its three dealerships.
Last week, FCA Australia added another former CEO, Veronica Johns, the successor to Clyde Campbell, to the Federal Court legal action.
Ms Johns, who is yet to file a defence, has not responded to requests by News Corp Australia for comment on the matter.
According to Mr Campbell's defence, the Jeep Australia boss had the blessings of his overseas superiors to the do the sponsorships and other deals -- including free loan cars to celebrities and sporting stars -- while he was CEO from October 2010 to April 2013.