Mazda MX-5
Pricing and Specs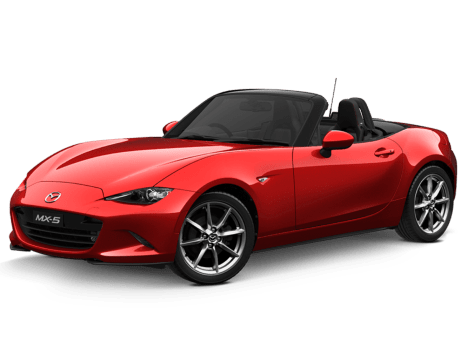 2020
From $35,390
Based on Manufacturer's Suggested Retail Price (MSRP)
1989 to 2019
$3,190 - 50,490
The problem with most lauded-as-legendary cars is that they are stupidly expensive, but Mazda's MX-5 is a shining exception. From its inception, this pert, pretty little roadster has been all about simplicity, and sportiness. Not sportiness through engine size or raw power, but through the simpler, cheaper philosophy of making it as small and light as possible, and sticking with a front-engined, rear-wheel drive layout, for purity and fun. The fact you can drop the roof and let the sun in has just added to its feel-good factor, and on the right road, on the right day, there are few cars that can match its ability to put a smile on your face. Yes, it's as cosy inside as a four-wheeled sleeping bag, and there's not much room in the boot, but this is not a practical family car, it's a fun machine, pure and simple, and one of the best ever made.
Prices start at $35,390 for the MX-5 ROADSTER up to $50,920 for the MX-5 RF GT (BLACK ROOF).
This vehicle is also known as Mazda MX-5 Miata (North America), Mazda Miata (North America), Eunos Roadster (Japan), Mazda Roadster (Japan).
| Year | Price From | Price To |
| --- | --- | --- |
| 2020 | $35,390 | $50,920 |
| 2019 | $28,600 | $49,720 |
| 2018 | $24,420 | $50,490 |
| 2017 | $20,460 | $37,840 |
| 2016 | $18,920 | $35,090 |
| 2015 | $16,940 | $31,350 |
| 2014 | $18,040 | $28,050 |
| 2013 | $15,510 | $24,750 |
| 2012 | $13,420 | $22,330 |
| 2011 | $12,320 | $18,040 |
| 2010 | $11,550 | $16,940 |
| 2009 | $10,560 | $16,720 |
| 2008 | $9,680 | $15,510 |
| 2007 | $8,360 | $13,970 |
| 2006 | $7,480 | $12,870 |
| 2005 | $5,830 | $11,110 |
| 2004 | $4,840 | $9,460 |
| 2003 | $4,180 | $8,910 |
| 2002 | $3,960 | $8,360 |
| 2001 | $3,960 | $6,270 |
| 2000 | $3,850 | $6,270 |
| 1999 | $3,850 | $6,710 |
| 1998 | $3,850 | $6,270 |
| 1997 | $4,180 | $6,600 |
| 1996 | $4,180 | $6,600 |
| 1995 | $4,070 | $6,380 |
| 1994 | $3,850 | $5,940 |
| 1993 | $3,190 | $6,160 |
| 1992 | $3,190 | $5,610 |
| 1991 | $3,190 | $5,610 |
| 1990 | $3,190 | $5,610 |
| 1989 | $3,190 | $5,610 |
* Manufacturer's Suggested Retail Price