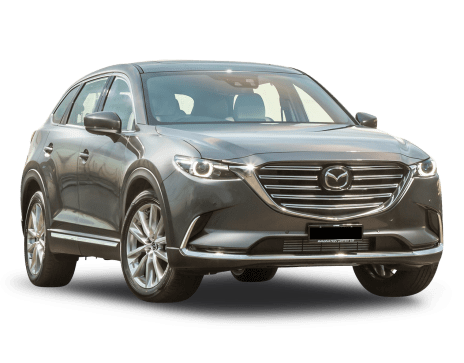 COMPARE
Mazda CX-9
VS
Mercedes-Benz GLA-Class
Mazda CX-9
Likes
Apple CarPlay and Android Auto
Great advanced safety tech
Impressive ride and handling
Dislikes
Engine could have more grunt
Brakes are good but could be more responsive
Can be tricky to pilot in tight spaces
---
Mercedes-Benz GLA-Class
Likes
Exterior styling
Interior and cabin appeal
Rear space, and space overall
Dislikes
Lack of boot space
Driving position not too high for some
Engine noise slightly un-sexy
Summary
Mazda CX-9
The CX-9 is Mazda's big, SUV flagship and it has been updated with more cool tech, better safety features, better handling and real wood. Yup, you read that right: real wood. There's also been a price rise on this seven-seater.
You did know it was a seven-seater, right?  And not all seven-seat SUVs are the same. There are off-road capable ones which can be as uncomfortable as a tank on city streets. Then there are those that feel like giant, cushy lounge rooms that handle like a ship really and are just big cars so you better not take them off road. There are others which say they're seven-seaters but in reality those extra two seats in the third row are just for kids – and even then you'd only put your least favourite ones back there. So, what's the Mazda CX-9 then?
That's what this review is all about and by the end of it you'll know if this new Mazda CX-9 the right seven-seater for you.
| | |
| --- | --- |
| Safety rating | |
| Engine Type | 2.5L turbo |
| Fuel Type | Regular Unleaded Petrol |
| Fuel Efficiency | 8.8L/100km |
| Seating | 7 seats |
---
Mercedes-Benz GLA-Class
Apparently there is an ugly Kardashian, but you don't care, or if you do, you shouldn't, so let's talk about the Hemsworth brothers instead. 
In any other family, Luke Hemsworth would probably be called handsome, if a little short. Unfortunately for him, standing next to Liam and the God who walks amongst us that is Chris (I had to interview him once, he really is dreamy), Luke looks like he's barely keeping his chin above the water line at the shallow end of the gene pool.
The Mercedes-Benz SUV range has quite a variation of lookers in its family tree as well, but I would argue that the new, entry-level GLA is pretty much the Chris of the range, or at least the Liam. The unfortunate, slightly large-foreheaded GLB would obviously be the Luke.
The only problem with all this, of course, is that the car that originally gave birth to the GLA - the A-Class - is more attractive than all of them, and Craig  Hemsworth, sire of the family, doesn't quite pull that off.
The point is that the new GLA is going to be even more popular than the original one, which sold a staggering one million units worldwide, because it is not only bigger and taller, but better looking, inside and out.
And let's face it, no one is buying an urban SUV like this for the way it can climb a snow-covered alpine pass. Even all-wheel drive is optional.
But the GLA has this niche nailed, and the new one - thanks to its style, space and the effortless way it rides - is going to be an even bigger success.
| | |
| --- | --- |
| Safety rating | — |
| Engine Type | 2.0L |
| Fuel Type | Premium Unleaded Petrol |
| Fuel Efficiency | 7.5L/100km |
| Seating | 5 seats |
Verdict
Mazda CX-9
8/10
The previous CX-9 was excellent and now the new one fills in many of the gaps which were missing such as the addition of Apple CarPlay and Android Auto, the safety tech standard across all grades and great ride and handling. You'd be hard-pressed to find a better large seven-seater all-rounder without stepping into the $100K prestige territory.
The Touring is the sweet spot in the CX-9 with its leather seats, 8.0-inch display and good price.
Is there anything Mazda has missed with its CX-9? Or is this SUV almost as good as it gets at this price? Tell us what you think in the comments below.
---
Mercedes-Benz GLA-Class
8/10
You can tell that this car is going to be a success just by looking at it. For a lot of people, to see one will be to want one, and when they sit in that hugely high driving position and gaze upon the future-fabulous interior they'll be even more sold.
It's fair to say the GLA 250 does everything well - aside from providing boot space - and with great comfort, and in terms of looks, inside and out, it reaches the level of outstanding.
Personally, I'd take the lower and sleeker A Class every time.
Design
Mazda CX-9
8/10
Nothing has changed to the exterior of the CX-9 in this 2018 update – but that's a good thing, because this is a striking and beautifully styled SUV. More a tall, sleek wagon than upright boxy SUV, there's that in-your-face grille, the long nose the set-back cabin and the hatchback rear end. The only element which irks me are the taillights – they seem a bit small for that big bottom.
All CX-9s look almost identical on the outside, but you can tell the higher grades form their larger-sized wheels and LED fog lights.
There's not much in the way of a body kit, but there is that subtle roof top spoiler, that sculpted front bumper and the little shark fin antenna.
The cabin is a premium feeling place (have a look at the images) – this is Mazda flagship after all. Materials feel soft to touch even on the dash and door sills back and front, while there's a high-quality fit and finish throughout. With big interior dimensions this is also a roomy place, despite that sloping roofline.
The Azami LE is by far the most decadent grade with its nappa leather upholstery and real wood trim. Mazda was not able to tell me what type of wood has been used and could only go as far as confirming it was real wood, however, in the United States the top-grade CX-9, known as the Signature, uses a similar looking material and officially calls it rosewood.
Mazda also told me that the adhesives and materials used in the cabin were also chosen to minimise bad smells – not from the people in it but from the leather's plastics and glues. If only all car companies would care enough to do this – some new car smells make my eyes water.
At almost 5.1 metres long, nearly 2.0m wide and getting onto 1.8m tall you'll need a pretty big garage to house the CX-9.
---
Mercedes-Benz GLA-Class
9/10
I have to say that it's quite an effort for a car company to get me interested in the look of an SUV, but from its tough, bold and yet stylish grille to its taut back end and BMW-aping rear light cluster, the new GLA really is a looker.
I had the good fortune to bring our GLA 250 test vehicle home and park it right next to the previous model, in the same colour, thus properly ruining the day of one of my neighbours.
The growth in size is clear - the new car is 12cm taller, 30mm wider and has a 30mm-longer wheelbase, yet overall it is 14mm shorter, which makes it look neater as well as stronger - but it's the little tucks and tweaks of design that have really improved the look. The rear-light cluster is worth mentioning again, as it's just so much nicer.
While the original GLA was simply a case of making an A Class on stilettos, its success has encouraged Benz to really pour some effort into its successor, and the result is clear. This thing is a real looker.
Practicality
Mazda CX-9
8/10
There are a stack of reasons to buy a seven-seater. You may have a big family and really need the third row, or you're just a small family that likes to pack a truck-load of gear for holidays while having a couple of extra seats just in case you're put on the spot after picking the kids up from karate and end up with more ninjas to drop home.
There are other seven-seaters where those third-row seats are just a bonus – the Santa Fe is a bit like that, but SUVs such as the CX-9, Kluger and Sorento offer much better room back there.
Even at 191cm tall I can sit in the third row comfortably, with just enough head and legroom. That said, I wouldn't want to be there for an epic road trip, but it's fine for kids and shorter adults.
Legroom in the second row is excellent – I can sit behind my driving position with about 10cm of space between my knees and the seat back – headroom isn't as generous as the Kluger or Sorento but there's still plenty, even for me.
If you're lifting babies and children into car seats you may find that coupe styling to the roofline makes the process a little harder – it did for me with our little one.
Also, this SUV is fairly high up. I've had my toddler do a face plant falling out of one while trying to climb in. Oh, don't judge me.
Entry into the third row is made easier by a 60:40 folding second row on rails. It's also good to see that the smaller foldable section is on the curb side of the car.
The CX-9's boot space with the third row down is outstanding at 810 litres (VDA) – the Kluger can only manage 529 litres and even with those back seats in place the luggage capacity is 230 litres, check out my video above where I demonstrate the size with a live human being.
Storage in the cabin is also excellent with six cupholders (two in the first row, two in second and the others in the third) and all grades above the Sport come with storage in the fold-down centre armrest, which also contains a USB port.
All CX-9s come with a USB port up front in the giant split-opening centre console bin and a 12-volt power outlet in the cargo area.
---
Mercedes-Benz GLA-Class
8/10
The main goal of the GLA's new, more SUV-like shape, in practicality terms, seems to have been to lift the driver even further off the ground, because the command-seating position is obviously a big selling point for someone who finds the A Class too ground-hugging.
So, while some of that growth in height has been used to increase head room to the point where I could easily wear Abraham Lincoln's hat while driving, much of it has gone to making the driving position a full 10cm higher than in the previous GLA (it's also 14cm higher than in an A Class).
Personally, the height of the seat drove me slightly spare, and every time I got in I tried to lower it, only to find it doesn't go any lower, but, tellingly, my wife - who is not far off being an elf - loved it.
What I did like was the back seat, which is truly voluminous. Through clever packaging, Benz has managed to liberate no less than 12cm of extra legroom back there, and I could properly stretch out. 
With its standard double-paned panoramic roof and huge windows (part of huge doors, which do come close to scraping on any gutter higher than a match box), it's a very glassy interior indeed, and visibility is excellent. 
There are two cupholders between the front seats, and there's storage for big bottles in each door. Oddment storage is plentiful, although they could have more if they did away with the now redundant mouse pad and the so-called "arm rest" behind that, which feels more like a gear-shift lever they forgot to remove when they put the shifting functions up on a column stalk.
There's no need for the track pad any more because the giant and truly very lovely 10.25-inch touch screen does everything via touch, and sits next to another screen the same size that acts as your dash readout, making the whole thing look like a particularly long iPad.
While other car companies, including Audi, which has long been the winner in any interior-design conversation, are still just jamming big screens on top of dashboards, Benz has turned its entire dash into a digital display, and it looks amazing, and futuristic. Like a concept car you can actually buy.
The overall feeling of quality and tech - particularly at night when it all lights up beautifully in a colour of your choosing - in this alluring interior is one of the main reasons buyers will flock to the new GLA.
The seats are not as sporty as some, but they're comfortable enough.
The one letdown, however, which comes as a shock with all that space in the rear, is the boot, which is just 435 litres, compared to the Audi Q3's far more practical 530 litres. It really is a surprise when you open the back and see so little there, and that really does lower the practicality mark.
Price and features
Mazda CX-9
8/10
The Mazda CX-9's price has gone up but you're getting more features in return – and that goes for all grades in the range. Also, there's now a new grade and king of the Mazda CX-9 range – the Azami LE. Right, let's get into the details.
The most affordable CX-9 is the Sport at $44,990 (an $1100 increase) for the front-wheel drive version and another $4000 for all-wheel drive. Coming standard on the Sport for the first time is a head-up display and being introduced to the CX-9 range finally is Apple CarPlay and Android Auto. Other standard features include a 7.0-inch screen with sat nav, reversing camera, rear parking sensors, digital radio, three-zone climate control, LED headlights, black cloth seats and 18-inch alloy wheels.
The Touring grade sits above the Sport and is arguably the best value with its list price of $51,390  ($1100 increase) for the front-wheel drive and again $4000 more for the AWD. In addition to the Sport's features, the Touring comes standard with black leather seats (power adjustable and heated in the front), an 8.0-inch touch screen, proximity key, front parking sensors and LED fog lights.
The GT grade is getting into pricier territory with the front-wheel drive listing for $59,390 (an increase of $1000) and $4000 more for AWD, but along with all of the Touring's features it has a power tailgate, sunroof, 20-inch alloy wheels and heated second-row window seats.
The once-king-of-the-range Azami lists for $60,990 in FWD form (an increase of $4200), again $4000 for the AWD, but now there's a level above it – the Azami LE which is $66,490 and only available as an all-wheel drive.
What's the difference between them? Well let's start with what's the same. Both come with the GT's features plus adaptive LED headlights, heated steering wheel, a 360-degree view monitor, ventilated front seats, windscreen de-icer and a 7.0-inch centre digital instrument cluster.
What the Azami LE gets that the Azami doesn't is real wood trim panels on the centre console, nappa leather seats, box stitching on the steering wheel and different overhead console styling.
As a model comparison you could also take a look at the Toyota Kluger which ranges from about $45K to $70K. There's also the Kia Sorento which ranges from $43K-$60K and I'm going to throw in the Hyundai Santa Fe – it's not as big as the CX-9, but the new one is larger than the previous model and it's a seven-seater, too.
---
Mercedes-Benz GLA-Class
7/10
I find it hard to believe I'm saying this about a Benz, but at a starting price of $66,500, the GLA 250 4MATIC does seem like quite a lot of car for the money. This might be influenced by the fact that I know a couple who recently dropped more than $70K on the smaller A Class (they actually went shopping for a GLA, but then fell in love with the look of the little hatch).
There, are of course, always issues with the Germans when it comes to what you do and don't get for your tempting entry price, and in the case of our test vehicle it would stick in my craw quite badly to pay $385 extra for its Polar White paint. Yes, white paint costs extra.
While the Titan Grey Pearl and Black Lugano Leather is nice, it's only in the car as part of the $2838 AMG Exclusive Package. Throw in the Sports Package at $1915, which gets us the sexy 19-inch AMG alloys, and the Driving Assistance Package for $1531 worth of extra active safety, drop on a dollop of LCT at $1329 and the asking price for our urban SUV hits a less-enticing-sounding $74,498.
Your standard inclusions for the $66,500 are a very lovely panoramic electric sunroof, heated and electronically adjustable front seats, with memory function, lowered comfort suspension and sports-direct steering, plus the Off-Road Engineering Package, while the standard, non AMG wheels are also 19-inch alloys, presumably just less sexy ones.
And you don't have to pay extra for Apple CarPlay, which is nice.
Engine & trans
Mazda CX-9
7/10
All CX-9s have the same engine – it's a 2.5-litre four-cylinder turbo-petrol that makes 170kW and 420Nm. That's simple isn't it? Also simple is this: all CX-9 have the same six-speed automatic transmission.
Every grade apart from the Azami LE comes with a choice of front-wheel drive or all-wheel drive. The Azami LE is purely all-wheel drive.
---
Mercedes-Benz GLA-Class
8/10
The GLA 250 comes with 2.0-litre turbocharged four-cylinder petrol engine that makes a handy 165kW and 350Nm, which is sent to all four wheels using 4MATIC all-wheel drive. The claimed 0 to 100km/h time is 6.7 seconds.
Your silky smooth gearbox is an eight-speed, or 8G-DCT automatic, in Benz speak.
The engine feels powerful enough, without being exciting, and sounds pleasant enough, without sounding sporty - it's pretty much Goldilocks for an urban SUV.
Fuel consumption
Mazda CX-9
8/10
Big car, big drinker? The CX-9 used to be back when it had a V6, but not any more. The turbo-four is efficient, with Mazda saying that front-wheel drive version will use 8.4L/100km, while all-wheel drives will use 8.8L/100km after a combination of open and urban roads. You'll also only need to feed it 91 RON – that's the cheap petrol.
My testing on the launch saw me use 10.3L/100km, according to the car's trip computer, but I was really getting into those roads and stamping on that accelerator like it was a funnel web spider, so for it still to be that low is great.
---
Mercedes-Benz GLA-Class
8/10
The GLA will require 95 RON fuel and claims to drink 7.5 litres per 100km, while producing 170g/km of CO2. 
Our slightly rushed launch drive didn't allow us to check that figure, sadly, but we will on our next, longer test.
Driving
Mazda CX-9
8/10
There is no way to make a 5.1m long, 2.0m wide, two-tonne SUV feel small in a supermarket car park and you'll feel its size particularly in multi-storey ones as you navigate the HMAS CX-9 up through the levels. I've lived with a CX-9 and I'm not ashamed to admit that I find it tricky to manoeuvre in tight spaces. But you have AEB, rear cross-traffic alert, parking sensors at the back and good visibility to make it as easy as it possibly can be.
Get the CX-9 out on the street, though, and it feels a lot less cumbersome. And on the open road the CX-9 is brilliant. Not only does it just much up miles in comfort, it has such great handling ability that it defies my logic.
In this update Mazda says it has refined the driving experience while making the SUV more responsive though suspension and steering changes. A thicker material behind the headlining in the ceiling has also been used to keep the cabin even quieter, too.
The result? A ride that's knocking on the door of German prestige SUVs and great dynamics.
Even on the 20-inch wheels and 50-profile tyres fitted to the Azami LE I tested at the launch, the ride was outstanding while the handling was excellent. Pushing the Azami LE hard in the corners should have had something of this size and weight leaning on its door handles, but a moment after entering the turn the CX-9 was able to compose itself, hunker down and hold its line in a controlled and planted way.
The Azami LE is all-wheel drive only, but the front-wheel drive version for the base grade Sport and the FWD Azami I drove felt just as composed with great body control and impressive handling ability for the class. In some ways the Sport being lighter and on smaller wheels and higher profile tyres meant the ride was more comfortable and acceleration a bit better.
That engine is a good thing, although part of me misses the old V6 from years ago for its smoothness and torque. The 2.5-litre four-cylinder turbo has enough grunt and it's fuel efficient, but to me a six-cylinder suits this big flagship better.
---
Mercedes-Benz GLA-Class
8/10
With such a high driving position, the worry is that you're going to feel like you're sitting on the new GLA rather than in it. 
But the fact is that, once I became accustomed to the fact that I couldn't get the seat as low as I wanted to, it all became comfortable enough, and I could get on with fully appreciating the ride quality.
While the GLA has a good, Germanic solidity to the way the interior is bolted together - the doors are almost too heavy, I fact, and can be tough for little people to close - it's the way it sits on the road that really impresses.
The little Benz soaks up the bumps, particularly in Comfort mode, and provides the kind of ride and handling quality that you'd expect in a six-figure German car. Or a Benz of old, you might say.
Critics of A Classes past were heard to complain that they just didn't ride as softly or richly as a Mercedes should, but the company has put things to rights with its smaller cars in recent years and you really feel like you're getting the badge you paid for here.
Step out of the cruisy, snoozy Comfort setting into Sport, however, and the CLA feels out of its, well, comfort zone. It's almost too toey for its own good, wanting to lurch around, holding each gear desperately and making noises that are merely loud rather than sexy.
Engine noise is a little intrusive whenever you try and accelerate fiercely in the GLA, in fact, but there is some handy pace there if you really need it.
Fast driving does feel out of character for the GLA 250 variant, however, and those who want that kind of thing should wait for the AMG-fettled version that will arrive in the next month or so, bringing 225kW and 400Nm.
As a cornering weapon, this car is more of a butter knife, smoothing its way around bends with minimal bodyroll. It's an urban SUV, and it drives like one, albeit a very good one.
Typically, the steering is also light and easy to use rather than heavy and talkative.
Being the 4-MATIC variant, the GLA 250 also offers an Off-Road mode, which takes full advantage of its torque-on-demand all-wheel-drive system, but sadly our slightly brief introduction to the car didn't provide us with the chance to hurl it down a scree-covered mountain side, nor to test out its version of hill-descent control.
Safety
Mazda CX-9
9/10
Safety is another strong point of the CX-9 with its maximum five-star ANCAP rating and AEB which works forwards and backwards, blind-spot warning and rear cross-traffic alert. This update has made the advanced safety tech suite standard across the full range adding adaptive cruise control with stop and go feature, lane departure warning and traffic sign recognition.
For child and baby seats you'll find three top-tether anchor points across the second row and two in the third, while there are ISOFIX points in the back as well and two in the second-row window seats.
Under that boot floor you'll find a space saver spare wheel.
---
Mercedes-Benz GLA-Class
8/10
The GLA has not been ANCAP or Euro NCAP crash rated yet, but the first car got five stars from the Euro test and was never ANCAP tested. It's safe to say they design their cars around being damn sure they get five stars.
You'll also be getting no less than nine airbags - front, pelvis side and window bags for driver and front passenger, sidebags for the rear occupants and a knee bag for the driver.
In terms of active safety, the Active Brake Assist - which works up to 60km/h - is standard, as is Blind Spot Assist, with exit-warning function, which alerts the driver to approaching cyclists or vehicles when they're about to open their door. Active Lane Keep Assist is also standard, as are the Active Bonnet, Traffic Sign Assist and Cross Wind Assist.
But you will have to stump up for the Driving Assistance Package to get things like Active Lane Change Assist, Active Emergency Braking Assist and Evasive Steering Assist.
Ownership
Mazda CX-9
8/10
The CX-9 is covered by Mazda's five-year, unlimited kilometre warranty. Servicing is recommended at 12 month or 10,000km intervals. Servicing is capped and switch from $329 for the first visit, $371 for the next and then back to $329 for five services.
---
Mercedes-Benz GLA-Class
8/10
Your GLA comes with a five-year, unlimited-kilometre warranty, which is Japanese good, if not Korean good. 
In terms of servicing, you can choose to purchase a Service Plan or pay as you go with capped-price servicing. 
The costs for three annual services are $2050 for the Service Plan, or $2550 with the Capped Price Servicing (first is $550, second is $750, third $1250). 
Service Plans can be bought in four or five-year lots, at $2950 and $3500 respectively.