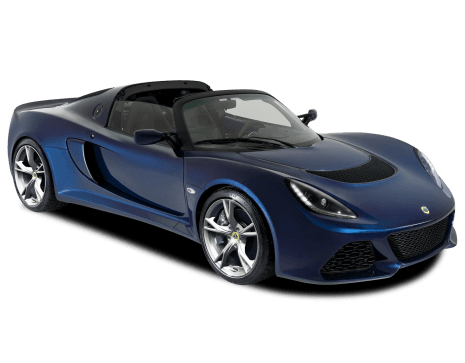 COMPARE
Lotus Exige
VS
Ferrari 812 SUPERFAST
Lotus Exige
Likes
Unassisted, unadulterated steering (at speed)
Beautiful balance and stiff chassis
Gearbox
Dislikes
Sheer impracticality
Heavy steering (at low speeds)
Getting in and out of it
---
Ferrari 812 SUPERFAST
Likes
Savage design
Furious performance
Absurd V12 noise
Dislikes
Electronic power steering
Crazy price
Possibly too powerful for this planet
Summary
Lotus Exige
Driving naked is ill-advised, and possibly illegal, but taking a spin in the Lotus Exige 350 Sport is as close as you'd ever want to get. It's not so much that you feel you've left your clothes at home, but that the car has shed its accoutrements, and indeed its very flesh, leaving you with a kind of skeletal vehicle; just bare bones and muscle.
What this punishingly hard and fiercely focused machine does to your bones and flesh is best described as extreme chiropractry - in particular the stress of ingress and egress - but fortunately it makes up for the moans, bangs and bruises by fizzing your adrenal glands in a big way.
The question is whether the fun is worth the suffering, and the  $138,782.85 price tag.
| | |
| --- | --- |
| Safety rating | — |
| Engine Type | 3.5L |
| Fuel Type | Premium Unleaded Petrol |
| Fuel Efficiency | 10.1L/100km |
| Seating | 2 seats |
---
Ferrari 812 SUPERFAST
Picturing yourself driving a Ferrari is always a pleasant way to waste a few 'when I win Lotto' moments of your life. 
It's fair to assume that most people would imagine themselves in a red one, on a sunny, good-hair day with an almost solar-flare smile on their faces. 
The more enthusiastic of us might throw in a race track, like Fiorano, the one pictured here, which surrounds the Ferrari factory at Maranello, and perhaps even specify a famously fabulous model - a 458, a 488, or even an F40.
Imagine the kick in the balls, then, of finally getting to pilot one of these cars and discovering that its badge bears the laziest and most childish name of all - Superfast - and that the public roads you'll be driving along are covered in snow, ice and a desire to kill you. And it's snowing, so you can't see.
It's a relative kick in the groin, obviously, like being told your Lotto win is only $10 million instead of $15m, but it's fair to say the prospect of driving the most powerful Ferrari road car ever made (they don't count La Ferrari, apparently, because it's a special project) with its mental, 588kW (800hp) V12, was more exciting than the reality.
Memorable, though? Oh yes, as you'd hope a car worth $610,000 would be.
| | |
| --- | --- |
| Safety rating | — |
| Engine Type | 6.5L |
| Fuel Type | Premium Unleaded Petrol |
| Fuel Efficiency | 15L/100km |
| Seating | 2 seats |
Verdict
Lotus Exige
6.5/10
To say the Lotus Exige 350 Sport exists at the very pointy end of motoring is a sharp understatement. It is, in essence, a track car that you're somehow allowed to drive on the road, which means it's hugely compromised in various ways as a vehicle for day-to-day use, yet it's not really fair to criticise it for those failings, because commuting was never its intended purpose.
While it would obviously shine in its natural environment of a race circuit, the fact is you could also enjoy it enormously between track days if you pointed it at a suitably smooth and winding bit of country blacktop.
The performance, handling, steering and stopping are all fantastic, in the right conditions, and you can see how someone might justify it to themselves as a far cheaper version of a ($327,100) Porsche 911 GT3. The difference being that a Porsche doesn't make you fold yourself up like a pocket knife every time you get in.
The Lotus, then, is a car for the extreme enthusiast, only. And possibly for nudists, too.
Would you put up with the Lotus's hard edges for the thrill rides? Tell us what you think in the comments below.
---
Ferrari 812 SUPERFAST
7.4/10
Clearly, this is not a car for everyone, and you'd have to question whether it's a car for anyone, really, but people who like spending $610,000 on Ferraris, and waiting in a queue to do so, will be delighted, because it delivers the kind of exclusivity, and bragging rights, that you'd have to hope a car called Superfast would.
Personally, it's a little too much, a little too over the top and definitely too mad, but if rockets are your thing, you won't be disappointed.
Is the Ferrari 812 Superfast a bit of you, or a bit too much? Tell us in the comments below.
Design
Lotus Exige
8/10
The Lotus philosophy is summed by this slightly absurd mission statement: "Simplify, then add lightness". In the words of the great Barnaby Joyce "you don't have to be Sigmund Freud" to work out that lightness is not something you can 'add', but you get the idea.
Everything about a Lotus is focused on the power-to-weight ratio, and this 350 Sport version takes the Exige to the ultimate degree, weighing in a full 51kg lighter than the S version, at just 1125kg, and with its hefty 3.5-litre supercharged V6 it is capable of lapping the company's Hethel, UK test circuit a full 2.5 seconds faster.
Lap times, rather than road manners, are what this car is all about, and as such there are no creature comforts of any kind.
The Exige is an eye-catching beast, though, looking a bit like Darth Vader's helmet strapped to a skateboard. Everything about it is a statement of intent, and while the interior is as bare as Barnaby's brain, the gear lever, with its exposed workings and shiny silver knob, is a thing of strange beauty.
---
Ferrari 812 SUPERFAST
9/10
It's very… big, isn't it? And it looks even bigger in the flesh with a bonnet you could use to put a roof over your tennis court. In all, the Superfast is 4.6m long, almost 2.0m wide and weighs 1.5 tonnes, so it certainly has presence.
Making something this big look good is a challenge even for those as talented as Ferrari's design team, but they have nailed it. The front has what appears to be a mouth, poised to swallow lesser cars whole like some whale shark Terminator. 
The bonnet appears to be flaring its nostrils, and looks fabulous from the driver's seat, and the swooping side and taut rear complete things nicely.
Personally, it still just looks too big to be a Ferrari, but then this is not a mid-engined super car, it's a grand touring rocket ship, and the ultimate expression of unnecessary excess, and it pulls off that aura perfectly.
Practicality
Lotus Exige
3/10
Both the words 'practical' and 'space' have no place in a road test of this Lotus, so shall we just move on?
Oh, all right. There is no shoulder room to speak of and to change gears you have to fondle your passenger's leg. You're also in danger of breathing into each other's mouths accidentally, you're sitting that close.
Speaking of impractical, the door apertures are so small, and the whole car so low, that getting in or out is about as much fun as attempting to hide in a child's suitcase.
Cupholders? Forget it, nor is there anywhere to put your phone. There are two tiny oddment storage holes just near each well-hidden door handle, and a kind of slidey, slick shelf where a glove box might be, on which it's not safe to leave anything.
Put things on the floor and they will slide under the super low seats and never be seen again.
The Lotus people pointed out a parcel shelf behind the seats, but I think they imagined it, and there is a tiny boot at the rear, behind the engine, which is smaller than some actual boots.
---
Ferrari 812 SUPERFAST
7/10
Practicality isn't really your concern when you buy a two-seat mega car like this, so let's just say it's about as practical as you would expect it to be. Not very, then.
Price and features
Lotus Exige
6/10
The question of 'value' is a tricky one when you're looking at a $138,782.85 car that's about as useful in day-to-day life as a matchbox-sized handbag. But you have to consider what people buy a Lotus for, and the answer has absolutely nothing to do with practicality.
A car like this Exige 350 Sport is purely purchased as a toy, a track-day special that you can, in theory, drive to the circuit via public roads. Franky, if I was rich enough to have one I'd still transport it there on the back of a truck.
Relatively speaking, you could have a far more practical and infinitely more comfortable Porsche Cayman for $30K less, but the Lotus is $30K cheaper than the similarly track-focused and brutal ($169,990) KTM X-Bow.
In terms of features, you get four wheels, an engine, a steering wheel, some seats, and that's about it. You can buy a circa 1993 removable-face two-speaker stereo, which you can't really hear over the engine and road noise, for $1199. Oh, and they do throw in air conditioning, which is also noisy.
Our slick-looking metallic black paint was also $1999, the 'full carpets' another $1099 (expensive floor mats, basically), the Alcantara trim pack $4499, cruise control (really?) $299 and the hilarious optional 'Sound Insulation' $1499 (I think they actually forgot to fit it). All up, our press car's price climbed to $157,846, which, I have to say, is no one's idea of good value.
On the plus side, the local Lotus people - Simply Sports Cars - do offer features a buyer would love, like regular Lotus Only Track Days, a chance to take part in the Phillip Island 6 Hour and the Targa High Country event, and various other racy experiences.
---
Ferrari 812 SUPERFAST
6/10
Is it possible that any car - save one made from gold, dusted with diamonds and stuffed with truffles - would represent good value at a price of $610,000? It seems unlikely, but then people who can spend that much assay value differently, and would probably say that something as profound as the 812 Superfast is worth buying at any price.
Another way to look at it is price-per-litre, which is less than $100,000, considering you do get 6.5 litres of V12 Ferrari donk. Or you could go by kilowatt, which works out at nearly $1000 each for your 588kW.
Other than that you do get a lot of leather, a high-quality interior, superior exterior styling, badge-snob value that's hard to put a price on and vast swathes of F1-derived technology. And a free car cover.
Engine & trans
Lotus Exige
8/10
In the past, Lotus engineers were satisfied with the power they got from tiny four-cylinder Toyota engines, but this Exige 350 Sport is a Very Serious Car and thus has a relatively whopping 3.5-litre, supercharged V6 shoehorned into its backside, which makes 258kW and 400Nm, and that's enough to fire this tiny machine from 0-100km/h in just 3.9 seconds, although it feels, and sounds, a lot faster.
The six-speed gearbox feels like it's been stolen from an old racing car and is an absolute joy to snick shift at speed.
---
Ferrari 812 SUPERFAST
9/10
I did want to give the epic, enormous 6.5-litre naturally aspirated V12 engine a perfect 10 here, but when I paused to think about it I had to admit that it is, quite possibly, a little too powerful.
Yes, it is amazing to think Ferrari can build a car that has 588kW (800 horsepower - hence the 812 nomenclature; 800 horses and 12 cylinders) and doesn't just dig itself a hole in the road as soon as you put your foot down.
And yes, it does provide the kind of performance that makes all other cars seems a bit piss poor and pathetic, even the really good ones. 
But honestly, who could ever use it all, or need it all? They might seem like irrelevant questions, I guess, because it's all about conspicuous over-excess, a car like this, so really the question is, would anyone want to live with 588kW and 718Nm of torque, or is it just too scary in reality?
Well, a little bit, yes, but Ferrari's engineers have been wise enough not to actually give you all of that power, all the time. Torque is limited in the first three gears, and maximum mental power is actually only available, in theory, at 8500rpm in seventh gear, at which point you'd be approaching its top speed of 340km/h.
The fact that you can rev an engine this big, and this lusciously loud, all the way to 8500rpm is, however, a joy that would never tire.
In more practical terms, you can run 0-100km/h in 2.9 seconds (although cheaper, less crazy cars can do that, too) or 200km/h in 7.9 (which is a tiny bit slower than the far lighter McLaren 720S).
What you can't do, of course, is achieve any of those numbers on winter tyres, or roads with snow on them.
Fuel consumption
Lotus Exige
7/10
Lotus claims a combined fuel economy figure of 10.1L/100km. We don't believe that would be easy to achieve, because the temptation to rev the hell out of it and hear it roar would be too great, and too constant.
---
Ferrari 812 SUPERFAST
5/10
Much as you can't have a good volcano without some serious lava, you can't have 800 horsepower without burning a lot of dead dinosaur goo. The Superfast has a claimed fuel-economy figure of 14.9L/100km, but on our drive the screen just said "Ha!" and we burned through a whole tank of fuel in less than 300km. 
Theoretical emissions are 340g/km of CO2.
Driving
Lotus Exige
8/10
It's rare to find a car that is such an improbable mix of furious fun and infuriating annoyance. The Lotus is rattly, noisy, hugely firm to the point of punishing, with seats that offer encouragement but not support.
It is the opposite of comfortable and so hard to see out of that driving it around town, in any sort of traffic, feels borderline dangerous. There's also the distinct sensation that you're so low and so little that all those people in their SUVs won't see you.
Throw in the fact that it's so painfully, stupidly difficult to get in and out of and it's definitely not the sort of car you take if you're heading to the shops. I got so sick of its hard-edged annoyances at one stage that I became too grumpy to even take people for joy rides in it. I just couldn't be bothered with the hassle, but then an inner-city suburb with high kerbs and even higher speed humps is not the Exige's natural environment.
Making it even more of a challenge around town, at low speeds or in parking situations is the steering, which isn't so much heavy as wilfully obtuse. Doing a three-point turn is the equivalent of 20 minutes of bench pressing your own body weight. At least.
Out on a winding bit of country road, however, the steering becomes one of the best things about the car, because its pure, unassisted weighting feels so alive in your hands. There's a sense of actually wrestling, or finessing it around corners that makes you feel a bit Ayrton Senna.
Indeed, the whole car comes alive, and starts to make some kind of sense, once you're on a smooth, perfect piece of tarmac. It is fast, noisy, thrilling, utterly and overtly involving, stiff of chassis and firm of ride, with brakes capable of pulling you up with indecent haste. It's also, thanks to its low centre of gravity and mid-engined layout, beautifully balanced.
The gearbox is a thrill a minute, as is the engine, particularly once you explore the upper rev ranges, at which point the scenery really does become a scary blur out the ridiculously small windscreen.
Sure, you can't see anything behind you other than the engine, but what a lovely sight that is, and nothing is going to catch you anyway.
It does feel edgy, of course, and sharp, and it's not as easy or refined to drive as some cheaper sports cars; an MX-5 makes for a far more pleasant companion. But this is an extreme Exige, a machine built by and for genuine enthusiasts.
And, above all, for the sort of people who will take it to a race track, which is where it both looks and feels completely at home.
Unfortunately, on public roads, it would be annoying more often than it would be thrilling, but the truly hardcore Lotus aficionados would never admit such a thing.
---
Ferrari 812 SUPERFAST
8/10
Insane. It's a word that people often lift from their lexicon when describing a supercar experience, because clearly, as forms of transport, things like Ferraris and Lamborghinis are not sane options.
But the Superfast really deserves the word, because it feels not only the opposite of sane, but truly bonkers. As if someone built it for a dare, realised it was a bad and possibly dangerous idea, and then put it on sale anyway.
Picture some tiny-handed child with his greasy, post-cheeseburger fingers poised over a big red button on his desk that could wipe out humanity, and that's basically the situation your right leg finds itself in when driving the Superfast.
There is so much power on tap here - even the limited amount of it that the engineers allow you to access in lower gears - that it truly seems possible you'll have a Road Runner moment, and simply dig a hole in the ground, if you push the throttle too hard.
Yes, on the one hand, the noises this extreme V12 makes above 5000rpm are memorable and moving, like Satan himself singing Nessun Dorma in a shower of sparks. At one stage we found a long tunnel, perhaps the only dry road within 500km that day, and my colleague forgot all about his licence and let rip.
The numbers on my 'Passenger Screen' spun like poker-machine wheels, then turned red and then implausible. I was shoved back into my seat as if by Thor himself, and I squealed like a small pig, but my co-driver heard nothing over the Monaco tunnel during F1 sound.
Even on dry road, of course, the winter tyres we were forced (by law) to run in the foul snowy conditions could not maintain grip, and we constantly felt the rear skipping sideways. Fortunately we were in Italy, so people simply cheered us on.
The likelihood that you will lose traction in this car is so high that the boffins have included a special feature in its new 'Electronic Power Steering' system called 'Ferrari Power Oversteer'. When you inevitably start going sideways, the steering wheel will apply subtle torque to your hands, 'suggesting' the best way to get the car back in a straight line.
A proud engineer told me that this is basically like having a Ferrari test driver in the car with you, telling you what to do, and that they used their skills to calibrate the system. You can override it, of course, but it sounds scarily like an autonomous-driving precursor to me.
What's disappointing about this car having EPS at all, rather than a traditional hydraulic system, is that it just doesn't feel muscular enough for a hairy-handed monster of a car like this.
It is accurate and precise and pointy, of course, and makes driving the Superfast, even in stupidly slippery conditions, almost easy. Almost.
It's actually surprising how hard you can push a car like this along a windy and wet mountain road without careering off into a muddy field.
More time, and more traction, would have been appreciated, but you can tell it's the sort of car you'd grow into, and perhaps even feel in control of, after a decade or so together.
So it's good, yes, and very fast, obviously, but I can't get past the idea that it's all a bit unnecessary, and that a 488 GTB is simply, in every single way, a better car.
But as a statement, or a collector's item, the Ferrari 812 Superfast certainly is one for the history books.
Safety
Lotus Exige
5/10
Unsurprisingly, considering it will sell fewer than 100 cars in Australia, Lotus has not had the Exige ADR crash tested, so there's no star rating. You do get two airbags, passenger and driver, as well as ABS, 'Hydraulic Brake Assist', 'Lotus Dynamic Performance Management', driver-selectable ESP with three modes, cornering brake control and EBD.
---
Ferrari 812 SUPERFAST
7/10
It might not surprise you to hear that, unlike every other company's press kits, the Ferrari ones don't generally include a section on 'safety'. Perhaps because driving something this powerful is inherently unsafe, or possibly because they believe their 'E-Diff 3', 'SCM -E' (magnetorheological suspension control with dual-coil system), 'F1-Traction Control', ESC and so forth will keep you on the road no matter what. 
If you do fly off, you'll have four airbags, and a nose as big as a house forming a crumple zone, to protect you.
Ownership
Lotus Exige
7/10
Your Lotus comes with a three-year unlimited kilometre warranty and three years of roadside assist. A service costs $295, plus parts.
---
Ferrari 812 SUPERFAST
8/10
Once you've paid the vast cost of entry, it's nice to know you will get some stuff for free, like your first seven years of servicing, including all parts and labour, carried out by trained Ferrari technicians, who even dress like pit crew. It's called 'Genuine Maintenance', and is genuinely Kia-challenging in its scope.