2016 Land Rover Range Rover Evoque
Pricing and Specs
Click here to see 2021 pricing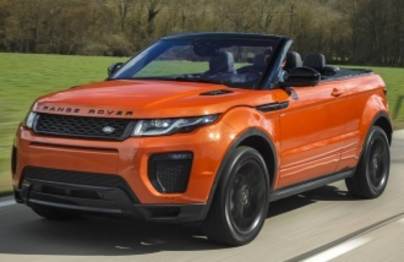 Price Guide
$45,984
Based on 97 cars listed for sale in the last 6 months
Explore prices for the
2016 Land Rover Range Rover Evoque
SUV
Land Rover Range Rover Evoque Models
SPECS
PRICE
eD4 Pure

2.0L

Diesel

Diesel

6 SP MAN

6 speed manual

$31,500 – 41,250

Si4 HSE

2.0L

PULP

Premium Unleaded Petrol

9 SP AUTO

9 speed automatic

$47,800 – 60,500

Si4 HSE

2.0L

PULP

Premium Unleaded Petrol

9 SP AUTO

9 speed automatic

$47,800 – 60,500

Si4 HSE Dynamic

2.0L

PULP

Premium Unleaded Petrol

9 SP AUTO

9 speed automatic

$51,200 – 64,680

Si4 HSE Dynamic

2.0L

PULP

Premium Unleaded Petrol

9 SP AUTO

9 speed automatic

$51,200 – 64,790

Si4 SE

2.0L

PULP

Premium Unleaded Petrol

9 SP AUTO

9 speed automatic

$37,100 – 47,960

Si4 SE Dynamic

2.0L

PULP

Premium Unleaded Petrol

9 SP AUTO

9 speed automatic

$49,800 – 62,920

TD4 150 Pure

2.0L

Diesel

Diesel

9 SP AUTO

9 speed automatic

$34,000 – 44,000

TD4 150 Pure

2.0L

Diesel

Diesel

6 SP MAN

6 speed manual

$31,700 – 41,470

TD4 150 SE

2.0L

Diesel

Diesel

9 SP AUTO

9 speed automatic

$34,000 – 44,000

TD4 180 Autobiography

2.0L

Diesel

Diesel

9 SP AUTO

9 speed automatic

$57,000 – 72,050

TD4 180 HSE

2.0L

Diesel

Diesel

9 SP AUTO

9 speed automatic

$46,100 – 58,300

TD4 180 HSE

2.0L

Diesel

Diesel

9 SP AUTO

9 speed automatic

$43,500 – 55,000

TD4 180 HSE

2.0L

Diesel

Diesel

6 SP MAN

6 speed manual

$46,100 – 58,300

TD4 180 HSE

2.0L

Diesel

Diesel

6 SP MAN

6 speed manual

$46,100 – 58,300

TD4 180 HSE Dynamic

2.0L

Diesel

Diesel

9 SP AUTO

9 speed automatic

$54,600 – 69,080

TD4 180 HSE Dynamic

2.0L

Diesel

Diesel

9 SP AUTO

9 speed automatic

$46,200 – 58,410

TD4 180 HSE Dynamic Ember LE

2.0L

Diesel

Diesel

9 SP AUTO

9 speed automatic

$53,700 – 67,870

TD4 180 SE

2.0L

Diesel

Diesel

9 SP AUTO

9 speed automatic

$36,400 – 47,080

TD4 180 SE Dynamic

2.0L

Diesel

Diesel

9 SP AUTO

9 speed automatic

$47,100 – 59,510
* Manufacturer's Suggested Retail Price
Land Rover Range Rover Evoque 2016 FAQs
Check out real-world situations relating to the Land Rover Range Rover Evoque 2016 here, particularly what our experts have to say about them.
Range Rover Evoque as a work car?

Who told you a luxury car can't be a work car? If that's what you really want then you should go for it. You will probably turn it over faster but I've not heard anything about the Evoque that is a particular concern.

Show more
See All Land Rover Range Rover Evoque 2016 FAQs
Disclaimer: You acknowledge and agree that all answers are provided as a general guide only and should not be relied upon as bespoke advice. Carsguide is not liable for the accuracy of any information provided in the answers.