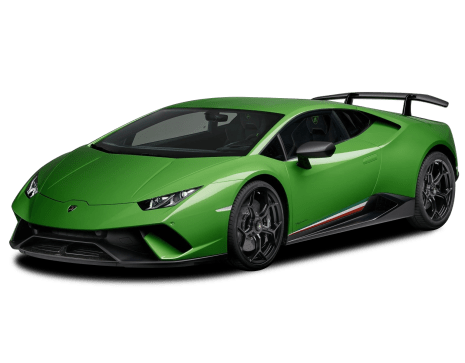 COMPARE
Lamborghini Huracan
VS
Ferrari 812 SUPERFAST
Lamborghini Huracan
Likes
Soaring V10
Seven-speed gearbox
Even more fun than all-wheel-drive Huracan
Dislikes
Lack of second screen makes dash a bit crowded
Not much storage
Can't see the engine
---
Ferrari 812 SUPERFAST
Likes
Savage design
Furious performance
Absurd V12 noise
Dislikes
Electronic power steering
Crazy price
Possibly too powerful for this planet
Summary
Lamborghini Huracan
Lamborghini's Huracan is the howling and fiery follow-up to Sant' Agata's best-selling model ever, the vicious, V10-powered Gallardo.
The first clean-sheet design since Audi's takeover of Lambo in the late 1990s, the new car has picked up where the Gallardo left off, selling like crazy. Since its launch a couple of years back, the new variants have come thick and fast, with the rear-wheel-drive 580-2 joining the LP610-4 as well as Spyder variants of both. Last month Lambo dropped the madcap and much waffled over Performante (or "totally bonkers" version).
Lamborghini's local arm made a canny decision to ensure we could kill two birds with one stone, letting us loose in a Huracan Spyder 580-2. Less power, less roof, fewer driven wheels, more weight. Does it mean less fun, though?
| | |
| --- | --- |
| Safety rating | — |
| Engine Type | 5.2L |
| Fuel Type | Premium Unleaded Petrol |
| Fuel Efficiency | 11.9L/100km |
| Seating | 2 seats |
---
Ferrari 812 SUPERFAST
Picturing yourself driving a Ferrari is always a pleasant way to waste a few 'when I win Lotto' moments of your life. 
It's fair to assume that most people would imagine themselves in a red one, on a sunny, good-hair day with an almost solar-flare smile on their faces. 
The more enthusiastic of us might throw in a race track, like Fiorano, the one pictured here, which surrounds the Ferrari factory at Maranello, and perhaps even specify a famously fabulous model - a 458, a 488, or even an F40.
Imagine the kick in the balls, then, of finally getting to pilot one of these cars and discovering that its badge bears the laziest and most childish name of all - Superfast - and that the public roads you'll be driving along are covered in snow, ice and a desire to kill you. And it's snowing, so you can't see.
It's a relative kick in the groin, obviously, like being told your Lotto win is only $10 million instead of $15m, but it's fair to say the prospect of driving the most powerful Ferrari road car ever made (they don't count La Ferrari, apparently, because it's a special project) with its mental, 588kW (800hp) V12, was more exciting than the reality.
Memorable, though? Oh yes, as you'd hope a car worth $610,000 would be.
| | |
| --- | --- |
| Safety rating | — |
| Engine Type | 6.5L |
| Fuel Type | Premium Unleaded Petrol |
| Fuel Efficiency | 15L/100km |
| Seating | 2 seats |
Verdict
Lamborghini Huracan
7.4/10
The rear-wheel-drive Spyder couldn't be more fun if it put on a silly wig or sprouted a jet engine and wings.
Yes, it's heavier and slower than the Coupe but the Huracan loses almost none of its feel with the roof whipped off, plus you get all the fun and fresh air of a Spyder. The extra weight doesn't mean much on the road and the added bonus of the rear-wheel drive's more responsive steering and even sharper turn-in evens things out.
The V10 is the last of its type, with Ferrari and McLaren both employing forced induction V8s for their smaller sports cars - in McLaren's case, all of them. The Huracan Spyder is everything that's good about Lamborghini - nutty looks, crackpot engine, head-turning theatrics - with all of the bad stuff booted out by parent company Audi. The 580-2 loses none of the fun of the circus and with the roof off it's even louder music to your ears.
Are you roofless in intent or do your sports cars need a lid?
---
Ferrari 812 SUPERFAST
7.4/10
Clearly, this is not a car for everyone, and you'd have to question whether it's a car for anyone, really, but people who like spending $610,000 on Ferraris, and waiting in a queue to do so, will be delighted, because it delivers the kind of exclusivity, and bragging rights, that you'd have to hope a car called Superfast would.
Personally, it's a little too much, a little too over the top and definitely too mad, but if rockets are your thing, you won't be disappointed.
Is the Ferrari 812 Superfast a bit of you, or a bit too much? Tell us in the comments below.
Design
Lamborghini Huracan
8/10
While it is an acquired taste, I'm a big fan of the Huracan's over-the-top-and-keep-going design, and the Spyder is an impressive conversion of the coupe.
The roof is a fabric job and folds away in a tidy 15 seconds, more than quick enough to save you from a drenching in all but the most sudden of rain showers. It looks pretty good when up, doing a decent impression of the coupe's roofline, but roof down with the cool speedster-style humps, the Huracan looks epic.
It's not a shy and retiring car (no Lambo is), not by a long shot and if you enjoy the attention of the local constabulary, the bright yellow (Giallo Tenerife) is the colour for you. One particularly nice touch is the Huracan Spyder script engraved on the windscreen header rail.
Frustratingly, there's only a small cover to gain access to the oil filler - unlike the coupe you can't see the engine through the cover. The rear section of the Spyder is quite different, with a huge composite clamshell that lifts out of the way to allow the roof to stow itself. It's a necessary compromise but a shame as well.
The cabin is standard Huracan, with switchgear handed down from Audi and that brilliant red starter button cover that looks like it should have 'Bombs Away' written on it. There are a lot of fighter-jet influences, and it's a more convincing space than the more expensive Aventador.
---
Ferrari 812 SUPERFAST
9/10
It's very… big, isn't it? And it looks even bigger in the flesh with a bonnet you could use to put a roof over your tennis court. In all, the Superfast is 4.6m long, almost 2.0m wide and weighs 1.5 tonnes, so it certainly has presence.
Making something this big look good is a challenge even for those as talented as Ferrari's design team, but they have nailed it. The front has what appears to be a mouth, poised to swallow lesser cars whole like some whale shark Terminator. 
The bonnet appears to be flaring its nostrils, and looks fabulous from the driver's seat, and the swooping side and taut rear complete things nicely.
Personally, it still just looks too big to be a Ferrari, but then this is not a mid-engined super car, it's a grand touring rocket ship, and the ultimate expression of unnecessary excess, and it pulls off that aura perfectly.
Practicality
Lamborghini Huracan
6/10
Yes, well, the usual mumbling explanation about how you have to take into account what this car is for and that there isn't the room for everyday luxuries will have to suffice. You do get a cupholder that pops out of the passenger-side dash garnish and the front boot will hold 70 litres. There's not a lot else you can squeeze in, although you can probably slip slim items behind the front seat backs. You'll be golfing on your own.
It's a more comfortable interior than the Aventador, with more head and shoulder room and a better overall position for driver and passenger.
---
Ferrari 812 SUPERFAST
7/10
Practicality isn't really your concern when you buy a two-seat mega car like this, so let's just say it's about as practical as you would expect it to be. Not very, then.
Price and features
Lamborghini Huracan
7/10
As always, value for money isn't one of your top priorities if you're looking for a high-end sports car dripping with standard features. The stereo has just four speakers but really, who's going to be listening to Kyle when you ears can reap the Huracan?
You also score dual-zone climate control, remote central locking (the flush fitted handles pop out endearingly as you draw closer), LED headlights, running lights and taillights, (very cool) digital dashboard, electric seats, sat nav, leather trim and a hydraulic lifter to help keep the front splitter pristine over kerbs.
The stereo is clearly Audi's MMI, which is a good thing, except that it's all crammed into the dash, going without a separate screen.
Naturally the option list is long. Our car was specced by a restrained hand, with 20-inch black Giamo alloys ($9110), front and rear parking sensors with reversing camera ($5700 - ahem), black painted brake calipers ($1800) and $2400 worth of Lamborghini logos and stitching. Very nice stitching, obviously.
You can go completely mad if you want to, spending up to $20,000 on matte paint colours, $10,000 on bucket seats, carbon fibre bits can mount up and then of course you can commission stuff to suit your personal taste for even more cash. If you're prepared to drop well north of $400,000 on a car, what's a few more thousand, I guess.
As far as value goes, the Spyder is about right for its segment, coming in around the same price as an admittedly less focused Ferrari California and a bit more than the less-powerful R8 Spyder range.
---
Ferrari 812 SUPERFAST
6/10
Is it possible that any car - save one made from gold, dusted with diamonds and stuffed with truffles - would represent good value at a price of $610,000? It seems unlikely, but then people who can spend that much assay value differently, and would probably say that something as profound as the 812 Superfast is worth buying at any price.
Another way to look at it is price-per-litre, which is less than $100,000, considering you do get 6.5 litres of V12 Ferrari donk. Or you could go by kilowatt, which works out at nearly $1000 each for your 588kW.
Other than that you do get a lot of leather, a high-quality interior, superior exterior styling, badge-snob value that's hard to put a price on and vast swathes of F1-derived technology. And a free car cover.
Engine & trans
Lamborghini Huracan
9/10
As the name suggests, the 580-2 is 30 metric horsepower down on the 610-4. In our language, that means Automobili Lamborghini's 5.2-litre naturally-aspirated V10 (yes, like many parts, shared with the Audi R8) developing 426kW/540Nm. Those figures are down 23kW and 20Nm on the AWD car.
The official 0-100km/h figure is 3.6 seconds, although it's unlikely it's that slow(!), Lambo's figures are regularly bettered by other publications with little effort.
Power is delivered to the rear wheels by a very upgraded twin-clutch transmission from parent company Audi.
---
Ferrari 812 SUPERFAST
9/10
I did want to give the epic, enormous 6.5-litre naturally aspirated V12 engine a perfect 10 here, but when I paused to think about it I had to admit that it is, quite possibly, a little too powerful.
Yes, it is amazing to think Ferrari can build a car that has 588kW (800 horsepower - hence the 812 nomenclature; 800 horses and 12 cylinders) and doesn't just dig itself a hole in the road as soon as you put your foot down.
And yes, it does provide the kind of performance that makes all other cars seems a bit piss poor and pathetic, even the really good ones. 
But honestly, who could ever use it all, or need it all? They might seem like irrelevant questions, I guess, because it's all about conspicuous over-excess, a car like this, so really the question is, would anyone want to live with 588kW and 718Nm of torque, or is it just too scary in reality?
Well, a little bit, yes, but Ferrari's engineers have been wise enough not to actually give you all of that power, all the time. Torque is limited in the first three gears, and maximum mental power is actually only available, in theory, at 8500rpm in seventh gear, at which point you'd be approaching its top speed of 340km/h.
The fact that you can rev an engine this big, and this lusciously loud, all the way to 8500rpm is, however, a joy that would never tire.
In more practical terms, you can run 0-100km/h in 2.9 seconds (although cheaper, less crazy cars can do that, too) or 200km/h in 7.9 (which is a tiny bit slower than the far lighter McLaren 720S).
What you can't do, of course, is achieve any of those numbers on winter tyres, or roads with snow on them.
Fuel consumption
Lamborghini Huracan
7/10
The amazing thing about this car is that despite being handed a regular thrashing, its fuel consumption is little worse than a large Toyota SUV's. When cruising along it will sip fuel, with cylinder deactivation helping further ease its thirst. The claimed combined cycle figure is a reasonable (and almost achievable) 11.9L/100km. I got a calculated 15.2L/100km and did not spare the rod, Nosirreebob. And nothing like the terrifying, guzzling consumption of the Aventador's V12.
---
Ferrari 812 SUPERFAST
5/10
Much as you can't have a good volcano without some serious lava, you can't have 800 horsepower without burning a lot of dead dinosaur goo. The Superfast has a claimed fuel-economy figure of 14.9L/100km, but on our drive the screen just said "Ha!" and we burned through a whole tank of fuel in less than 300km. 
Theoretical emissions are 340g/km of CO2.
Driving
Lamborghini Huracan
9/10
The Huracan's V10 is a glorious thing. It revs to the redline like a demon and does it all day every day. It feels utterly unburstable and delivers its power with such joy and abandon it gets under your skin.
With the roof off and Sport mode engaged on the Anime switch, the mix of induction and exhaust noise is utterly addictive. It's a theatrical machine, popping and banging and the metallic scream under power all combine to blow away the cobwebs in double quick time. Its sound is symphonic and pulling the gearshift instantly changes the note. It's breathtaking.
A big part of this particular car's charm is the switch to rear-wheel drive. The engineers didn't just forget to bolt in the propshafts and front-wheel-drive gear, but the steering had a going-over to compensate for the changes and to improve feel and responsiveness. It worked.
Where the all-wheel drive is prone to mild understeer, the front end of the dash-two is a little more planted. The Spyder might be heavier than the Coupe, but the rear-wheel-drive car feels that tiny bit more agile, with a lightning change of direction and a livelier rear-end. It's more delicate than -4 and doesn't feel appreciably slower.
One side note about the -4's understeer: it simply isn't a big deal. The internet will tell you it "understeers like a pig". The internet is completely wrong, but you already knew that; the internet loves cat videos. Nobody accuses the Ferrari California of the same vice, and yet it, too, understeers mildly in standard spec (as opposed to HS) - it's deliberate, safer and user-friendly. It is not, however, a pig.
Anyway. On with the show.
In an effort to lower the cost of the 580-2, it also comes with steel brakes - the expensive carbon ceramics are an option. On the road, you're not really going to notice too much difference apart from slightly different pedal feel. It probably renders the Huracan a less effective track car, but the reality is, not that many owners are going to care, particularly Spyder buyers.
I spent most of my time in Sport mode - it's where the most fun is to be found, with the electronics taking a more relaxed approach to the car's attitude. The drive-by-wire throttle is lovely and sharp, the steering a bit weightier and the seven-speed twin-clutch (or, as I prefer to say at every opportunity, doppio frizione). Corsa is certainly fast but it's far more interested in getting the car straight and slinging it out of the exit of a corner. Don't bother with Strada mode - it's far too soft, and deeply unappealing.
---
Ferrari 812 SUPERFAST
8/10
Insane. It's a word that people often lift from their lexicon when describing a supercar experience, because clearly, as forms of transport, things like Ferraris and Lamborghinis are not sane options.
But the Superfast really deserves the word, because it feels not only the opposite of sane, but truly bonkers. As if someone built it for a dare, realised it was a bad and possibly dangerous idea, and then put it on sale anyway.
Picture some tiny-handed child with his greasy, post-cheeseburger fingers poised over a big red button on his desk that could wipe out humanity, and that's basically the situation your right leg finds itself in when driving the Superfast.
There is so much power on tap here - even the limited amount of it that the engineers allow you to access in lower gears - that it truly seems possible you'll have a Road Runner moment, and simply dig a hole in the ground, if you push the throttle too hard.
Yes, on the one hand, the noises this extreme V12 makes above 5000rpm are memorable and moving, like Satan himself singing Nessun Dorma in a shower of sparks. At one stage we found a long tunnel, perhaps the only dry road within 500km that day, and my colleague forgot all about his licence and let rip.
The numbers on my 'Passenger Screen' spun like poker-machine wheels, then turned red and then implausible. I was shoved back into my seat as if by Thor himself, and I squealed like a small pig, but my co-driver heard nothing over the Monaco tunnel during F1 sound.
Even on dry road, of course, the winter tyres we were forced (by law) to run in the foul snowy conditions could not maintain grip, and we constantly felt the rear skipping sideways. Fortunately we were in Italy, so people simply cheered us on.
The likelihood that you will lose traction in this car is so high that the boffins have included a special feature in its new 'Electronic Power Steering' system called 'Ferrari Power Oversteer'. When you inevitably start going sideways, the steering wheel will apply subtle torque to your hands, 'suggesting' the best way to get the car back in a straight line.
A proud engineer told me that this is basically like having a Ferrari test driver in the car with you, telling you what to do, and that they used their skills to calibrate the system. You can override it, of course, but it sounds scarily like an autonomous-driving precursor to me.
What's disappointing about this car having EPS at all, rather than a traditional hydraulic system, is that it just doesn't feel muscular enough for a hairy-handed monster of a car like this.
It is accurate and precise and pointy, of course, and makes driving the Superfast, even in stupidly slippery conditions, almost easy. Almost.
It's actually surprising how hard you can push a car like this along a windy and wet mountain road without careering off into a muddy field.
More time, and more traction, would have been appreciated, but you can tell it's the sort of car you'd grow into, and perhaps even feel in control of, after a decade or so together.
So it's good, yes, and very fast, obviously, but I can't get past the idea that it's all a bit unnecessary, and that a 488 GTB is simply, in every single way, a better car.
But as a statement, or a collector's item, the Ferrari 812 Superfast certainly is one for the history books.
Safety
Lamborghini Huracan
6/10
The Huracan has four airbags, ABS, stability and traction controls and brake force distribution. A super strong carbon fibre and aluminium spaceframe does the heavy lifting in a crash.
As you might expect, there isn't an ANCAP safety rating and nor is there one for its blood relative, the R8.
---
Ferrari 812 SUPERFAST
7/10
It might not surprise you to hear that, unlike every other company's press kits, the Ferrari ones don't generally include a section on 'safety'. Perhaps because driving something this powerful is inherently unsafe, or possibly because they believe their 'E-Diff 3', 'SCM -E' (magnetorheological suspension control with dual-coil system), 'F1-Traction Control', ESC and so forth will keep you on the road no matter what. 
If you do fly off, you'll have four airbags, and a nose as big as a house forming a crumple zone, to protect you.
Ownership
Lamborghini Huracan
7/10
The Huracan is supplied with a three-year, unlimited-kilometre warranty. Given the usual mileage of a car like this, that's ample. There's three-year roadside assist into the bargain and the option to extend the warranty - $6900 for one year and $13,400 for two, which seems okay given what can go wrong in such a sophisticated car.
Servicing intervals are an absurdly reasonable 15,000km although you're expected to visit the dealer once a year (mainly so you can order your next Lambo).
---
Ferrari 812 SUPERFAST
8/10
Once you've paid the vast cost of entry, it's nice to know you will get some stuff for free, like your first seven years of servicing, including all parts and labour, carried out by trained Ferrari technicians, who even dress like pit crew. It's called 'Genuine Maintenance', and is genuinely Kia-challenging in its scope.