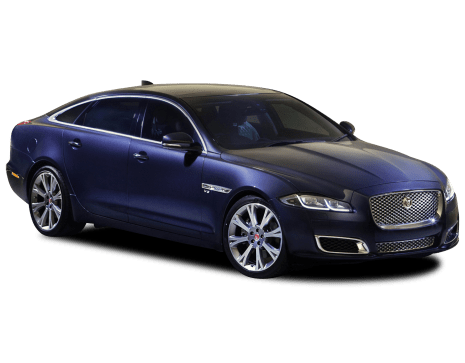 COMPARE
Jaguar XJ
VS
Alpina B5
Jaguar XJ
Likes
Characterful supercharged V8
Agile handling with great ride
Individual looks
Dislikes
Options pricing
InControl software a bit ordinary
Too much in-cabin chrome
---
Alpina B5
Likes
Fast
Comfortable
Luxurious
Dislikes
Cleaning the wheels
Room and storage space could be better
Not the most engaging car to drive
Summary
Jaguar XJ
As a child, my parents - who aren't car people - would see a Jaguar and point. It didn't matter if it was an XJ, Daimler Double Six or a Mark II, there was a great deal of mystique around these bastions of Britishness. It also didn't matter that these weren't necessarily good cars. The Seventies and Eighties saw the brand slide into a funk while being passed between owners like hot potatoes.
Somehow, the brand survived its brush with Ford's useless Premier Automotive Group strategy which only came good towards the end as Jaguar's management woke up and put in place a change in direction that produced the Ian Callum-designed XF. Riding high on that design, Jaguar then promptly introduced the very pretty Jaguar XJ.
It has been on sale for ages, but with the addition of a few bits and bobs to stay competitive, it's as compelling as ever. Most importantly, the performance-focused R has kept its unique supercharged V8.
| | |
| --- | --- |
| Safety rating | — |
| Engine Type | 5.0L |
| Fuel Type | Premium Unleaded Petrol |
| Fuel Efficiency | 11.6L/100km |
| Seating | 5 seats |
---
Alpina B5
The BMW Alpina B5 Bi-Turbo is not actually a BMW. Not according to the German Federal Motor Transport Authority, at least.
Nope, the modifications applied by tuning house Alpina to the 5 Series are deemed so significant that if you open the bonnet and look inside the engine bay, you'll see that the BMW VIN has been struck through twice and an Alpina vehicle number stamped underneath it. 
The B5 is not the first model to be recognised in this way, either; the German government has recognised Alpina as a seperate car manufacturer since 1983.
The B5 has other 'B' siblings, too. There's the B3 S Bi-Turbo, which is based on the BMW 3 Series, the B4 S Bi-Turbo (the BMW 4 Series) and the B7 Bi-Turbo (I don't need to tell you what this is based on, right?) which I've reviewed, too.
So just what has Alpina done to this unsuspecting BMW 5 Series? Is it really worth the extra money? How does the B5 compare to an M5? Could it actually be superior? And did they really take the speed limiter off to let it warp-speed to beyond 300km/h?
| | |
| --- | --- |
| Safety rating | — |
| Engine Type | 4.4L turbo |
| Fuel Type | Premium Unleaded Petrol |
| Fuel Efficiency | 10.9L/100km |
| Seating | 5 seats |
Verdict
Jaguar XJ
7.5/10
It might be old and facing German competition bursting with advanced technology, but the XJR is still a car you can buy with heart and head. But mostly your heart. It goes like stink, has a much better interior than the Quattroporte and is more interesting than just about anything this big or this grand.
It's also a better car than the Maserati Quattroporte if you want to get on with the driving yourself and is far prettier than the Porsche Panamera. It's a wonderful thing and even more wonderful that Jaguar continues to build it. Long live that supercharged V8 and the XJ is a great home for it.
Is the XJ your cup of Earl Grey or are you more interested in a Maserati espresso (sorry) or a Porsche stein (sorry, again)? Tell us what you think in the comments below.
---
Alpina B5
7.9/10
The Alpina B5 is a special car – more special than most people will ever give you credit for if you own one. Those that do know what an Alpina is will let you know; people will cross dangerously busy streets to talk to you about your car. Insanely fast, almost incomprehensibly comfortable and effortlessly powerful to drive.
Does the Alpina B5 make a BMW even better? Or do you think the M5? Tell us what you think in the comments below.
Design
Jaguar XJ
8/10
The XJ has a marvellously exaggerated length, with a rear overhang redolent of Jag's sporting coupe and roadster pair of the time of its launch, the XK. There's nothing else in the segment like it, with the three Germans - Mercedes' S-Class, Audi's A8 and BMW's 7 Series - having gone all Hugo Boss and and in the latter two's case, almost shrinking violet. The only credible Japanese alternative, the Lexus LS, looks like a Lexused 7 Series. The XJR is a more emotional car, like Maserati's Quattroporte.
The R adds an aggro grille, 20-inch wheels with low-ish profile tyres, a bootlid spoiler, red brake calipers and vents in the bonnet. Bits and pieces get the black gloss treatment and there are V8 and R badges, as well as a rather large leaper on the bootlid. Capping it all off are four exhausts poking out from the bumper and distinctive vertical taillights.
Inside remains largely unchanged. The cabin is big and luxurious, leather-lined and very, very comfortable. The front air vents have to be modelled on the de Havilland Comet's integrated jet engine intakes and, again, the dash design stays away from the horizontal lines of its obvious competition.
There is probably a bit much chrome for my liking, particularly on the centre console and around the rotary dial shifter, which reflects sunlight into your face during the day.
The lovely 'Riva Hoop' - a band that sweeps from door to door across the top of the dash - is a great touch and remains a defining feature in the cabin. The last update brought an Audi-like digital dashboard, including maps, but it's not nearly as slick as the German. The graphics for the dials are good (and quick) but the maps are a bit so-so.
---
Alpina B5
8/10
Interesting is the right word for it, because while it might be questionable that Alpina's changes to the exterior are aesthetic pleasing, they are definitely intriguing to those who aren't familiar with the brand.
First, there are those 20-spoke wheels. Alpinas have worn this style of wheel forever and they've become the most famous outward sign that this is not just another BMW. So don't under any circumstances take them off and replace them with anything else. You'd be run out of town by the Alpina mafia.
Yes, they're more painful to clean than a cheese grater (trust me, I know. And if you look closely at these images you can see the dirty bits I've missed), but if you really don't like them then perhaps it's a sign this car isn't for you.
Then there's the boot-lid spoiler. It's square and 1980s'-looking, it also appears a bit like it's been bought online and installed by a teenager, but again, this is another Alpina tradition and it suits the car's character perfectly.
All right, those pinstripes; they're known as the Deco-Set and are a hat-tip to the Alpina racecars of the 1970s and '80s. Again, don't take these off, your Alpina will drop through the centre of the Earth in value. These are also part-and-parcel of owning one of these cars. I'm not a massive fan of them.
But I'm all about that front spoiler, with the floating Alpina lettering that you can option in silver, high-gloss black or gold.
Inside, there are fewer Alpina additions, but they're nonetheless unmissable. There's the Alpina-badged steering wheel, and a new virtual instrument cluster, embossed headrests and  illuminated door sills.
There's also the little numbered plaque on the centre console which proves its authenticity, ours was number 49. Out of how many? I don't know. But I do know Alpina produces only about 1700 cars globally a year. Rolls Royce does about 4000. So, you can rest assured your B5 is exclusive.
At almost 5m long, 1.9m wide and 1.5m tall, the B5 is a large saloon, but having recently reviewed the Alpina B7 it feels small in comparison. How does it drive? We're getting there.
Practicality
Jaguar XJ
7/10
It might be over five metres long, but the Jag's cabin isn't as gigantic as that might suggest - luckily, if you want space, the XJ L has it. The SWB version is roomy enough, though, just not palatial. You can fit five people, but the big transmission tunnel will limit the size of that fifth.
Front and rear passengers have a pair of cupholders each, with rubber bubbles to help hold smaller cups in tight. The front and rear doors have pockets but aren't really for bottles.
Boot space is a reasonable 520 litres, with a space saver spare under the floor.
---
Alpina B5
7/10
Practicality is not really a BMW strong point no matter which model you pick. See, BMW mostly makes the car equivalent of uber-stylish and skin-tight active wear which looks good and performs brilliantly, but sometimes you just want pockets and a bit of room for your… um… bits and pieces.
So while there are two cup holders up front and two in the back, the bottle holders in the doors aren't huge, the centre console bin is on the small side, there's a hidy-hole in front of the shifter, the glove box is just a box for little more than gloves and there's no other great cabin storage options.
Legroom in the rear is good but not great, too - I'm 191cm tall and have about 30mm between my knees and the seat back in my driving position. Middle-seat passengers will also have to straddle the drive shaft hump in the floor. Headroom is restricted in the back, too (you could blame the sunroof) with my hair just skimming the headlining (I do have big hair).
Under that power tailgate, the B5's boot capacity is 530 litres which is 15L more than its big sister, the B7. There are two plastic storage areas either side of the luggage space for wet things. While there is one USB outlet in the front there aren't any in the rear.
Price and features
Jaguar XJ
7/10
As is expected at this level, Jaguar was not mucking about with price or specification - the XJR starts at a mildly terrifying $299,995, which is very close to the rather more tranquil Autobiography long-wheelbase relax-o-mobile.
Standard are 20-inch alloys, a 20-speaker stereo, power everything with three memory positions, four-zone climate control, keyless entry and start, front and rear parking sensors, heated and cooled front and rear seats, sat nav, LED headlights and DRLs, leather everywhere, auto wipers and (LED) headlights, electric boot lid, heated steering wheel and a space saver spare.
The Meridian-branded stereo is an absolute cracker, powered by the improved but still laggy 'InControl Pro' system. Oddly, it's all crammed into an 8.0-inch touchscreen when there is seemingly room for the larger (and better-performing) 10.0-inch screen. The software is far superior than the version that preceded the last update, but the screen is hard to use, as targets are placed right in the corners and are hard to hit.
Apple CarPlay and Android Auto are also absent, and the sat nav is still fairly dopey.
A long list of options are available, some of which should probably be included in the big sticker price - DAB+ ($620), premium paint is a splutter-worthy $2060 (although, to be fair, the vast majority of the 19 colours are free), adaptive cruise with queue assist ($2200), adaptive headlights a further $2620 and 'Parking Assist', which adds side sensors and a front camera, a further $2780. Reverse cross traffic alert, blind spot monitoring and forward collision warning cost yet another $1460. Ouch.
---
Alpina B5
8/10
The BMW Alpina B5 lists for $210,000, making it only $10K more the BMW M5 which comes with almost identical features apart from the Alpina engineering to the engine and chassis.
Arriving standard is leather upholstery, four-zone climate control, nav, the Alpina embossed-headrests, a 10.25-inch display, digital radio, Alpina door sills, sunroof, proximity key, power front seats, 12-speaker Harman Kardon stereo, head-up display, Alpina virtual instrument cluster, heated front and rear seats, and the 20-inch Alpina wheels.
The test car I drove had been optioned with a limited-slip differential ($5923), steering-wheel heating ($449); soft-close function for doors ($1150); sunblinds ($1059); TV function ($2065) ambient air package ($575), and front-seat ventilation ($1454).
Engine & trans
Jaguar XJ
9/10
Jaguar's lovely 5.0-litre V8 with supercharger continues under the XJ's long and shapely bonnet, delivering a walloping 404kW and a tyre-shredding 680Nm. The sprint to 100km/h for all 1875kg of XJR is completed in an impressive 4.6 seconds, which was very competitive at the car's launch in 2009.
Power reaches the rear wheels via ZF's eight-speed automatic and you can control it with the tacky plastic paddles on the steering wheel. Oh, and it has stop-start.
---
Alpina B5
9/10
The Alpina B5 uses the same 4.4-litre V8 engine found in the BMW M5 (and also the B7). But, and it's a big but, the M5 makes 441kW and 750Nm, while the B5 outdoes it with 447kW and 800Nm. Admittedly, the B5's torque arrives at the 3000rpm mark, while the M5's is all there from 1800rpm.
How does the B5 beat it? Alpina installed its specially developed twin turbochargers and intercoolers, a high-performance cooling system, a reconfigured air intake set up and a different exhaust system.
The B5, though, is a tenth of a second slower to 100km/h compared to the M5 with a time of 3.5 seconds, but it will blast on to a top speed of 330km/h while the M5 is limited to 250km/h in regular form and 305km/h with the optional M Driver's package.
Both uses the same ZF eight-speed automatic transmission with identical gear ratios, and both are all-wheel drive.
Fuel consumption
Jaguar XJ
6/10
The combined cycle figure for the V8 is listed at 11.1L/100km but fully expect to see the 16.1L/100km we got, especially as you try and fail to tyre of the monstrous power delivery and lovely (if muted) V8 roar.
Luckily, even if you're belting it, the 82 litre tank is a generous size and you'll cover a fair amount of ground.
---
Alpina B5
7/10
The Alpina B5 needs petrol. By that, I mean it needs quite a lot of it if you want to enjoy it properly. What type of mileage does it get? Officially, it should use 11.1L/100km after a combination of urban and open roads, where as the M5 is set to 10.5L/100km.
That makes sense, the B5 produces more power and torque, and it's 85kg heavier than the M5 at 2015kg.
Our test car's trip computer was reporting 13.2L/100km after flying low over country roads and slow city piloting. The more time spent in the urban warfare that is the daily peak hour commute, the more that figure crept and hovered around the 15L/100km mark.
Driving
Jaguar XJ
8/10
Indecently quick, surprisingly agile and heaps of fun. While the first descriptor applies purely because of its size, the next two shouldn't when you're in command of 5.13 metres of motor vehicle. As with the Audi and now the 7, the Jag has a lot of aluminium to help keep the kilos off and good gracious, it has worked.
The R is based around the short wheelbase version of the XJ for perhaps obvious reasons. Even so, it appears to be the shorter-again XF's because this thing turns in like a demon. No, it won't stay with the dearly-departed XF-R but it does a mighty fine impression of one, just with a better ride quality.
Rear seat passengers should be prepared to feel a lot of wheelslip, especially when in Dynamic mode, as even the fat Pirelli P-Zero's struggle for purchase when the right foot hits the carpet. The V8 rumbles rather than bellows, but the rears cheerfully spin up until the computers and active differential rein things in. Traction control off and you've got a proper tyre-smoker if you're not playing by the rules. Jag's engineers are clearly hooligans at heart.
As always, ZF's eight-speed transmission does an incredible job of marshalling the horses in a rearward direction and when you're not after a bit of sound and light, have achieved a tremendous amount with the damping. When in normal mode, the car glides along, so much so that the lady of the house wasn't so sure it was a sporting sedan.
Once she was apprised of dynamic mode (you have to cycle the button through winter mode first, for some reason), her only complaint was that it was too long and the steering wheel too big for this type of car. I was persuaded of the latter, especially after stepping out of an Audi S3 which has a tiny wheel. Long story short, the XJR is now 'her' car (to be more accurate, the XFR is, but that hasn't arrived yet, so...), as it felt smaller than it was when not parking and she's a sucker for a torquey V8.
---
Alpina B5
8/10
Ok, stay with me here. For this next bit you'll need a fresh egg, a lounge chair, and it might be a good idea to have some plastic bags and carpet cleaner on hand.
First, in front of the lounge chair flatten out the plastic bag and place the egg on it. Next, sit down on the chair and very carefully rest the ball of your foot on the egg with as little pressure as humanly possible.
This is exactly how little force you need to apply to the go-pedal of the B5 to accelerate from a standstill to 60km/h in about five seconds.
If anything sums up the driving experience of the B5, it's that sense of effortlessness.
Stomp on that accelerator, and you'll be shot to 100km/h in 3.5 seconds, without a hint of broken traction thanks to the all-wheel-drive system.
The ride should have been terrible on 20-inch wheels shod in low-profile rubber (Pirelli P Zero 255/35 front, and 295/30 rear), but the Alpina-tuned air suspension is close to miraculous in the way it cushioned and censored the potholes out of Sydney's worst roads. Yes, it can be a touch floaty, particularly in the Comfort Plus setting, but this is benchmark-setting stuff for a comfortable ride.
Don't expect this beast to roar. Unlike the M5, the B5 gets its work done without deafening everybody around it. Sure, the B5's V8 sounds amazing when you push it, but it's not brash, not loud and not lairy. Buy an M5 or Mercedes-AMG E63s if you want to be heard half a block before you get home, but you won't get that with the B5 and its exhaust system.
The B5 also handles well, but I have to say the engagement factor is low. I piloted it effortlessly through the twists and turns of my country test circuit and roads which normally have me grinning like a maniac behind the wheel had me feeling a bit disconnected in the B5. That air suspension, the numb steering and pedal actions make it difficult to 'feel' the road.
It's highways where the B5 is a king, but even at 110km/h there's the sense that this car is still fast asleep and won't get out of bed for anything less than 150km/h - making it perfect for Germany's autobahns, but maybe not for here in Australia.
Safety
---
Alpina B5
9/10
The Alpina B5 is based on the BMW 5 Series which had a five-star ANCAP rating awarded to it in 2017.
Along with the comprehensive suite of airbags, traction and stability control, there's an impressive array of advanced safety equipment. Coming standard is AEB (front and rear), evasive steering, front and rear cross-traffic warning, blind-spot alert and lane-keep assist. The Alpina B5 also comes with BMW's emergency call function.
For child seats you'll find two ISOFIX mounts and three top tether points across the rear row.
If you're unfortunate enough to get a flat tyre, there's a puncture repair kit in the boot which works provided the hole isn't giant, as I've experience in the past with these systems.