Toyota Prius vs Toyota Camry Hybrid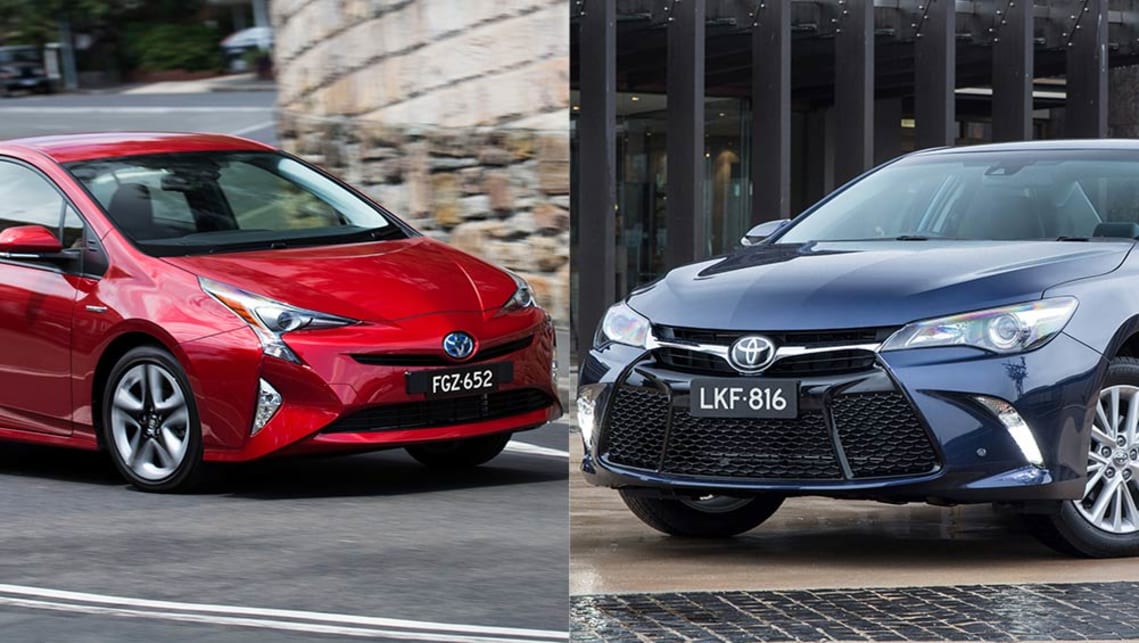 It's stablemate against stablemate — cars that share a basic premise but are worlds apart in design and driving. Chris Riley referees.
Standard kit includes colour head-up display, LED daytime running lights, auto-levelling LED headlights, 10-speaker JBL audio, seven-inch touchscreen with Toyota Link connectivity and a wireless phone charger. The i-Tech adds satnav, digital radio, 17-inch alloys, leather faced and heated front seats, the driver's with eight-way power adjustment.
The entry model Altise at $30,490 is fairly spartan but the top-shelf Atara SL has leather trim, two-zone climate control, power front seats, 17-inch alloys, adaptive cruise control, automatic high beam, front and rear parking sensors, Toyota Link connectivity and 10-speaker JBL audio including digital radio and satnav with traffic updates, school zone and speed camera warnings.
Longer, wider and lower, it has a stiffer chassis and improved suspension all-round for better stability, comfort, ride and handling. Looks a bit odd from the rear. Inside, the two-tier dash has Apple-style white inlays and a user-friendly digital speedo. The battery pack is relocated under the rear seat, lowering the centre of gravity and freeing up luggage space. Repair kit in place of a spare.
Camry needs no introduction but has to overcome its reputation for being white goods on wheels. Toyota has tried to jazz it up a little for the last release — the Camry now has a more aggressive look and stance. The 18-inch wheels on the sports model are optional on the Hybrid. This will appeal to those looking for an ordinary sedan with extraordinary fuel economy.
Toyota Prius i-Tech
Engine
The revised powertrain is 10 per cent less powerful than the previous model, while claimed fuel economy is a super low 3.4L/100km. The 1.8-litre, 72kW four-cylinder petrol engine mates with a 53kW electric motor for a combined output of 90kW. It shuts down on idle and recharges on the fly but, disappointingly, Australia doesn't get the hi-tech lithium-ion battery available on overseas models.
Toyota Camry Atara SL
Engine
The powertrain consists of a 2.5-litre, 118kW four-cylinder petrol engine, combined with a 105kW electric motor, generating a combined 151kW (no torque figure is provided). It's not the Camry's 2.5 but a more fuel efficient Atkinson cycle version. Gear changes are handled by a stepless CVT that feeds power to the front wheels. Claimed thirst is 5.2L/100km and over 400km of testing we returned 6.2L.
Previous model got five stars. There are seven airbags, reversing camera and traction and stability control. To the standard pre-collision braking, lane departure alert and auto high-beam, the i-Tech adds blind-spot monitor and rear cross-traffic alert. Adaptive cruise control works at high or low speeds.
Gets full marks for safety from ANCAP with electronic stability control and seven airbags including a bag to protect the driver's knees and lower legs in an accident. It also comes with a reversing camera, front and rear parking sensors and advanced gear such as automatic braking, lane departure warning, blind spot warning and rear cross traffic alert.
Hard to discern the lesser engine output because the electric motor kicks in earlier and the gearing is more aggressive to compensate. It's a little more exciting than before.The seats are comfortable, the chunky wheel fits snugly in the hands and the steering is remarkably good. Punt it hard into a corner and it exhibits decent grip and body control, although the stability control is quick to cut in if you push too hard.
This car has really come of age. It feels more substantial, perhaps because it's heavier, with a quieter, more upmarket cabin. Performance is impressive and the drive experience is smooth and quiet, except for when you put your foot down — when it sounds like a vacuum cleaner with something stuck in the nozzle. Sadly still no digital speedo.
Camry Hybrid is cheaper but returns good fuel economy in a more practical package. Prius buyers pay a hefty premium for playing a greener role.