Toyota HiLux Black Edition vs Ford Ranger Wildtrak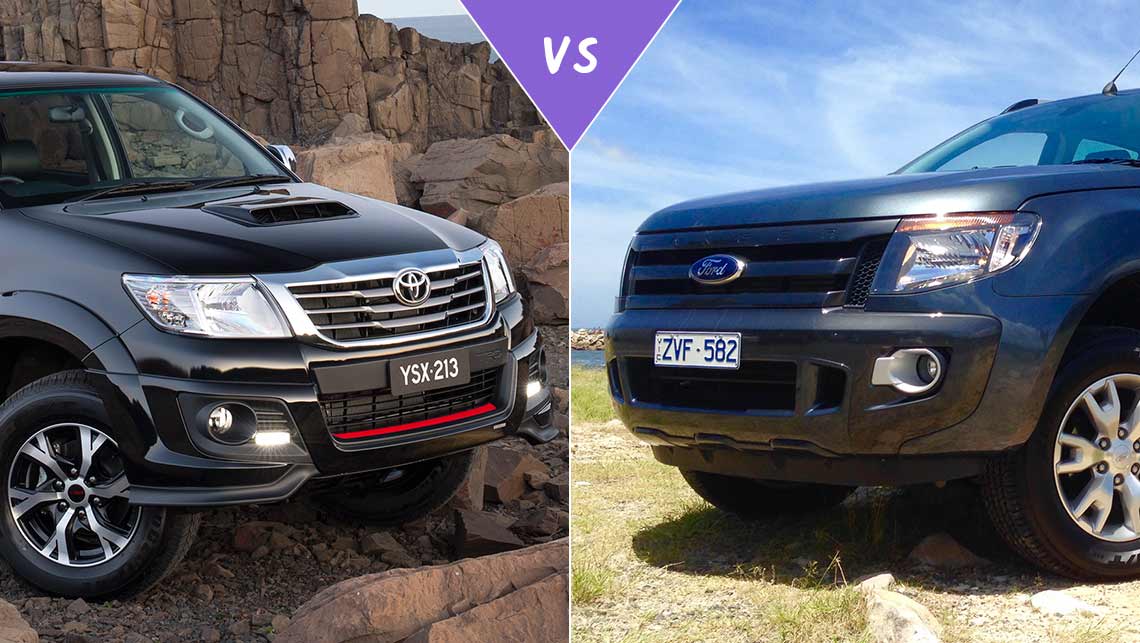 Each of these utes cost more than a Mercedes-Benz luxury sedan. Joshua Dowling finds out why.
Toyota HiLux Black Edition
From $55,990
The Black Edition is $61,600 drive-away once auto transmission ($2750) and metallic paint ($550) are added. Standard equipment includes satnav, rear-view camera, 6.1-inch touch screen from the HiLux SR5, TRD front and rear bumpers, unique 17-inch alloy wheels, LED daytime lights, leather trim and electric driver's seat adjustment. Capped price servicing is the cheapest in the business: $1020 over three years ($170 for each of the first six-monthly/10,000km visits in the first three years).
Ford Ranger Wildtrak
From $59,390
Are you sitting down? The Ranger Wildtrak tops out at $64,900 drive-away once the six-speed auto ($2100) and metallic paint ($385) are factored in. It comes with a rear camera and navigation but the 5-inch screen is too small and the operation of the navigation unit is clumsy. As the flagship, it comes with leather seats, heated side mirrors with puddle lamps, a lockable sliding aluminium cover on the ute tray and 18-inch alloys. Capped price servicing is dear: $1455 over three years if done once every year or 15,000km.
Toyota HiLux Black Edition
Engine
The 3.0-litre four-cylinder turbodiesel is super-reliable but it's not the most powerful (126kW/360Nm) and is overdue for a change. A new five-speed auto has reduced fuel use from 9.3 to 8.7L/100km. Towing capacity is 2500kg and payload 820kg. Both are below average.
Ford Ranger Wildtrak
Engine
The 3.2-litre five-cylinder turbo diesel is a powerhouse (147kW/470Nm) but go for the automatic, as the manual has an awkward shift action. As for reliability, early signs are good, although Ford did change a radiator hose to prevent premature wear and possible engine failure. Towing capacity is equal class best: 3500kg. Payload: 1000kg. But it's thirsty (9.6L/100km).
Toyota HiLux Black Edition
This final freshen up comes as Toyota prepares to pull the covers off the first all-new HiLux in 10 years. It should arrive in showrooms in October. This special edition is designed to maintain a price premium on the top model as Toyota discounts the rest of the range.
The latest generation Ford Ranger looked the business when it arrived in 2011. Its macho looks and capability have dented HiLux sales. An updated Ranger is due in showrooms in July with an even tougher new look shared with the Everest SUV.
Toyota HiLux Black Edition
The HiLux was upgraded in November 2013 to score five stars for safety. Six airbags, stability control and the aforementioned rear view camera form a complete package, there's just one thing...
Six airbags, stability control and a rear view camera (albeit displayed via a small screen in the mirror) and one of the highest five-star safety ratings in the class (35.72 points out of 37 versus the HiLux's 32.86 points out of 37).
Toyota HiLux Black Edition
Despite the extra bling and the TRD badges, Toyota says the suspension and handling are unchanged from the current HiLux SR5. It's not the most agricultural ute on sale but it still jiggles too much and is not as car-like as the Ford Ranger and Volkswagen Amarok, the benchmarks for the ute class. At least the HiLux's turning circle (12.4 metres) is tighter than the Ranger's (12.7 metres).
The Ranger feels glued to the road compared to other 4WD utes. It feels stable over bumps, surefooted in bends and the driver always feels in control. That's in part because the Ranger suspension has been tuned by Australians for Australia and the vehicle itself has a longer and wider footprint than most other utes.
Toyota HiLux Black Edition
The HiLux is holding its age well and diehard fans won't be persuaded to drive anything else. But if you want to tow and carry the most gear, Ranger is the pick.