Subaru Levorg vs Skoda Octavia RS wagon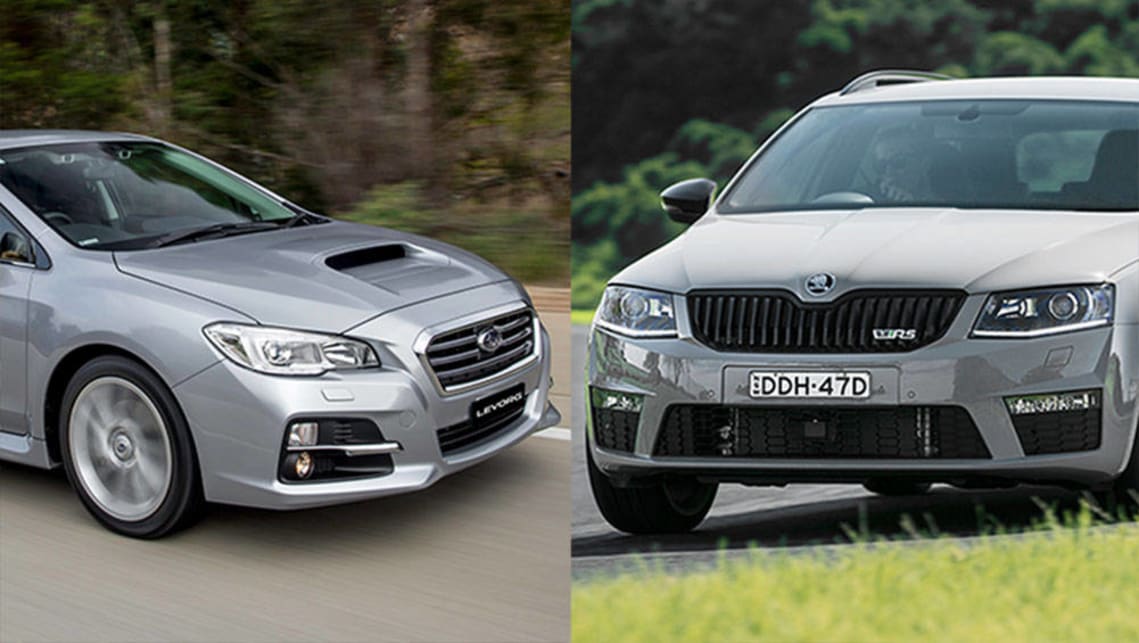 It's a two-horse race for the mid-size performance wagon category, with handling weighed against packaging. Craig Duff adjudicates.
It's quicker to 100km/h than the Octavia RS by half a second but uses more fuel to do so (8.7L/100km v 6.6L). It costs $2255 to service for three years or 75,000km at intervals of six months or 12,500km. Three year/unlimited km warranty is on a par with the Skoda.
Skoda Octavia RS 162TSI wagon
The $43,290 drive-away deal for the six-speed dual-clutch auto makes the Skoda more than $4000 cheaper than the Levorg. It costs just $1197 for three years' servicing — with annual or 15,000km visits. Adaptive cruise control and autonomous emergency braking are standard; the $1700 Tech Pack bundles lane-keeping assist, auto parking and upgraded infotainment display.
Basic driver aids include adaptive cruise control, lane-departure warning and autonomous emergency braking with steering assist. Infotainment can be tardy and, in this variant, lacks standard satnav. Functional interior feels solid without excelling in ambience or ergonomics. There's marginally less shoulder room for three in the rear and slightly smaller cargo capacity. A WRX-styled bonnet scoop and pronounced side sills imply its more aggressive approach.
Skoda Octavia RS 162TSI wagon
Not much separates this duo inside in equipment and presentation. Each has infotainment screen plus duplicate buttons for quick access and obligatory three-dial aircon controls. The Skoda seems slightly less cluttered. Outside, RS badges are the sole concession to a sporty look.
The 2.0-litre boxer turbo (197kW/350Nm) and basic chassis are derived from the go-fast Impreza WRX. There's sensational shove from the instant the turbo spools up. Peak torque is on tap from 2400rpm to 5200rpm and maximum power arrives 400rpm beyond that. When the stability control intervenes it kicks hard and cuts all power to the continuously variable transmission.
Skoda Octavia RS 162TSI wagon
Engine
The 2.0-litre turbo (162kW/350Nm) is down on power but produces full torque between 1500rpm and 4400rpm — peak power kicks in at 6200rpm. The DSG ensures you're in the right gear at the right time. Don't bother with Drive Mode button — the synthesised snarl is too intrusive in Sport setting. Leave it in normal and shift the transmission lever to sport when you want to play.
Seven airbags and five stars. The body held up well in crash tests and the wagon was rated good for pedestrian protection. Standard reversing camera and hill start assist is a welcome addition.
Skoda Octavia RS 162TSI wagon
Seven airbags earn top marks as a family-focused runabout. The body is robust, the brakes bite hard even after repeated hits and safety software works as intended, though it is also prone to the occasional "false positive" where the computer is concerned well before the driver.
The Levorg lacks the composure of the Octavia through corrugated turns but all-wheel drive and torque vectoring add an edge on tight, slippery terrain where the power can be applied earlier. On even the tightest corner exit, the AWD shuffles drive so smoothly there's barely a hint of wheel spin. Steering is precise. Tyre noise on coarse-chip roads is one of the few downsides to an entertaining drive.
Skoda Octavia RS 162TSI wagon
The remarkable electronic diff keeps the front-drive Octavia tracking true — it doesn't take much to spin the front tyres when the turbo spools up, though it is rarely accompanied by wheel-tugging torque-steer. Stability control intervenes subtly. It isn't as affected by mid-corner bumps as the Subaru but can lack traction in scrappy conditions. Tows 1600kg to the Levorg's 1200kg.
Skoda Octavia RS 162TSI wagon
There's precious little in it. The Levorg deals better with regular slippery roads. Most people will be happy with the Skoda's greater interior space, lower purchase price and cheaper running costs.
Do you prefer the Levorg GT or the Octavia RS? Tell us what you think in the comments below.