Skoda Octavia Scout vs VW Golf Alltrack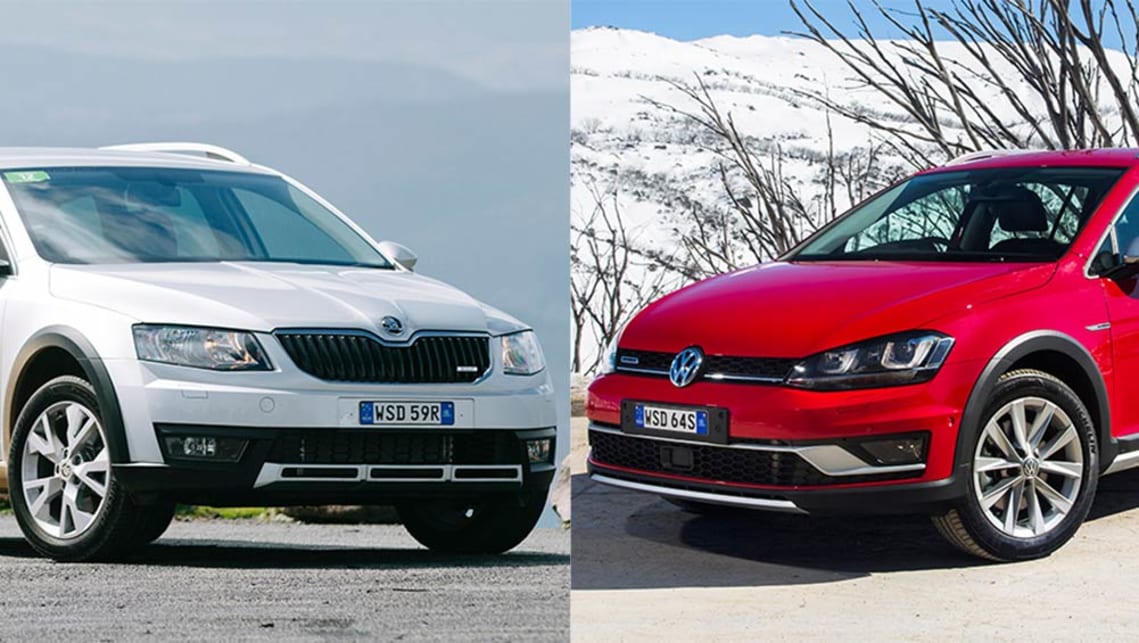 Parent company builds vehicles with differing approaches and one aim: to mirror the popularity of Subaru's Outback. Tim Vaughan circles the wagons.
Skoda Octavia Scout 135TDI
The top-spec diesel is the dearest of the three Scout variants. To match, say, Outback Premium diesel on price, add the $3300 Tech pack to get adaptive headlights, LED lights, parking assist, keyless entry, lane keeping, selectable drive modes and the very tasty Canton audio. Metallic paint adds $500. The sunroof option is $1690, power front seats $1300. Capped servicing is not cheap at $1286 but includes fluids.
Volkswagen Golf Alltrack 132TSI
It looks pretty good against the Skoda and even nearest rival Outback ($41,990 in petrol auto form). Driver assistance package combines active cruise control, city emergency braking, radar and parking assist for $1300. Metallic paint adds $500. The $2500 sports luxury package seems at odds with off-roading — 18-inch alloys, glass roof and shift paddles. Capped service is $1605 over three years, including fluids.
Skoda Octavia Scout 135TDI
Clever Czechs excel in all aspects of packaging. It trumps the Golf with eight-inch touchscreen. Trim is Alcantara plus leather, there are holders for eight bottles (those in the console must be for piccolo coffees only). It won't be a shame to scratch the plastic arches and protector plates. Rubber is 225/50x17s (plus space-saver) and boot takes 588L/1718L. It weighs 1595kg and tows 1800kg.
Volkswagen Golf Alltrack 132TSI
Muscled-up looks are aided by tough wheelarches and silver sills, which will scratch. Trimmed in leather, the cabin has a 6.5-inch touchscreen with smartphone tech, 12V outlets in the console and boot, remote second-row seat release plus nifty dual-deck storage in rear. Luggage capacity is 605L/1620L. Rubber is 205/55 on 17-inch wheels and the spare's a space-saver. Weight is 1475kg and towing capacity 1500kg.
Skoda Octavia Scout 135TDI
Engine
The 135kW/380Nm turbo diesel, a first in AWD/auto for Skoda, claims 5.3L/100km and points to 1000km range. It showed as low as 8s in Carsguide's vigorous outing. There has been much reworking of internals and exhaust. Engine not affected by Dieselgate.
Volkswagen Golf Alltrack 132TSI
Engine
A first in any Golf, this is one silky unit, a turbo petrol producing 132kW/280Nm. It is coupled to a six-speed DSG, in turn running VW's 4WD on demand. BlueMotion fuel-saving tech claims 6.7L/100km, implying at least 700km from 55L tank.
Skoda Octavia Scout 135TDI
It heads the Golf in the airbag count with nine. Perversely, the 135's Tech pack deletes adaptive cruise control and city emergency braking. Fatigue monitor gives a visual warning rather than the Alltrack's acoustic signal but is equally insistent. Crash score for Octavia sedan was 35.87/37.
Volkswagen Golf Alltrack 132TSI
Seven airbags are the norm and there are two ISOFIX points. Multi-collision braking and rear-view camera are standard, as is fatigue detection that'll nag you until you take a break. There are fog lights front and rear and daylight running lamps. Golf hatch scored 35.92/37 in crash testing.
Skoda Octavia Scout 135TDI
Trimmer and tauter due to extensive use of high-grade and hot-worked steels. It's still relatively close to the ground — ride height is 171mm, 31mm higher than standard but well short of Outback's 213mm. A tie with Alltrack with 7.8 secs for the 0-100km/h sprint, It has four drive modes.
Volkswagen Golf Alltrack 132TSI
It's a Golf: good manners are assured and front-drive bias is expected. VW's hype bills it as a passenger car and SUV in one, which shows how flexible the definition of the latter can be. Ride height is 175mm, up 20mm on the regular wagon. Five driving profiles. Electro-mechanical steering is lightish.
Skoda Octavia Scout 135TDI
Volkswagen Golf Alltrack 132TSI
Diesel premium and safety deletions are small but significant points against the Scout. The Alltrack parlays the Golf's strengths into almost another segment.