Peugeot 208 GTi vs Ford Fiesta ST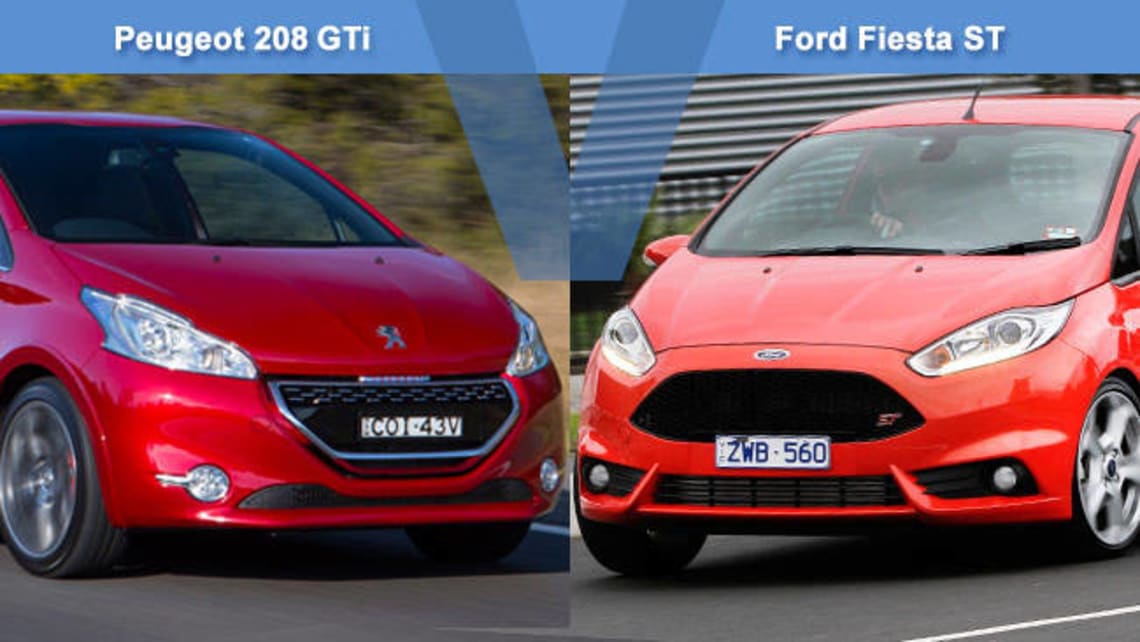 Peugeot 208 GTi and Ford Fiesta ST go head-to-head in this comparative review.
Peugeot 208 GTi
From $29,990
At $29,990 it's fantastic value – matching the fiesta for equipment but with 7 inch touch screen with sat nav, heated mirrors and dual zone climate control. But the Peugeot is also 3 doors only. You get the same engine and drive train as Peugeot's sports flagship, RCZ, but in a lighter, nimbler package – for half the price.
Ford Fiesta ST
From $25,990
At $25,990 it's also great value and cheaper than all its turbo competitors – With Recaro sports seats, 17 inch alloys, cruise control, climate control, rain sensing wipers and headlights, keyless entry and push start button, it's well equipped, but comes with 3 doors only. Like the Peugeot, the real value is in the performance more than the features.
Peugeot's grunty 1.6-litre turbo engine makes an astonishing 147kW and 275Nm with a refined engine note. Its 6 speed manual is very smooth and also delivers power to the front through traction control and electronic stability program.
Fiesta's 1.6-litre turbo engine makes 132kW and 240Nm, and sounds fantastic. Close ratio 6 speed manual delivers the power to the front where the traction control, torque vectoring and electronic stability program keep it steady under power or braking.
Peugeot has a nice quality feel all-round and looks good too. Shorter, wider and lower than the Fiesta, the 208 has a sharp stance. Seats are both comfortable and supportive, but the touch screen is unintuitive and confusing. Rear accommodation is quite good, but the sloping roofline and thick rear pillars really limit rearward visibility.
Fiesta's design is now ageing, but it still looks the part, with the face lifted Aston Martin-like nose and wide track on the ST. Visibility is good but like the Pug, it could use a reversing camera.  Practical, clean interior for five, but the sports seats limit access to the rear – shame there isn't a 5 door option.
Five star safety rating, but no knee airbag to match the fiesta, and that rear visibility is compromised, however parking sensors (like the Fiesta) help minimise the problem. Electronic stability program, brake force distribution and traction control help the driver preventing accidents too.
Five star safety rating matched by seven airbags – one more than the Peugeot. Excellent brakes and switchable electronic stability program keep the car on the road without spoiling all the fun.
Much more mature than the Ford, the Peugeot feels like a mini luxury car with enormous power. It is very close to the Fiesta in terms of handling, but neither steering, brakes nor gearshift are quite as communicative. Turbo lag is noticeable, but so is the power surge when it kicks in – this car is properly quick. Very tight turning circle too makes it a great car to drive around every day in.
Fiesta feels precise, agile and rewarding even with electric steering. Power delivery is more immediate, and it feels like a proper driver focused car. Great handling characteristics too, however the ST is still a comfortable highway cruiser. It's the choice for properly spirited driving, even if it's not quite as quick as the Peugeot.