Nissan Pulsar ST-S vs Holden Cruze SRI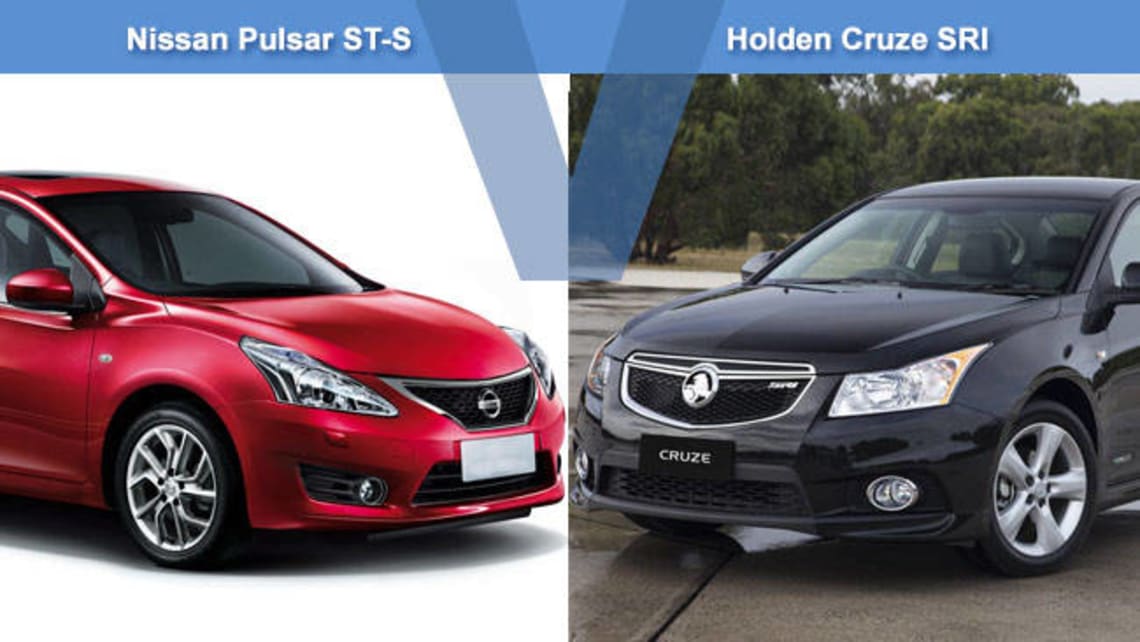 Nissan Pulsar ST-S and Holden Cruze SRI go head-to-head in this comparative review.
Nissan Pulsar ST-S
$25,390
From Thailand, the ST-S is reasonable value for money. It has a few less goodies than the Cruze but sells for $3000 more and is more expensive to run. It has a 3-year/100,000km warranty with three years of roadside assistance but needs six-monthly servicing and costs $1823 for three years. Glass's Guide says resale is 49 per cent.
Aussie-assembled Cruze hatch is good value and the SRI version is the best bang for your bucks. Except for the excellent infotainment system, features are modest but it has solid safety equipment. Ownership costs are low with a $740 bill for three years of servicing. Warranty is 3 years/100,000km with 12 months roadside assistance. Resale after three years is 54 per cent.
The 1.6-litre (140kW/240Nm) bears no relationship to the aspirated 1.6-litre also available. It's more modern in design than the Cruze with its direct-fuel injection and claims thirst of 7.7L/100km of 95 RON, paired with six-speed manual gearbox. Pulsar is 220mm shorter and 175kg lighter than Cruze.
This 1.6-litre turbo (132kW/230Nm), which gives more oomph at less noise than the supersceded.1.4 turbo. The Hungarian-built engine claims 7.4L/100km of 95 RON. The SRI and SRI-V share the upmarket Watts link rear suspension. MyLink infotainment is standard and a boon to people who need to store and stream music and spend time on the (hands-free) phone line.
The conservative Pulsar is less impressive than the more contemporary lines of the Cruze. It's very functional but there's a lot of the 1990s style outside and in - the centre console particularly. No complaints, however, about the huge cabin room and the airy feeling. The boot is 280L/1224L but the rear seats don't fold down enough to maximise load space.
Cruze is distinctive but not unpleasant. The hatch is an Australian design and though a bit bulbous in the tail, has excellent cabin space and an accommodating cargo area. Luggage room is 413L/1254L. Busy dash design shows Korean influence with too much brightware, though switchgear is easy to find and use.
Five-star crash rating, six airbags and electronic stability and traction control seems to be par for the course. But Pulsar misses out on smaller details that Cruze gets, though redeems itself with a full-size spare wheel.
Cruze supplies all the expected safety features including a five-star crash rating, six airbags and electronic stability but adds rear park sensors, auto headlights and heated mirrors - three items lacking in the Pulsar. On the downside, there's no spare wheel (only a repair kit) as standard.
There are similarities in the drive experience with the Cruze but the Pulsar feels far more relaxed. There's less noise, the turbo feels even more linear than the Cruze and the ride is far more supple. Handling is good though the light steering and softer ride make it less confident in corners. But the gearshift is excellent. The spacious cabin also makes it a comfortable drive.
This is a little sparkler. The ride is firm and the steering well weighted while the engine spreads its power perfectly across the rev range with no fuss. Handling is precise and confident. It's an easy car to drive and the manual box's shift quality is quite good. Seating is low and feels sporty but that hinders vision and aggravates a sense of being cocooned.
Cruze has a sports bent and the Pulsar is more a family hatch with a bit more poke. The Pulsar has the comforts but the Cruze has more features, costs less to own and run and looks more modern