Nissan Patrol ST-L V8 vs Toyota Land Cruiser 200GXL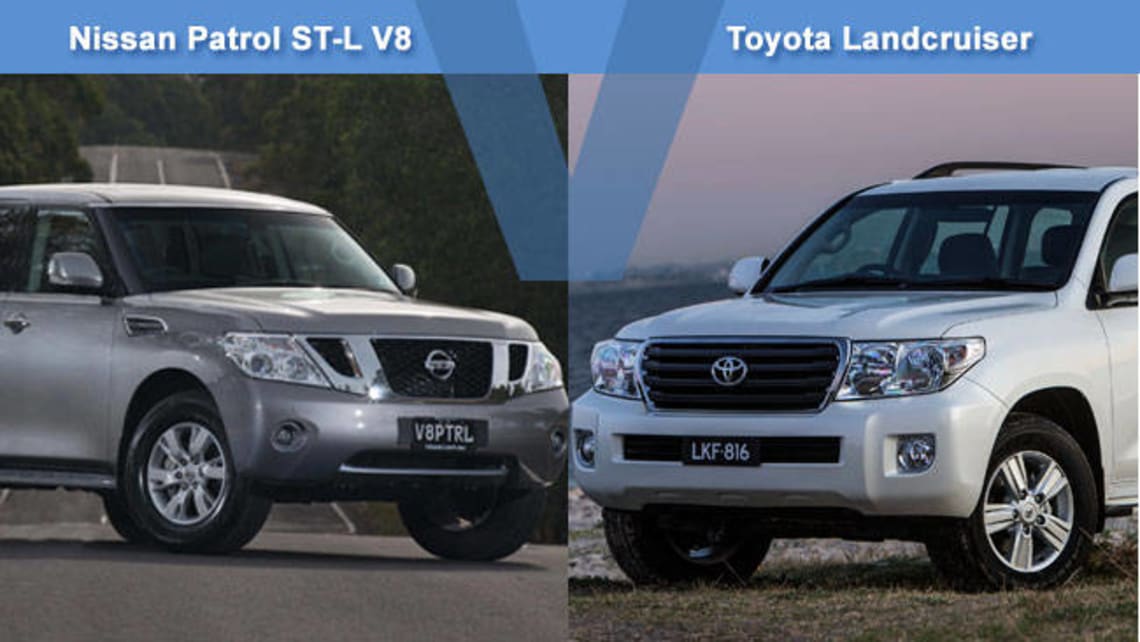 Nissan Patrol ST-L V8 and Toyota Landcruiser 200GXL go head-to-head in this comparative review.
Nissan Patrol ST-L V8
$82,200
The ST-L seats eight on velour trim; it also has a Bluetooth phone link, hard-drive equipped sound system, leather-wrapped steering wheel with audio and cruise control, power-adjustable driver's seat, tri-zone climate control, side steps and 60/40 split for rows two and three.
Toyota Landcruiser 200GXL
$88,490
The eight-seater cabin is functional, spacious but on the sparse side. There are 17-inch alloy wheels, cloth trim, dual-zone climate control with rear vents, power windows, six-speaker USB/MP3 sound system, Bluetooth phone and audio link and touch screen satnav (absent from the entry-level Nissan).
A seven-speed auto delivers to the clever 4WD system, which can feed up to 50 per cent forward when needed. The 5.6-litre V8 produces 298kW/560Nm (with an enjoyable soundtrack) at a thirsty 14.5L/100km, no doubt thanks to a 2.6-tonne kerb weight. Range: about 900km.
Toyota Landcruiser 200GXL
The twin turbo diesel V8 out-torques the Nissan and has better fuel economy with claimed 10.3L/100km and likely range of 1200km. The six-speed auto drives the constant 4WD. There are a limited-slip diff, off-road low-speed cruise control and turn-assist for a tighter radius.
With little design cred, the Patrol has a Nissan family resemblance up front, an abbreviated rump but masses of interior space. An adult can sit in any row, though not for long in the third. Velour trim apart, it's a quality cabin, let down by the LHD-position for the gear selector.
Toyota Landcruiser 200GXL
There's only so much you can do with such vehicles but the Toyota looks less ungainly than the Nissan and has aged better. The cabin space is good, trim materials less suspect than the Nissan's velour and the third row are useful. The Nissan has a little more cargo space with eight aboard.
There are dual front, side and curtain airbags (although not as far back through the cabin as claimed), traction and stability control, parking sensors front and rear, reversing camera, hill start and descent control. All the clever safety gear is only on the top-spec Ti-L.
Toyota Landcruiser 200GXL
Dual front, front-side and full-length curtain airbags (stretching all three rows, says Toyota), anti-lock brakes, stability and traction control. The full-time 4WD provides good grip in all conditions.
The new Patrol rides well. It's big and feels it on the road. Effortless steering at low speed gets vague as speeds rise. 4WD prowess remains, with clever terrain modes and plenty of ground clearance. V8 thirst (particularly in town) will raise eyebrows.
Toyota Landcruiser 200GXL
The 'Cruiser is a little smaller and has better steering feedback (both relative to the Patrol). The ride is decent and the turbo V8 gives effective power delivery. A plastic wheel lets it down a bit. Unsealed surface performance and off-road ability remain first-rate.
Toyota Landcruiser 200GXL
Toyota outsold Nissan 3:1 in this segment last year. Most of the 200's sales were diesel so the new Nissan isn't likely to make much of a dent. Yet those who prefer a petrol V8 will find plenty to like. King 'Cruiser still rules.