Nissan Juke vs Mitsubishi ASX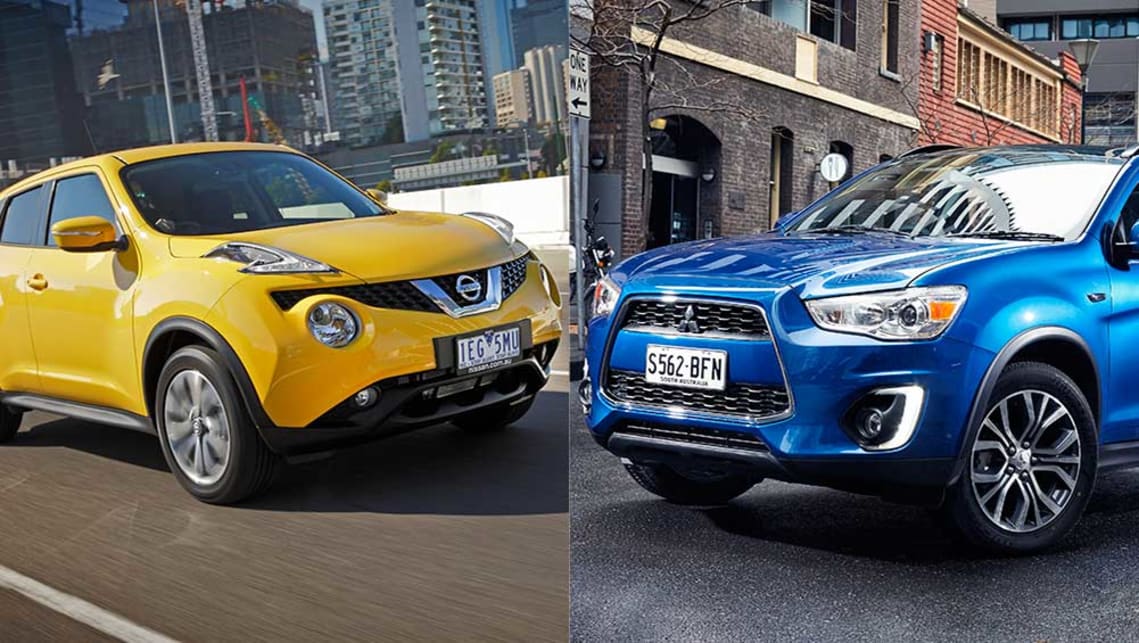 Mini-SUVs are the new must-have fashion accessory. Chris Riley splits two pint-sized prospects.
Nissan Juke 1.2 ST 2WD
$23,490
Prices start at $23,490 for the front-wheel drive with a 1.2-litre turbo and six-speed manual. Features single-zone climate control air-con, cruise control and 17-inch alloys. Warranty is 3 years/100,000km. Service interval 10,000km/12 months. Capped price servicing adds up to $888 over three years.
Mitsubishi ASX 2.0 LS 2WD
$24,990
Priced from $24,990, with front-wheel drive, a 2.0-litre engine and five-speed manual. Has single-zone climate control air-con, cruise control, and 18-inch alloys. Warranty also better than Juke with 5 years/100,000km. Service intervals are 12 months/15,000km. Capped price servicing is $810 over three years.
You might have noticed this bug-eyed wannabe in traffic. The looks are polarising to say the least. It's just as stylish inside too, with its weird hooded instrument cluster — but it's all hard plastic and the centre console can be difficult to see in strong light. Seats five but a plunging rear roofline could be an issue for rear head room. Back seat splits 60:40, with a 354L boot that hides a lower storage area and space-saver spare. Tech includes Bluetooth with audio streaming, 5.8-inch centre screen and daytime LEDs.
Mitsubishi ASX 2.0 LS 2WD
Has been around since 2010 but still looks fresh outside, if a bit dated inside. Plain and sparse interior characterised by plenty of cheap plastic. Feels like a car built to a price. Seats five, with a 60:40 split rear seat and a slightly larger 393L boot that hides a space-saver spare. Has daytime LEDs while Bluetooth has audio streaming and voice control. Has 6.1-inch touchscreen and digital radio.
Nissan Juke 1.2 ST 2WD
Engine
It's powered by a hi-tech turbocharged direct injection four-cylinder petrol engine that puts out 85kW/190Nm. Paired with a six-speed manual as standard, with auto stop-start to save fuel. If you want an auto, a CVT is another $1000 but it comes with a 1.6 non-turbo engine. Takes premium 95 unleaded, with a thirst rated at 5.6L/100km. We were getting 7.4L/100km. Can tow a 1400kg load.
Mitsubishi ASX 2.0 LS 2WD
Engine
Old-school 2.0-litre four-cylinder petrol engine with multipoint injection produces 110kW/197Nm. Paired with a five-speed manual that's also dated, but together they perform pretty well. The manual delivers a sportier drive. If you want an auto it's $2000 for a CVT. Takes standard unleaded with fuel thirst rated at 7.6L/100km. We were getting 7.3. Can tow a 1300kg load.
Achieved a 5-star ANCAP crash rating with a score of 33.03 out of 37. Features six airbags and active front headrests but alas no reversing camera.
Mitsubishi ASX 2.0 LS 2WD
Achieved a 5-star ANCAP crash rating with a score of 34.13 out of 37. Has seven airbags, along with a reversing camera and rear parking sensors as standard. Hill-start assist stops it rolling backwards when you take your foot off the brake.
The steering wheel lacks reach adjust and the lack of a rear camera or parking sensors doesn't help around town. Left hand blinkers are annoying but it clips along pretty well for a 1.2-litre, although keeping it nice and smooth can be a challenge in the lower gears as the boost cuts in and out. Ride is firm, bordering on harsh. Electric steering provides little feedback. Sits flat and corners okay for an SUV.
Mitsubishi ASX 2.0 LS 2WD
The larger ASX looks and feels more robust, riding 25mm higher with 205mm of ground clearance. The ASX's road manners are adequate rather than inspiring. Soaks up bumps well but the engine always seem to working hard, maybe because maximum torque does not kick in until 4200 revs. Steering feel is pretty ordinary. Easy to get in and out of, with a seat height that will appeal to the oldies.
Mitsubishi ASX 2.0 LS 2WD
It's close. The Juke will appeal to younger buyers looking for something different while the larger, more conservative ASX offers cheaper servicing along with better value for money.