Mini Cooper S vs VW Golf GTI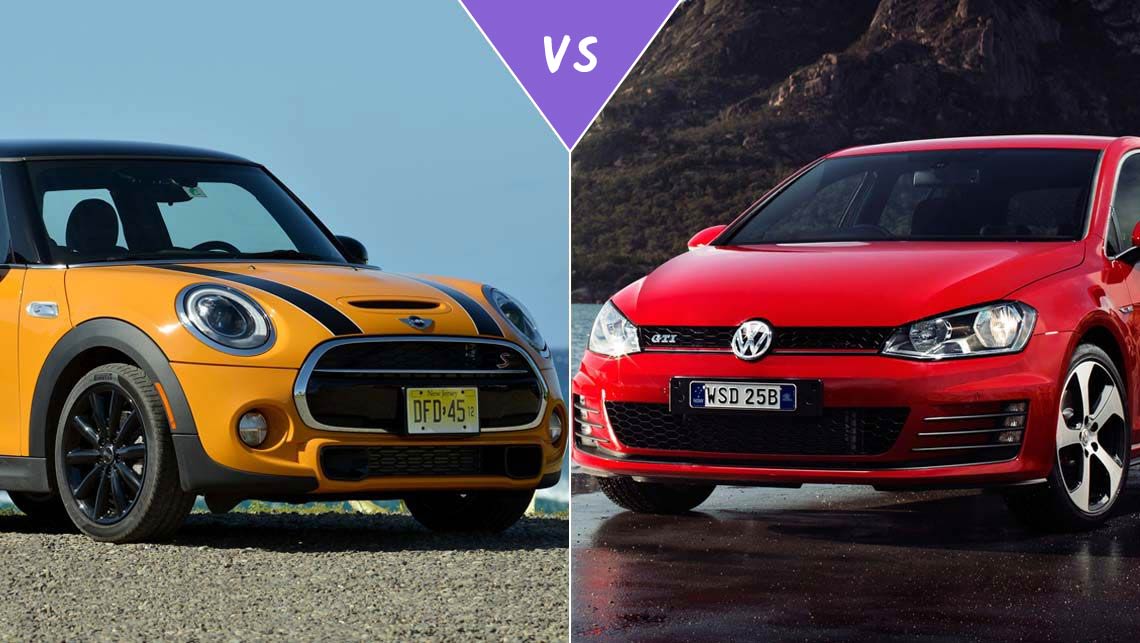 Dispatched and now matched - Mini and VW build two of Europe's favourite hot hatches.
Mini Cooper S
from $40,395
Mini's big-engined Cooper S is priced right but has only two doors and a smaller cabin than its Golf rival. Equipment levels are similar, with hands-free phone and audio streaming, sat-nav and up-market materials. They also share servicing requirements, warranty and roadside assist. Mini doesn't have a capped-price service program. Its resale is a bit down on the Golf at 51 per cent.
Volkswagen Golf GTI
from $44,490
Golf prices start at $21,490 so the sports-hatch GTI looks expensive. It's $4000 more than the Cooper S but is a bit quicker, has four doors, more luggage space and similar features. Golf's capped-price servicing is $1429 for three years, servicing is annual, there's a three-year unlimited distance warranty with three years of roadside assistance. Resale is a strong 58 per cent.
Once termed "retro" the Mini is now distinctive and benefits enormously from its ability to be customised. Tweed seat inserts are interesting. The 2014 model is bigger but rear-seat room remains tiny and the boot is only 211L. The dashboard has improved (slightly) but still needs a lot of familiarisation.
Clinical, timeless and neat as a pin. But being timeless erodes some of the car's on-road distinction. Has a beautiful, logical and ergonomically perfect dash with soft-touch plastics. Cabin gets tartan-cloth seats with alcantara trim, eight-speaker audio and boot space from 380L (seats up) to 1270L. Seats four in comfort.
Current drivetrain has created a much better Mini. The S has a BMW 2.0-litre turbo engine cranking out 141kW/280Nm for a claimed 5.5L/100km. The optional auto is a six-speeder. Stop-start is standard, as is a selectable drive mode. The platform is shared with BMW's 2 Series Tourer and future front-drive cars.
Volkswagen's common 2.0-litre turbo gets tweaked to 162kW/350Nm for the GTI. Transmission is the optional six-speed dual-clutch auto that drives the front wheels and claims 6.6L/100km. Stop-start helps fuel savings and requires, like Mini, a regenerative brake design. Single platform is used by other models to save cost and weight but GTI is still 1324kg, up almost 200kg on Mini.
Same level as Golf though has six airbags and misses out on heated mirrors. Otherwise, the standard is as high. Mini doesn't have a spare wheel thanks to its run-flat tyres and so warns the driver of any puncture through a tyre pressure monitor.
Five-star crash rating, seven airbags, brake emergency display, front and rear parking sensors with a camera, auto headlights and wipers, daytime running lights, heated mirrors and a tyre pressure monitor are standard. The spare is a space-saver.
The power delivery feels a lot more relaxed and less abrupt than in the Golf and this feeling of a fuss-free drive extends to the softer ride. It's more comfortable overall than the Golf and, surprisingly, almost as fast with only 0.2 seconds between them in acceleration to 100km/h. Its lower height, lighter weight and strong low-end engine power make it feel more nimble through corners.
The Golf's cabin is one of the best at integrating with the driver. The GTI is sparkling, feels ultra confident on the road and straightens every corner. Ride comfort is firm but the body feels tight as a drum. Electric steering is near-perfect but DSG auto still has some hesitation when accelerating, at times requiring pre-emptive action from the driver.
Performance in both is excellent but these appeal to different owners. The Golf wins on its four-door versatility but the Mini is less mainstream, more for owners who prefer a car that extends their personality.